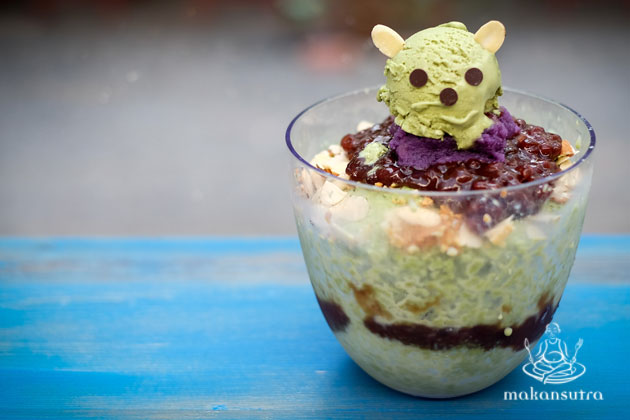 Bingsu: 5 Korean Bingsu to Beat the Heat
By Maureen Ow - Wednesday, Jul 22, 2015
Hot, hot, hot, and we're not just talking about the current weather. Goodbye soft serve ice cream, let's welcome Korean Bingsu! Like a Korean version of our local ice kachang, this famous summer treat has arrived in Singapore. Topped with ingredients such as red beans, soya bean powder, Korean rice cake, the sweet treat is drizzled with evaporated or condensed milk. It can't be devoured without an Instagram and you usually need more manpower to tackle it. So grab the nearest spoon and dig in!
Banana Tree Singapore
Address: 26 Keong Saik Road Singapore 089133
Tel: 6221 5020
Opening Hours: 9am – 7pm (Tues-Fri), 10am – 8pm (Sat-Sun), Closed Mon
If you are sweating your butt off and near Keong Saik area, this is the perfect place to satiate your craving for some cool Korea dessert. Banana Tree wins hands down for their creative bingsu design, despite the not-so-creative flavours. Its Mini Pot Bing Su ($9.50) is topped with sea salt malt ice cream, almonds and red bean paste, with a stalk of sunflower planted on top of the ice cream. The smooth ice texture and red bean consistency hit all the right notes.
Nunsaram Korean Dessert Cafe
Address: 181 orchard Rd #05-51/52 Orchard Central, Singapore 238896
Opening Hours: 11am – 10pm (Mon-Sun)
The Injeolmi Bingsu ($12.90) is a nod to Nunsaram's Korean roots. Dusted with toasted Korean injeolmi (soya bean powder), it gives a mild savoury taste that complements the subtle sweetness of the milk ice. It is also generously decorated with cubes of chewy rice cakes and almonds. Eat this with your special half because in Korean, rice cakes symbolize that you would stick with each other no matter what. If you wish for something healthier, you can choose not to add in condensed milk.
Café Insadong
Address: 279 South Bridge Road Singapore 058828
Tel: 8533 2003
Opening Hours: 12pm – 9pm (Tues, Wed, Thurs), 12pm-10pm (Fri-Sat), 2pm-8pm (Sun), Closed Mon
Named after a street in Seoul that is famous for arts, Café Insadong is one of the cheapest bingsu in town. Because of the purple sweet potato, it makes such a picture perfect dessert.  We ordered the red bean and sweet potato ($9) decorated with mochi, crunchy almonds and coconut ice cream.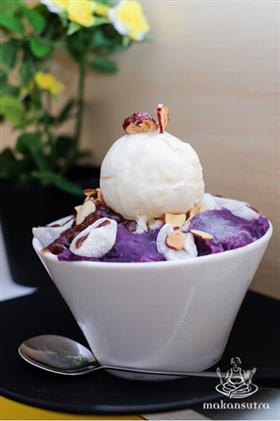 O'ma Spoon Korean Dessert Café
Address: 313 @ Somerset Orchard Road #04-20/32 Singapore 238895
Tel: 6333 0995
Opening Hours: 10am – 10pm Daily
O'ma Spoon (pronounced "oh my spoon") serves a finely shaved, snow-like bingsu base made purely from premium milk. Its popular bingsu option is the Choco Brownie Bingsu ($18.90), sprinkled with Oreo cookie crumble then lined with sliced bananas, before it is topped with whipped cream, brownie squares and a scoop of chocolate ice cream. As a final touch, chocolate sauce is drizzled on the bingsu alongside slivers of chocolate shavings.
Snowy Village
Address: 120A Prinsep Street Singapore 187937
Tel: 8822 1702
Opening Hours: 10am – 9pm Daily
Do you wanna build a snowman? Container café Snowy Village has a cute cup of Green Tea Bingsu ($14.50), designed to look like a snowman. Eating it is like a treasure hunt. Every spoonful contains a surprise, whether it's the crunch of the nuts or the smoothness from the green tea shaved ice. When tucking into the first spoonful of bingsu, it is light on the tongue with only a hint of milkiness. As I work my way through the bingsu, the richer flavours come through slowly.