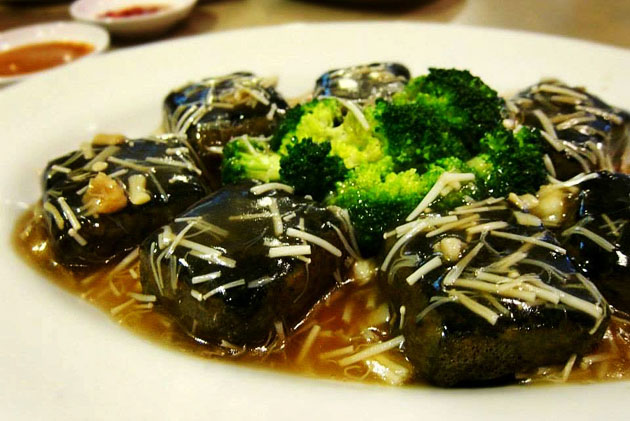 Black is the new Golden Brown
By Tris Marlis - Friday, Nov 22, 2013
"Deep-fry until golden brown," is an instruction which you probably have come across before in many cookbooks. Getting the colour right is often the key to cooking a perfect dish, as colour can affect one's appetite. Fresh greens, runny yellow yolk and red hot chilli peppers are some of the natural food colours that are inducing, but not anymore.
"Leave the edges nicely charred," is the new instruction, because black is now a drool worthy colour. Besides the use of squid ink and black sesame, bamboo charcoal has become a popular ingredient too. It is not used to cook food, but incorporated and mixed to create a sophisticated pitch black dish. Just this past mid-autumn festival for instance, bamboo charcoal snowskin mooncake was a hit. It seems like even at traditional Chinese festivals, black is no longer seen as taboo, but trendy and chic, especially to a new and forward generation of Chinese.  So, what does this trend do to our food?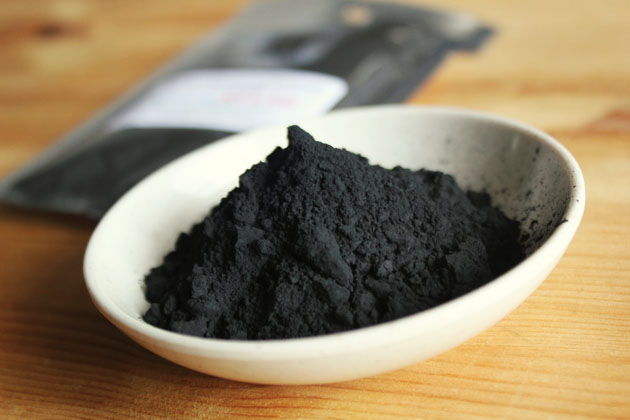 Bamboo charcoal, also known as "black diamond", is commonly used in households, as deodorizers and humidifiers. As bizarre as it may sound, it is edible and is popular in countries like Korea and Japan.
In Singapore, bamboo charcoal is more commonly used in desserts, or to make breads or cakes. Big franchise groups, such as BreadTalk offers bamboo charcoal bread, while Starbucks recently came up with a bamboo charcoal Danish pastry. One of our writers, Stefanie Chao, who is also a home baker, describes bamboo charcoal as almost tasteless and uses it only as natural colouring.
Another selling point is in its health benefits. A local bakery, Dough & Grains (71 Seng Poh Road, #01-35, Tiong Bahru Estate) which specialises in Traditional Chinese Medicine breads, offers a bread named Black Pearl that is made with Shou Wu, bamboo charcoal and walnut. It claims to "promote longevity, helps retain youthful looks, prevent hair loss and greying of hair." Another bakery, Max Bakery House (164 East Coast Rd), specialises in bamboo charcoal kueh lapis. When we visited, we were told by a lady working at the bakery that the charcoal helps to detoxify. We are not too sure if the charcoal in Max's kueh lapis helps to purify the amount of fat in the butter used, but texture wise – it is bread-ier and less buttery than the original flavour.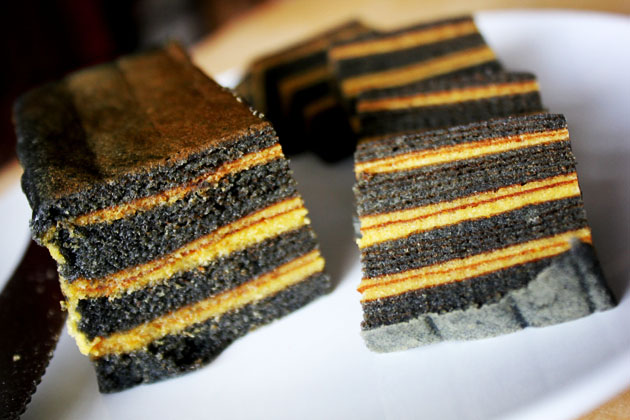 Our favourite dish, however, is the charcoal tofu from Café de Hong Kong (#01-01, 586 Balestier Road). The owner, Mr Francis Mak, also believes that charcoal has a detoxifying effect. "This bamboo charcoal powder entered our kitchen a year ago. We have experimented is a few times before coming up with this dish. It helps to smoothen the texture of the tofu," said Mr Mak. Another Makansutra writer, Tiantianchi, commented on the tofu dish that "There is a nice slightly gritty or rough crust that tasted a little toasted."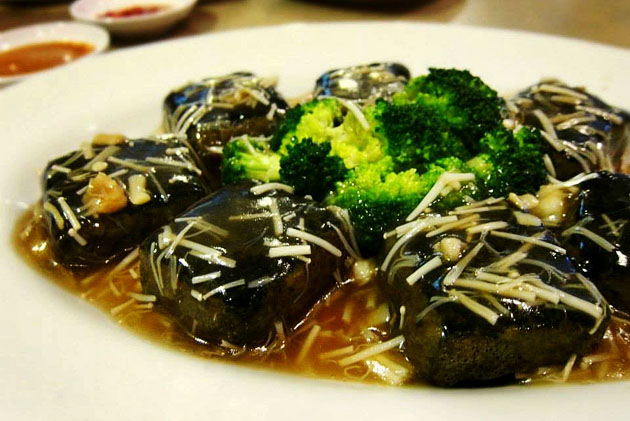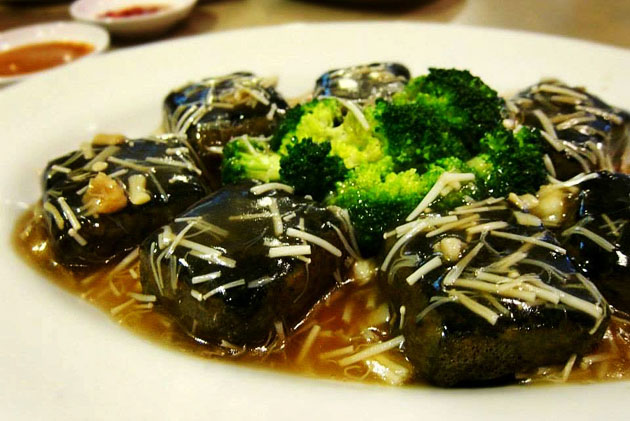 Then there are bamboo charcoal ramen, ice cream and bamboo charcoal in many other forms which have yet to hit our palates here. And although it may have more visual appeal than actual health benefits or taste, it looks like the future of the bamboo charcoal trend is not dim at all.