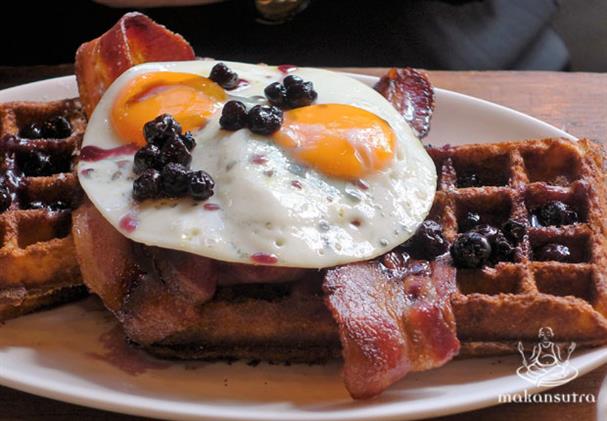 Bread and Butter Issue
By KF Seetoh - Thursday, Jul 07, 2016
If you travel up to Manila for work or leisure as often as I do of late, for the World Street Food Congress and our, soon to open Makansutra Food Hall in SM Megamall, then you sort know by know that there's no proper street food culture in that "Incredible Philippines". Incredible, all those centuries of multi coloured and cultured culinary heritage yielded nada in the street food department (excluding the truly desperate snacks like quack-quack or fried ducks egg, Betamax which is grilled pig's blood cubes or Adidas, fried chicken feet). So come meal time, I am often forced to look for finer fare and cafés and restaurants, and many of them are pretty predictable and easily available in Singapore too, safe for some old school establishments that offer comforting Pinoy heritage fare like Abe or the slightly progressive Sarsa.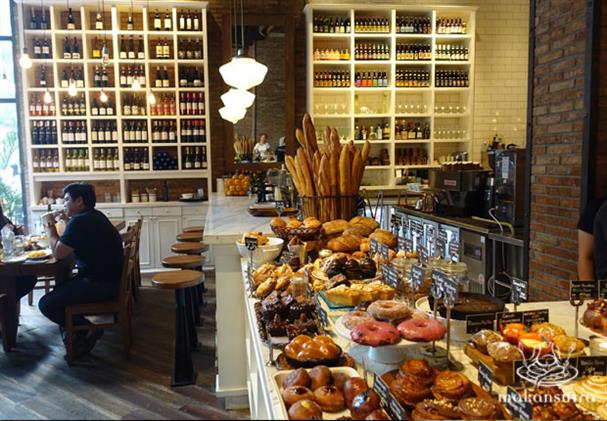 Then, we stumbled upon Wildflour in the heart of town, in Legaspi. It looks like something you'll find in hipster Tiong Bahru with racks of wine and baskets of bread beckoning. It did not really catch our attention and the only reason we stepped in was – we're too tired and hadn't had nice sandwiches and bread for a while (notice I pre-qualified the "nice" part with a big spoonful of benefit of a doubt thrown in). The first thing this red blooded and red IC kiasu foodie in me did was scour the prices- "not cheap, Singapore pricing" , I thought.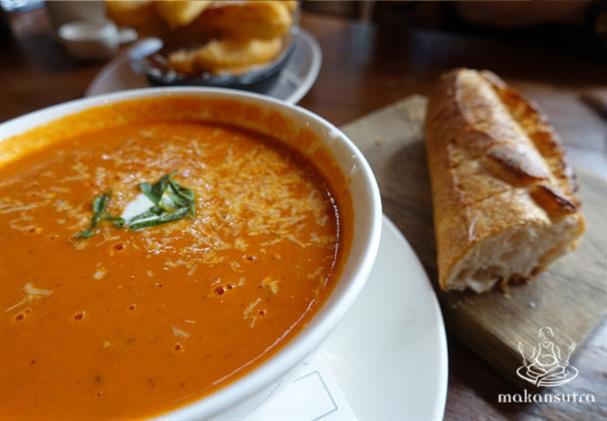 I skipped the wine menu as it was too early for Merlots and Pinots ( in reality, I can only tell if it's white or red and good or not, followed and cheap or expensive). Then they laid half a little baguette with knob of butter on a chopping board (truly hipster) to ease the wait for our order. And then magic happened- I never knew I could eat so much bread in a go. The bread just crackled in the mouth and exposed the soft, fluffy and airy insides. We asked for seconds, and this was just the bread and butter pre- starters. I could not stop dipping them in the humble, thick, tangy and umami laden tomato soup (best I've had in while).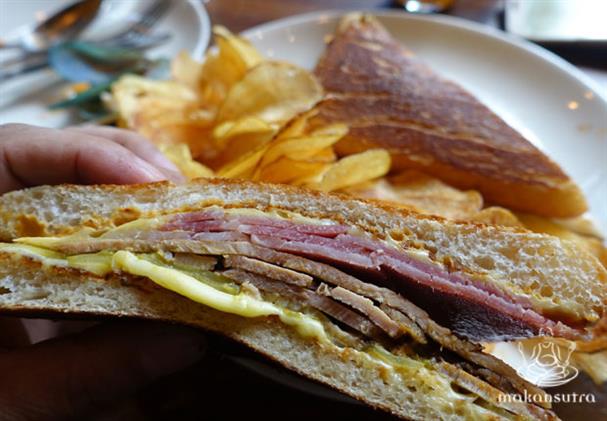 Then my Cuban Sandwich (430pesos) came and it was happy American sized portions with a bed of own made potato chips. The tightly packed slices of ham, roast pork, cheese, pickles and mustard with salsa looked like folks in Shanghai jostling in packed lines to buy last minute train tickets back home for Chinese New Year- held by two slices of light and toasty focaccia.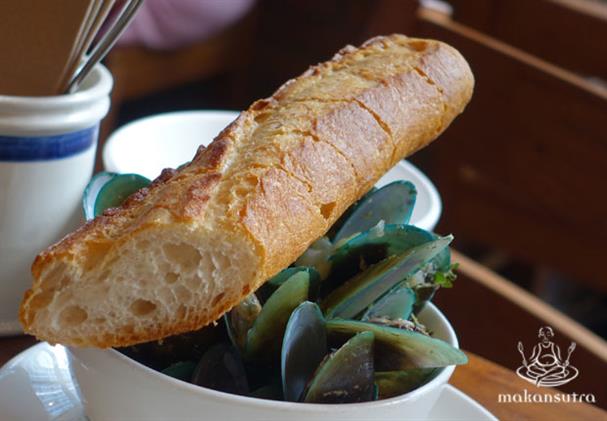 I was mesmerized by the Mussels and Fries (450pesos), done with butter, hints of white wine, celery onions and parsley, again with half a loaf of the fab baguette. It was all made better with the fresh green mussels and the double fried fries (you can't get them tasting like this with just a straight fry up). But the Crispy Parmesan Churros (250pesos) came as described but the only flaw was it felt like raw batter deep inside.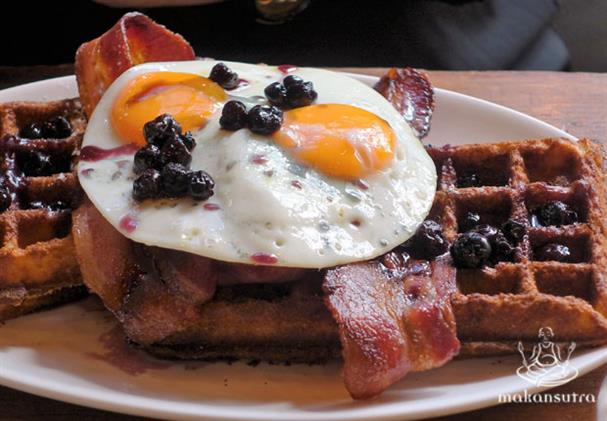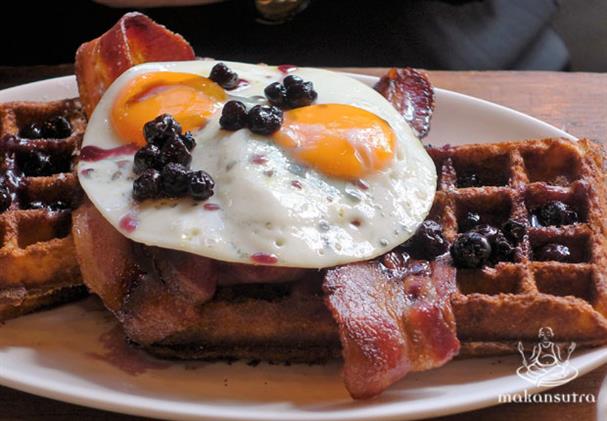 I felt the Sweet Corn Waffles (380pesos) looked a tad meh, like any hipster café here would offer. That is until I took a bite. The richness of the corn waffle with a stack of ham diffused by the blueberries and twisted by the runny egg, was love at first munch. We could not finish the ginormous platter (so big, they will charge if you request to split the portion).
Frankly, the café bakery looked and felt like any other of that genre here in Singapore, except they do their fare better and that makes all the difference.
Wildflour Café and Bakery
Frabelle Business Centre,
111, Rada Street, Legaspi Village,
Makati, Metro Manila, Philippines
7am-10pm daily (Sunday from 8am-4pm)
+63 28339799