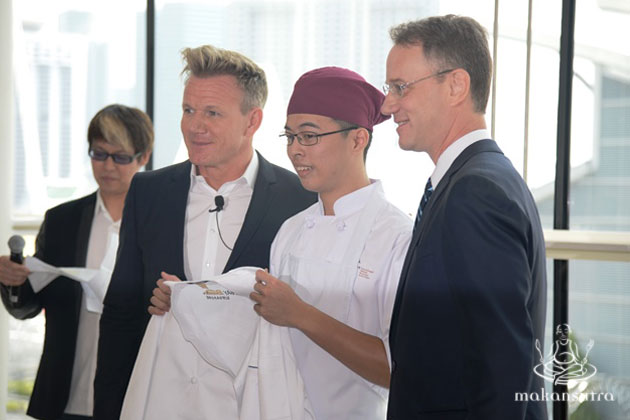 Bread Street Kitchen: ITE student is Ramsay's Intern
By KF Seetoh - Tuesday, Sep 23, 2014
There had been much speculation about where Gordon Ramsay would set up this restaurant in Singapore. From Keong Saik Road to Sentosa, much gossip was generated. In the end, he only wondered why George Tanasevich, President and CEO of MBS, took so long to invite him for this gig. But, he's here now, and Gordon Ramsay's Bread Street Kitchen will be installed at the Marina Bay Sands in April if next year and … it won't all be about bread and sandwiches.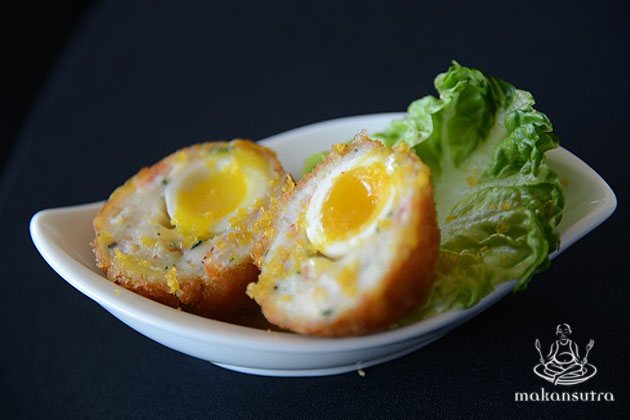 At a media conference on Monday, Ramsay regaled how impressed he was with the culinary culture in Singapore and how "Singapore is now my hub for Asian flavours". He also met with PM Lee Hsien Loong and was taken by just how unassuming our PM was. I've had the pleasure of speaking to and interviewing Gordon on and off camera when he was in town for the Hawker Challenge some time back, and unassuming, too, is what this "chef from hell" is like off camera. At the press conference yesterday to announce his intents, he regaled stories about his humble beginnings and how he learnt under the tutelage of kitchen greats like Alain Ducasse and Guy Savoy. He also took the opportunity to pick out an intern for his restaurant here through a cooking contest. Four students from different culinary schools – ITE West College, at-sunrice, Shatec and the Culinary Institute of America – had to each cook eggs three ways (poached, omelette and half-boiled) in 10 minutes.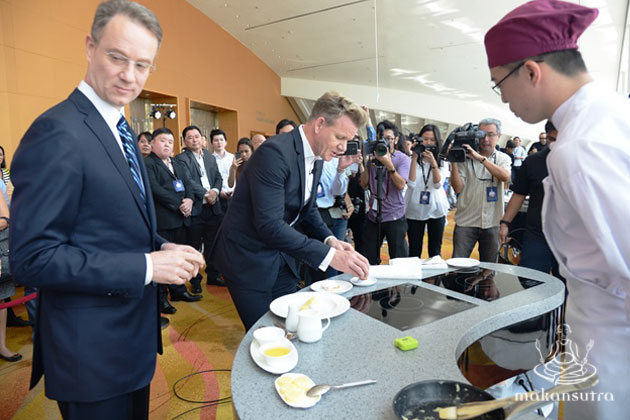 One student shone through, and Ramsay noticed how he gently and cleverly basted melted salted butter over his poached eggs (which he proclaimed was "perfectly made.") Koh Han Jie of ITE West College will now have a six-month internship at the restaurant next year. But it was almost not meant to be for this 21-year-old first year student. By his own admission, he was somewhat of a lost kid. "I was wayward and quite notorious as a teen and did not do well in my studies," Han Jie, with his boy-next-door looks revealed. "I did not know what I applied for when I took up culinary courses at Nitec (National Institute of Technical Certificate). I did not even like it." But it took another earlier internship with a restaurant helmed by Chef Robin Ho at Pierside Restaurant to turn things around for Han Jie. "It was time for a lunch and everybody waited for me to finish up my work before going for a bite. I loved the team spirit and how they showed care for me." His ambition is to open his own restaurant one day.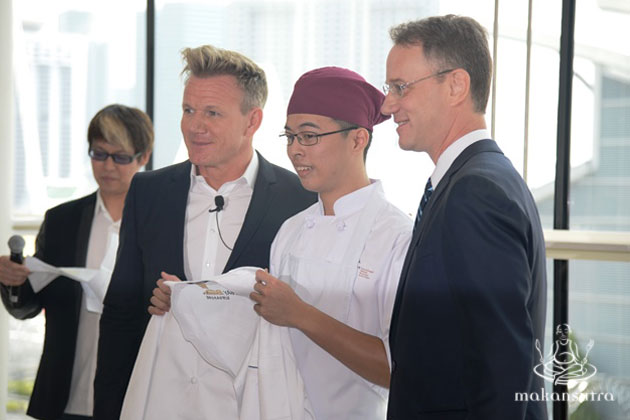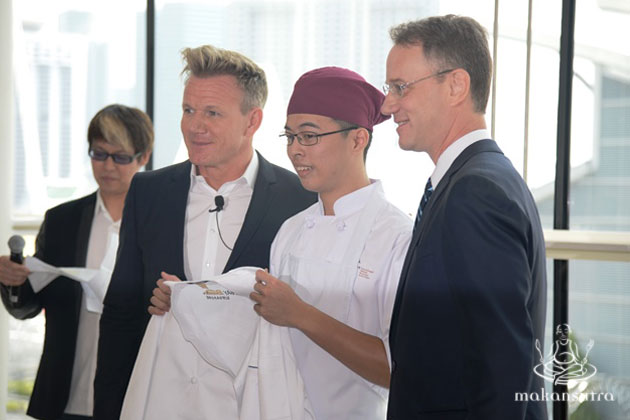 Han Jie will be expected to dabble in Ramsay's Bread Street Kitchen, where "classic British and European fare will be delivered with local and Asian accents". Prices at the 120-seater restaurant will not be the fine-dining $250 kind of meal, but it will not be cheap either. It'll be good value for money. Bread Street Kitchen in London had been known for offering breakfast sets at under ten pounds, and his mains average 20-30 pounds.
Ramsay, a fan of authentic local fare wherever he goes, said he usually depends on taxi drivers to show him around. But ironically, he wound up at the touristy Newton Hawker Centre after his appearance at the F1 races over the weekend. It must have been a cabbie who eats at home regularly.