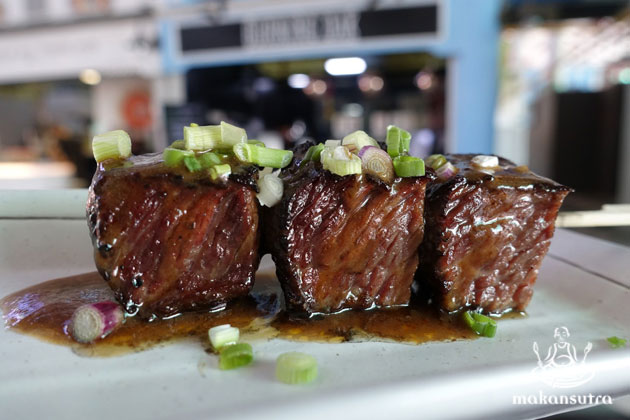 Burning Oak: A Burning Desire
By KF Seetoh - Tuesday, Jun 02, 2015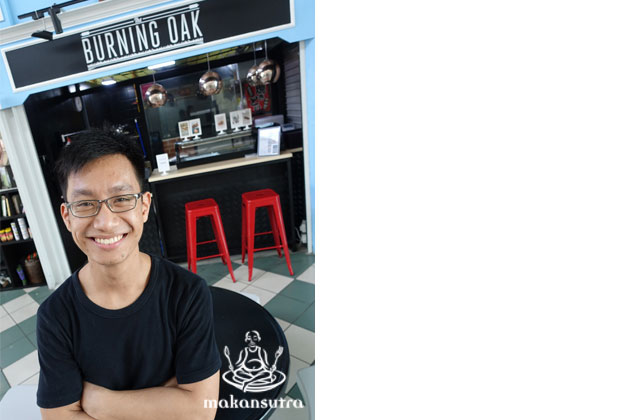 At a ripe young age of 23, he's already talking about how meats must be properly treated and how he is a purveyor of wood fire roasts. Then he brought out some of his signatures- a sous-vide pieced of Guinness stout infused and roasted Short Ribs Skewer ($6.50). The marinate took nothing much out of the little cubes of beef in the stick and it was one of the most ridiculously soft, roasty and juicy pieces of meat I've ever had. Suddenly, I realised Chef Jeremy Han is out to light up his future.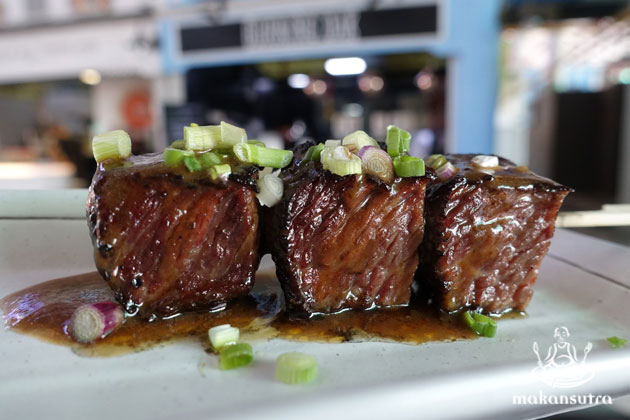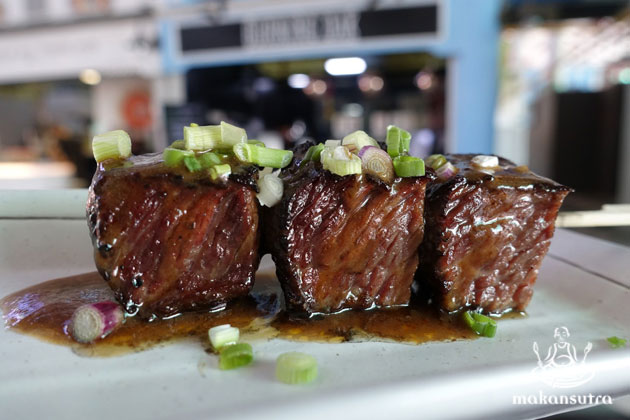 He runs a hipster little hawker spot, Burning Oak, in a new-fangled private hawker centre. The place smacks of a deliberate attempt at organised street chaos- where each stall looks and feel different, like a back street food lane in parts of old Singapore or Malaysia. Each has its own identity. Jeremy's stall is carefully curated and comes with the knowledge he has gleaned from his past gigs in restaurants like 53 (defunct) and St Pierre.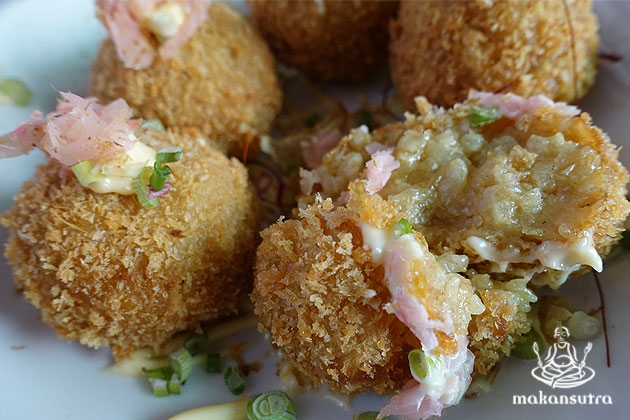 He boldly tells me about how he will not fall into the "eggs benedict and waffle" trap. "I gotta do what I have to do, what I like" and he brings out his next stunner for me- the Curry Risoto Croquette ($6.50), beautifully crumbed and fried. Instead of potatoes, the insides was filled with soft and light curried risotto. The crumbly crunch of the croquette was cleverly foiled by the near mushy risotto inside. This former culinary graduate of Temasek Polytechnic is one to watch. He is not daunted by the fact manpower will be a problem here moving ahead, and he now runs the stall alone- from marinating, skewering, grilling, plating and cashiering. "My parents and investors come each evening to help out, for now at least" and Jeremy reminds me of his short split hour shifts which gives him ample time for a little break each day.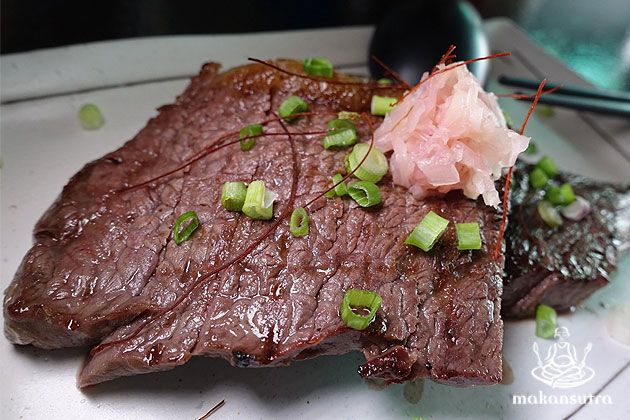 Then the wood fired Wagyu Rump steak arrived, with a wistful marinate. It was so easy in. And the $12 bill for it was so forgivable. Seeing him sear it over a yakitori grill, was great foreplay to that meal. Jeremy has ideas of expansion, he dreams of opening his little own restaurant or café but for now, it's this fancy hawker stall. He lights up when talking about ideas for delivering his food for tomorrow's generation, like in pop-up stalls.
Then I noticed a sign that said- Iberico Pork Cheeks ($12)- and hey, sorry for the distraction, but how can I skip that one. It came so lovingly done with burnt ends and was ridiculously soft inside. The shards and strips of fried ginger atop was a wicked touch.
Back to his aspirations. He hopes to learn more about the 360 aspects of running his business, "I don't manage media well and can't figure why some people say the mean things they do about my food online," he shares. I could only share my experience that trolls exist in the shadows of cyberspace and will always be there. For now, he just wants to cook good food and really, that's all you need to do Jeremy. Just let your food do the talking.
Burning Oak
Simpang Bedok Market Place
348 Bedok Road
12pm-1.30pm/ pm-10pm
Close Mondays