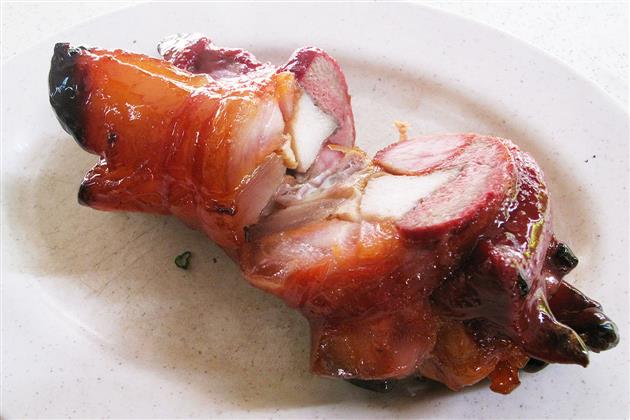 Bye Bye, Arp Geok Pao?
By Jade Hu - Thursday, Apr 24, 2014
Edit: 15 August 2014
==
The bad news first – another coffeeshop stall goes belly up after the monthly rental shot up significantly to S$12,000 overnight. Nothing shocking and not very "newsy" in these days of steep rent increase practices. But the news here is that along with their departure, will go, probably, the last arp geok pao (鸭脚包, ya jiao bao or literally 'duck feet bundle' in Cantonese) in Singapore. If you've not heard about nor had it, and is piqued with curiosity, then the only silver lining is perhaps the Hong Kong Jin Tian Eating House folks here may just find another spot in the vicinity to continue practicing their Cantonese roast craft – with the reality that not many similar spots out there still tout retro rental rates.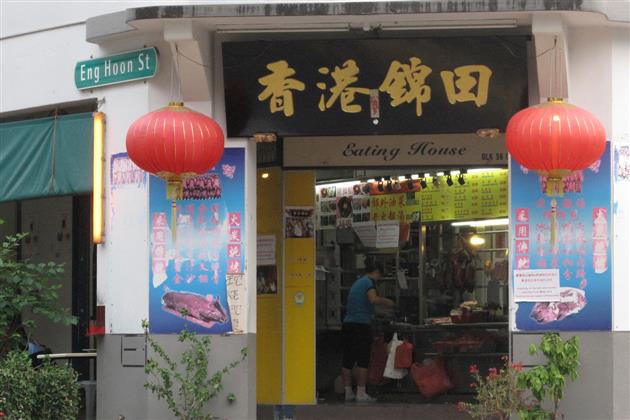 The arp geok pao is a gastronomic oddity. It is arguably the best of its kind you can find here, and notoriously elusive because few chefs in Singapore know how to make it properly. One of them is Mr Yip Kwok Ching, 62, who helms the kitchen here. Having learnt the skill from Chef Chan Chen Hei (陈赞禧),he also imparted them to his wife and the younger of his two sons, Ye Qi Xian, 28.
To make arp geok pao –  one duck foot, a piece of yam, a sliver of pig liver, a slice of marinated "glass" pork fat (肥肉) and one slab of char siew are bundled into a package using a ribbon of pork intestine, fashioned from paring one single pig intestine (粉肠) length-wise into four. Afterwards, the package is marinated in a crimson-hued secret formula of eight different herbs, sugar, soy sauce, amongst other hush-hush ingredients – for at least an hour. Then the packages are skewered and roasted in an 'Apollo oven' (the ubiquitous oven many Cantonese roast meat stalls use) for another hour, till its edges are deliciously charred. (Some other versions use duck liver and intestine instead of pig liver and intestine.) The finishing touch is a glazed layer of malt honey to give it an appetizingly sweet sheen.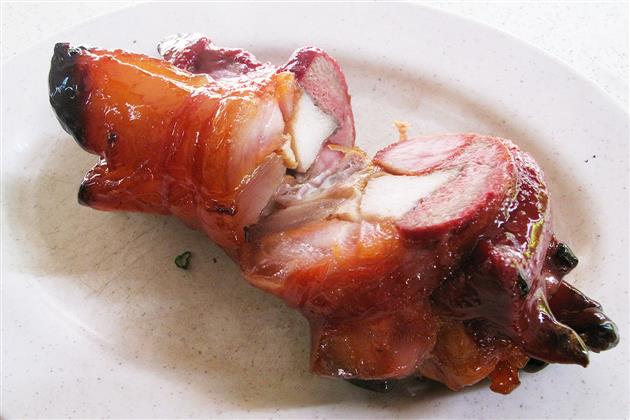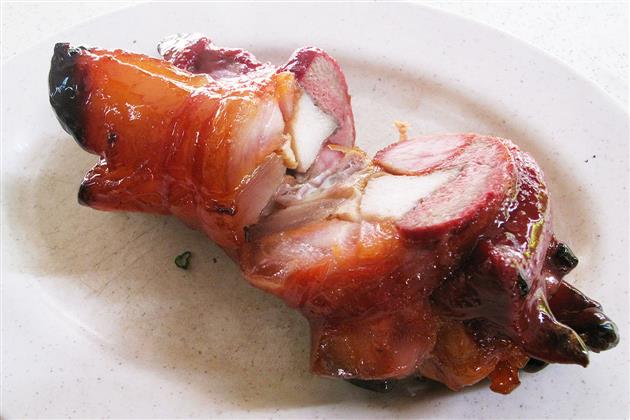 It's not something you can eat in a jiffy and best enjoyed as a snack with a refreshing cold beer or Chinese tea – finger food style. It's a sticky operation to get to its essence. But when you get to it, you won't regret getting your lips all gluey, sweet, salty and sticky.  The sauce is sticky, thick and beautifully caramelized. One bite fills your mouth with the savoury and sweet classic char siew flavour – it's smoky, barbecued with a distinct soy sauce base. Capture every last bit of the honeyed meaty snack by licking your fingers clean.
Only one batch of arp geok pao is handcrafted every two days, with only 60 pieces sold each day. All sold out? Too bad, they'd tell you to come back the next day. Their last day of operation is this Sunday April 27, so there are only a few more tomorrows if you want to eat this. That said, it's not likely to be a permanent goodbye – seeing that both Mr Yip's sons are armed with their parents' meat roasting skills, surely there's a chance for an arp geok pao comeback…?
Don't make us wait.
Hong Kong Jin Tian Eating House
58 Seng Poh Road #01-15
Hours: 7am – 8.30pm (Last day: 27 April)