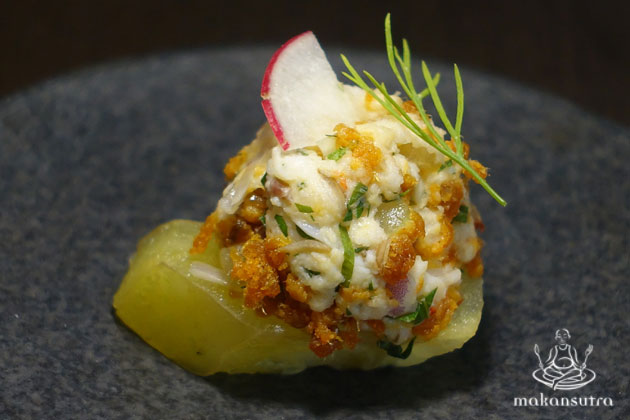 Candlenut: The Nonya Omakase
By KF Seetoh - Monday, Aug 03, 2015
The problem with Peranakan food here is the word "authentic". Everyone is uttering it each time they set foot into such eateries. Truth be told, there is no real yardstick of measure, and the real deal is often Neneh's or Mum's version. Which had for the longest time irked Chef Malcolm Lee, "everyone wants the best and most authentic ayam buah keluak, babi pongteh, assam fish…and nobody will concede who's the best except their grandma's, even if it's some strange recipe.", and he also admits it can get boring and one dimensional in his kitchen if things don't change. You can see his quiet rebellious streak from his menu- besides the usual predictable offering, he's come up with a white, peppery, Yeye's Curry and even turned the iconic buah keluak nut into an ice cream a few years ago. He demonstrated that caramel buah keluak ice cream at the recent World Street Food Congress. It so impressed the Indonesian contingent and they invited him over for their local food festival in June (which was a good excuse for Malcolm and myself to go makan hunting and researching in Jakarta). And that, was the turning point for Malcolm's menu at his Candlenut restaurant.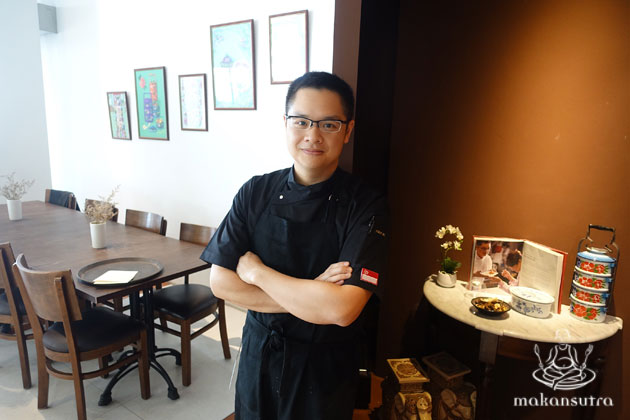 Indonesia is a land that bears a heavy influence on Peranakan food, like the concept of the rempah (or bumbu) and the art of using local greens and herbs. So, we went from Manado specialties, Sundanese bites, street style Nasi Uduk and to even the humble goat satay with kicap, ginger and pickle dip. And now "things will be different in my kitchen", Malcolm declares upon his return.
Today, you can still find the usual crowd pleasers in his lunch menu, but come dinner, it transforms. He now offer a nightly "Nonya Omakase" (for lack of a better term), and it's a "cook whatever I feel like as a Peranakan boy" kind of menu. And at $50 for 14 items, its good value and it includes shellfish, red meats, fish, four surprising starters and teasers and choice of desserts. His menu changes according to his moods.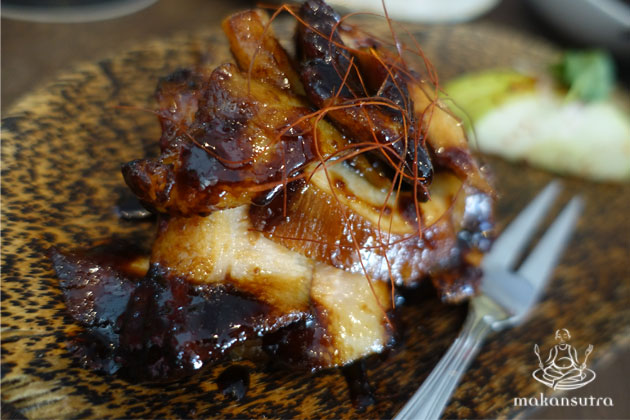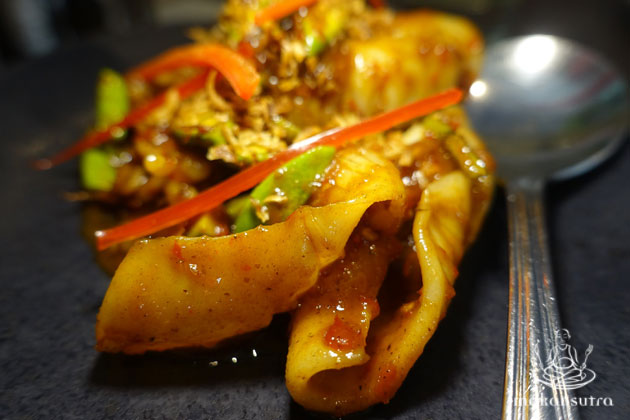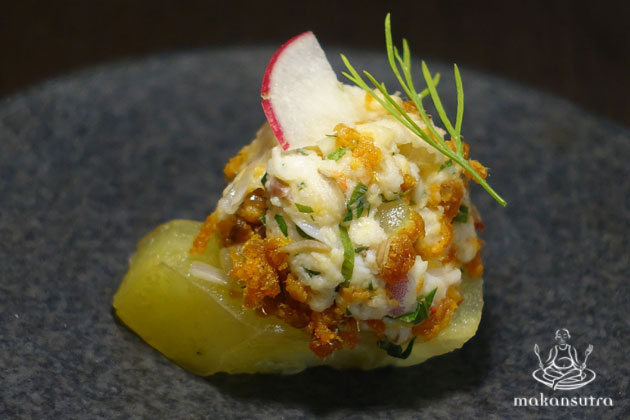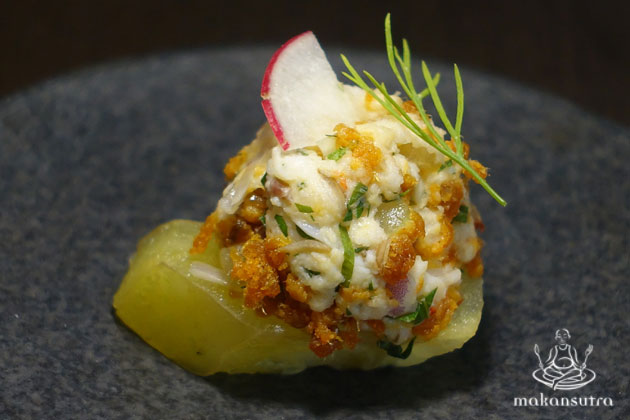 For starters, instead of the usual turnips, he puts Jiu Her Cha into his pieti shells (a stir fry of julienne turnips and dried cuttlefish). Same, yet not same. And there's also the wonderfully ingenious (so clever and uncomplicating) Tumbuk (pounded) Prawns with sambal hae bi, on starfruit with dill. This one made me stop and admire, then devour. He also puts out a meltingly soft char-grilled pork collar- redolent with collar fat with slices of green apples. Among the not so traditional yet within earshot of traditions is the Maori Lake Lamb Rack with Red Curry with Cinnamon and Mint. Among his desserts is this gula Melaka ice cream and kaya kueh duet- I say, this one cannot be denied Nonya DNA no matter how strange it looks. And he has a Coconut Sorbet, which has five textures, granulated, ice cream, sorbet, coconut milk and soft coconut slices and he wickedly pounds Kueh Bangkit and tops on this white blob. That was an amazing graze!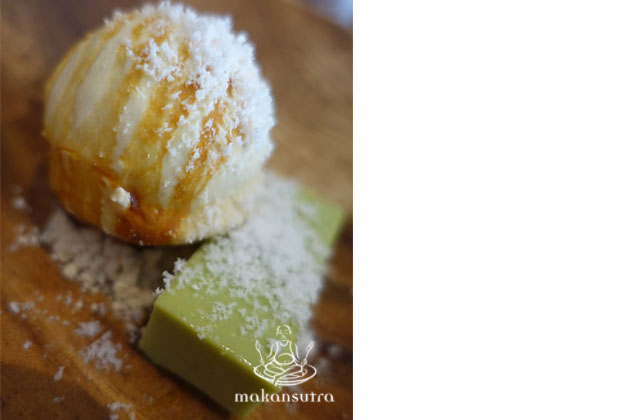 Yes, the boring old adage says if the old don't do, the new won't come. But here, authentic is an expression of you really are, and in this case, who Malcolm is by legacy and heritage. The rules will always change but the game remains.