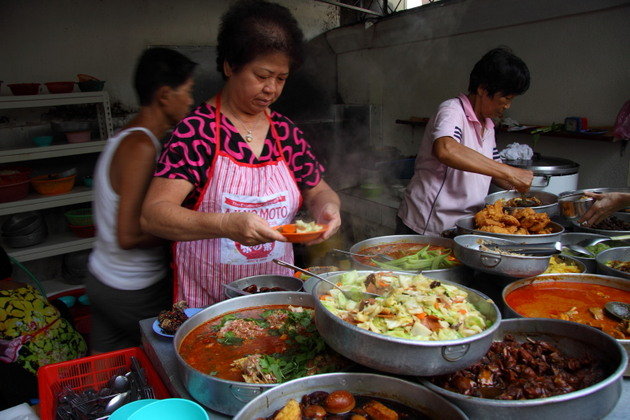 Cantonese Food In A Temple
By CK Lam - Monday, Apr 15, 2013
Occupying a site in inner George Town, the Moey She Temple is a Cantonese-style clan temple for the Chinese with the surname of "Moey". Located on Penang Street, the temple is also where you can dine in – how about that?
At the entrance of the Moey She Temple, you will find a stall selling Cantonese style home cooked food (commonly known as economy rice) during lunch hour. The stall churns out dishes at the small preparation area just behind the food counter. The varieties of dishes are not vegetarian and ranges from chicken to pork, vegetables and seafood.
Several plastic tables are set up inside and outside the temple. As lunchtime approaches, steady stream of working people will stop over for luncheon and many are seen having their takeout orders too.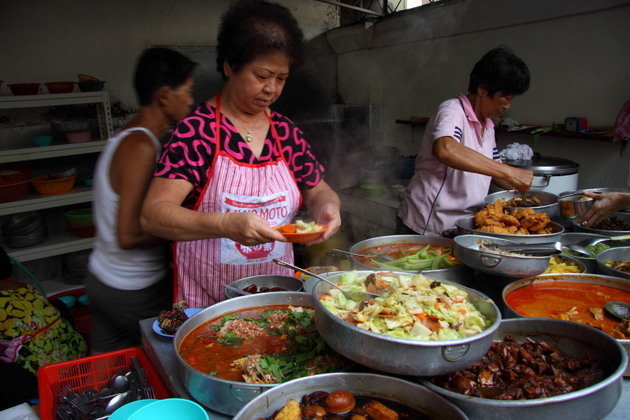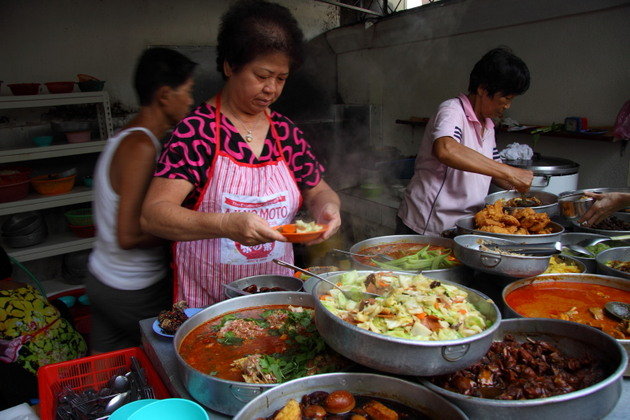 Food comes in a plate of white rice topped with assorted chosen dishes or you could have them served individually. Serving comes in small plates, and usually one would order three or four dishes at a time.
The mixed vegetables (chap choy) is a common stir-fried dish loved by many. As in its Cantonese name, it is a mix vegetarian dish cooked with cabbage, dried black fungus, carrot, sweet thick bean curd sheet, glass noodle (tang hoon) with fermented bean curd.
Soup is a great way to begin any meal and warm chicken feet soup is available for the day. Carrots and peanuts are added for sweetness and nutty flavour. Condiment of sambal belacan is provided to spice up deep-fried fish and meat.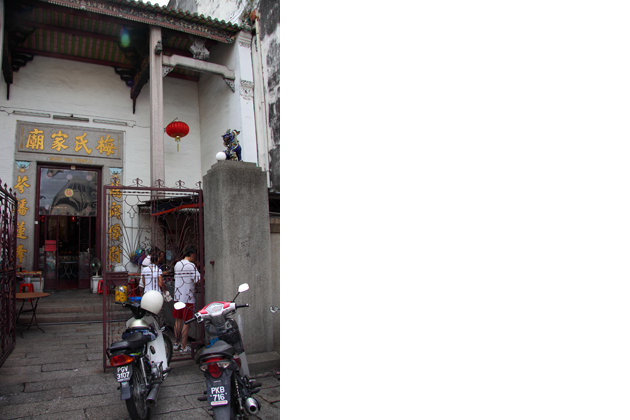 Dining in the temple's tranquil ambiance is utterly different as compared to dining in a coffee shop. It is a place worth returning for freshly cooked and tasty Cantonese food. That is why I return, often with my tiffin carrier.
The stall is on the right-hand side of the Moey She Temple which is decorated with granite panels.
Moey She Temple
31 Penang Street
10200 Georgetown
Penang