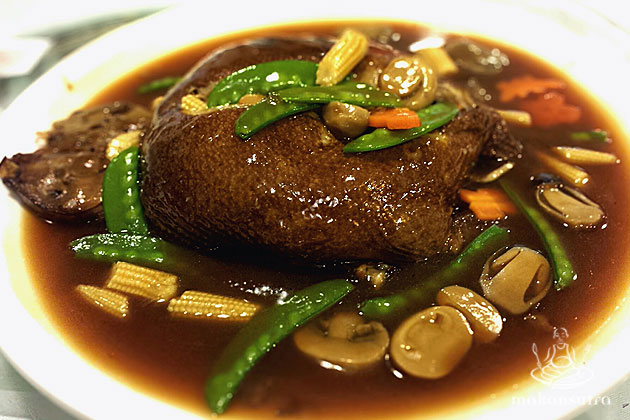 Capital Restaurant: More than Hairy Crabs
By TianTianChi - Thursday, Dec 11, 2014
The last 2 months were the Hairy Crab Season. Almost every respectable Chinese restaurant has them on menu and Capital Restaurant had always been an old school to go places for those milt-y sensations.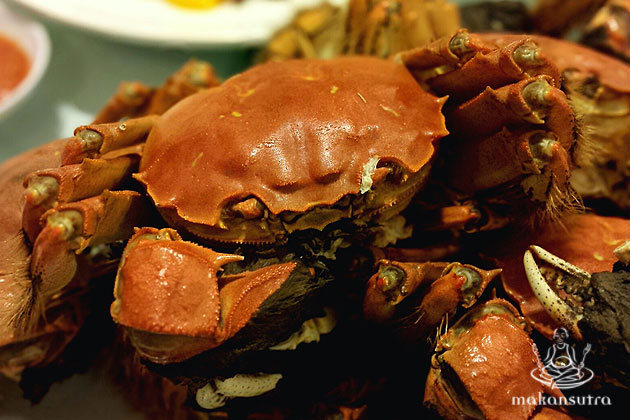 Mr Cheong Weng Kee, 75 has been in the business since the late 60s and is a pioneer offering Hairy Crab when they secured the import rights from China in the mid-1970s. This gave the restaurant advantages of offering decent size crabs at decent prices till today.
However, even with the "affordable" prices, it is still a meal budget buster. So we came for other dishes.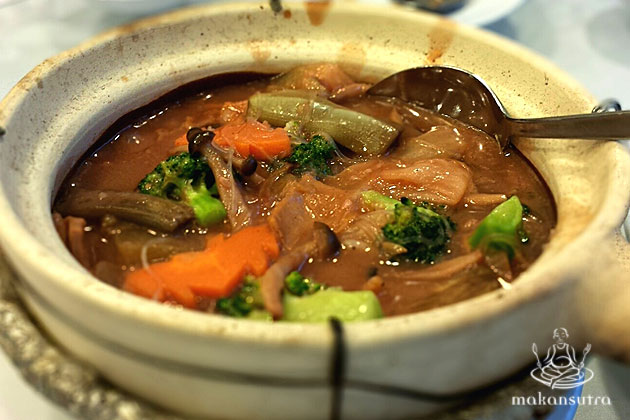 Every now and then, they offer special dishes. These may not be some extraordinary, exclusive ingredients kind of dish and it can be as simple as a Nam Yu Chap Chye (stewed mixed vegetable in nam yu (red fermented yam sauce). Before this dish arrived, we could already smell the mouth-watering, savoury sweet and slightly pungent aroma of fermented beancurd. The cabbage was so delicious and stewed so intense, it came apart into strands and is great with rice.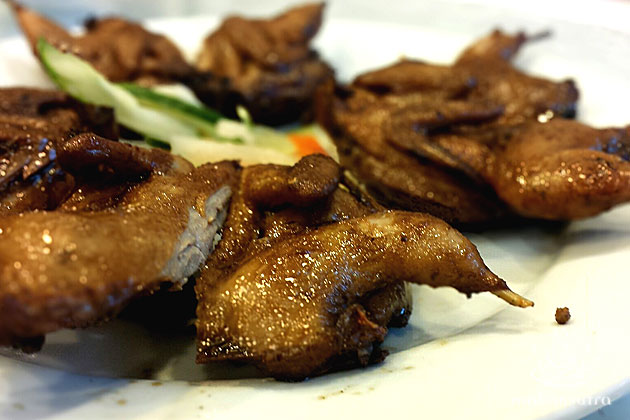 One of the dishes I always order whenever I visit is the deep fried chicken (or roasted chicken as they call it) but the new favorite now is the roasted quails. Even though this is intensely marinated with a honey soy seasoning, the flavor of the bird is not lost. Amazingly, the meat is not only tender and juicy, the meat yields a chicken liver-like creaminess.
Other than hairy crab, the restaurant is well known for its sultan fish. Priced a lot cheaper than most places but this is a fish that demands absolute freshness but we had to settle for a frozen one instead. However I like that do a two-way fish, which is one of my favorites, pomfret done in two methods. The flesh is stir fried while the head, fins and tail are battered and deep fried, an interesting contrast of crispiness and moist sponginess.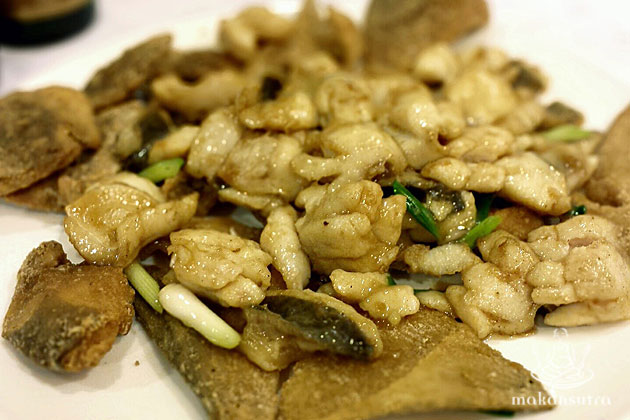 Popular ways of cooking beef and venision in the most traditional Chinese restaurants rarely deviate from stir fry with vegetables, ginger and spring onion, hot plate, black pepper or preserved black bean sauce. They are no different here, but they do let you choose the type of vegetables to go with the meat and I always pick zucchini (Jie Gua 節瓜 in Chinese). There is a lot of skill requried in doing this as the meat of choice cannot be left in the wok for too long or else it will turns tough and zucchini is not exactly a quick fry vegetable and needs some braising. It is a balancing act in the wok. I marvel at how the chef is able to inject wok hei into the meat but yet able to infused the flavor to the squash without undercooking it. On rare occassions they can offer chayote (佛手瓜), do ask for it if it is available.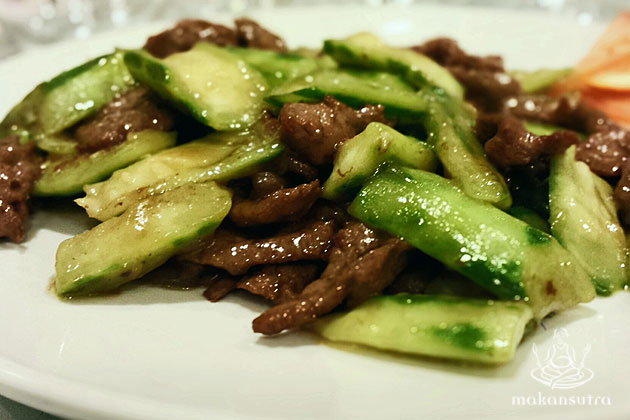 I like it when chef has the confidence to deviate from the traditional yet does not compromise on the integrity of the dish. Most chefs would have kept the nuts whole in the Lotus Seed Duck. Here the nuts are minced coarsely before stuffing in the duck. It reminded me of KFC's mashed potato with the chicken drippings brown sauce over it. The duck flavor infused braising sauce together with the minced lotus seeds is so moreish; I couldn't stop eating it.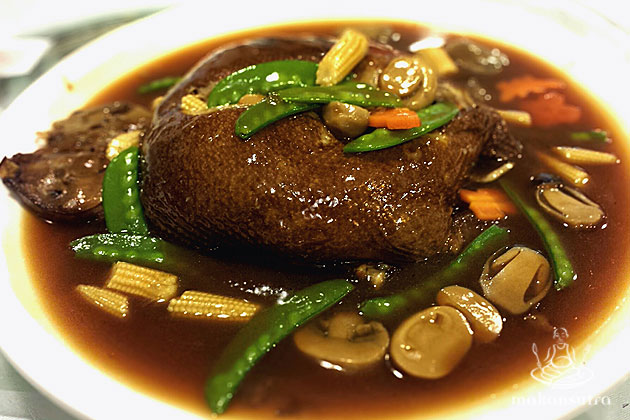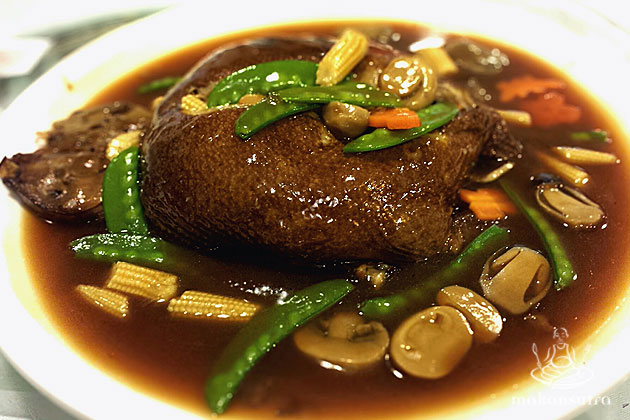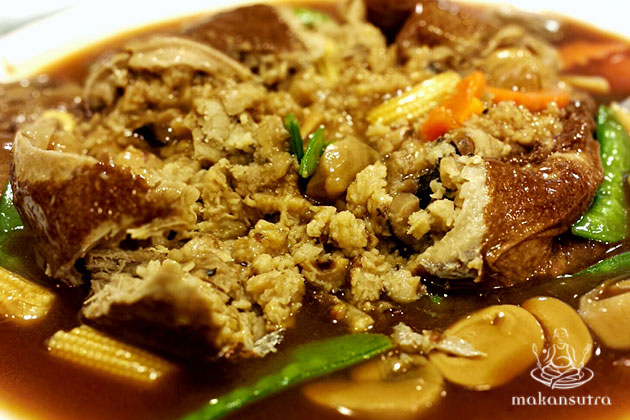 Another dish I love as much as the quails is the Fried Chicken with Pickled Ginger Root. When I first tried it, the chicken looked so black and charred I thought they were burned. It is a light caramelized coating, no burnt taste but with lots of smokiness in it. The pickled ginger is not redundant and gave an appealing zest and spice to it.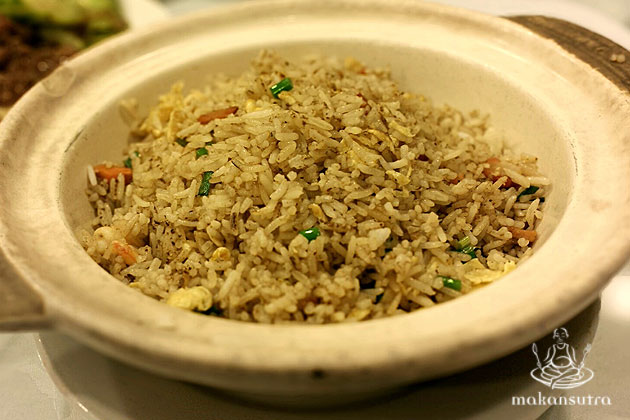 If there is only one staple to order here, go for their version of Yang Zhou Fried Rice. It is fragrant with wok hei wonderfully contained in a heated claypot before serving. You get the best of both world – wok and kwo (claypot) hei. They do a decent hor fun here too.
While I like many of the dishes here, they are some disappointments too. I avoid ordering their crab meat dishes, such as the deep fried crab meat pomegranate dumpling or the crab meat toufu. There is little crab meat, it is pointless.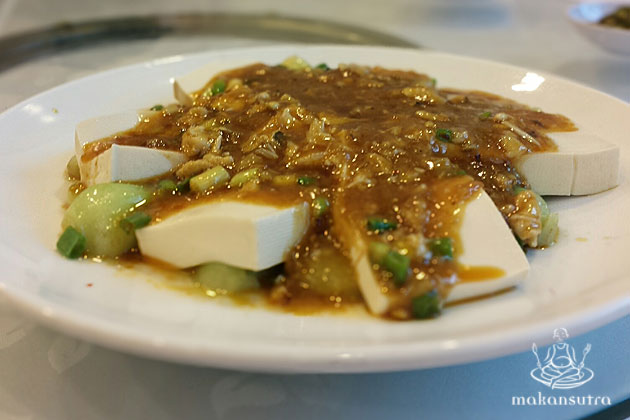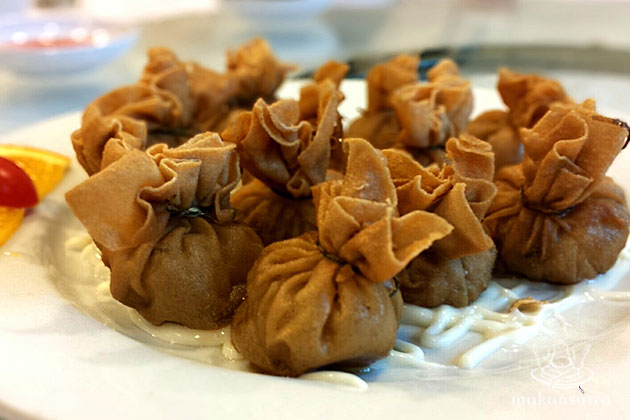 This place is very popular with old school diners but standards can be inconsistent at times. Like many restaurants, they face severe manpower shortage. Mr. Cheong helms the kitchen personally but has only one helper. There is a tendency for the dishes to come out too fast and furious as he has to quickly move on to the next order and the food quality can suffer when the restaurant gets too crowded. My solution is to always go early before the crowds come in and order a few dishes at a time.
Capital Restaurant
323 New Bridge Road
11.30am-2.30pm, 5.30pm-10pm
Tel: 6222 3938