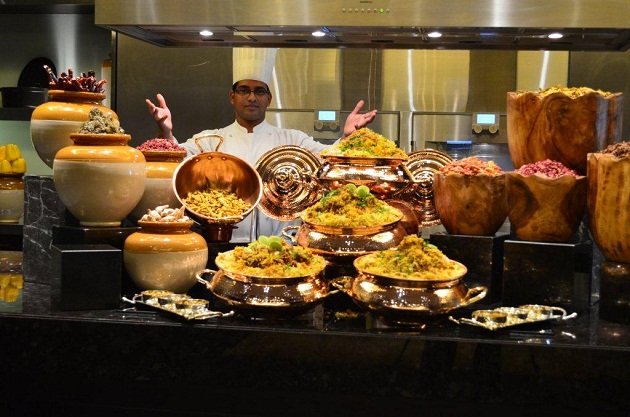 Celebrate Asian cuisines and talents this November
By Joanne Yeo - Tuesday, Oct 30, 2012
If you have missed the opportunity to 'dine affordably' at some of Singapore's best dining eateries at the recent Restaurant Week, the upcoming Asian gastronomic event, Asian Masters, is one event that you might not want to miss. Returning for the third year, the one-month long event happening in November will be in partnership with some of the better dining establishments in Singapore such as the Tung Lok Group, The Fullerton Singapore and Grand Hyatt Singapore to highlight the best of Asian flavours and talents.

Here are three interesting events that you might want to check out:

For the adventurous, Chef Martin Foo of Tung Lok Group has an exciting line up of exotic meats for you. The seven course menu, a first that is specially put together for Asian Masters includes an unusual line-up of dishes such as 'Traditional braised crocodile tail in original jus' and 'Grilled red deer fillet with dangui and wolfberries reduction'. To accompany these uncommon dishes, pair them with a fine selection of premium Chinese Bai jiu 'Shui Jing Fang'.

An Exotic Dinner with Shui Jing Fang Baijiu   Date: 29 November 2012 Time: 7pm Venue: Tong le Private Dining OUE Tower 60 Collyer Quay, level 4 &5 Singapore 049322 Price: $358++ per guest. For reservations, book online at http://asianmasters.com.sg/index.php/events/an-exotic-dinner-with-shui-jing-fang-baijiu or call 6319 1888.

Also a first time, Asian Masters will be showcasing a spread of Hyderabadi cuisine, one of the most refined cuisines with roots that stretch 200 years back in India. Chef Thulasidaran Dayalan from Park Hyatt Hyderabad will be flying in for this two-week event to whip up some of his signature dishes such as dum briyani with lamb, chicken, seafood and a vegetarian option for lunch and dinner at the Straits Kitchen at Grand Hyatt. Cuisine of Thulasidaran Dayalan Date: 1- 14 November 2012 Time: Lunch & dinner Venue: Straits Kitchen, Grand Hyatt Singapore 10 Scotts Road, Singapore 228211 For reservations, call 6732 1234.

It's not all about dining at Asian Masters. At Master's Workshops, a three-day only event, participants can watch and learn from cooking demonstrations of Asian-inspired dishes by local chefs who are members of the Singapore Chefs' Association. After the live demonstrations, attendees can also get a chance to savour the chefs' creations. Among the chefs in the line-up are Chef Daniel Sia of The Disgruntled Chef, Chef Martin Foo of Tóng Lè Private Dining, Chef Eric Neo of Inter Continental Singapore and Chef Robin Ho of The Marmalade Group. Master's Workshops Date: 2- 4 November 2012 Time: 10am, 12pm, 2pm, 4pm & 6pm daily Venue: Great World City Atrium 1 Kim Seng Promenade Singapore 237994 Price: $21.25++ (for American Express cards) and $25++ (other payment modes) For reservations, book online at http://asianmasters.com.sg/index.php/events/the-masters-workshops or call 6319 1888.