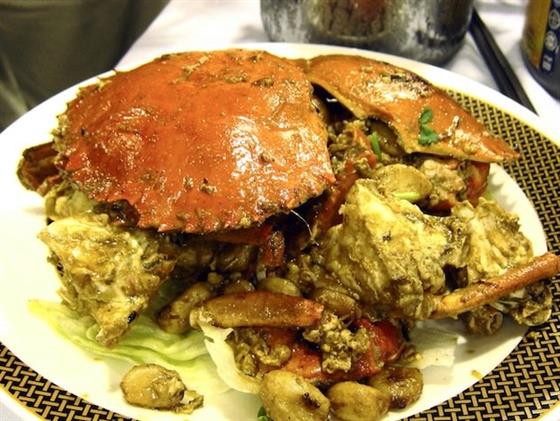 Chao Shan Cuisine – A Legacy Continued
By Tiantianchi - Monday, Jun 10, 2013
Old Teochews have been lamenting less and less traditional Teochew Restaurants, especially after the much publicized closure of Mong Hing and the quiet exit of Tai Seng, an iconic 80 years old Teochew restaurant. They could only reminiscence the golden era of Teochew restaurants from the 50s till 80s. Names like Lao Teo Seng (老潮成), Hai Kee (海記), Lian Heo(联香), Lao Hung Kung(老韩江), Nam Lee(南利), Chui Luck(醉六) brought back fond memories.
Remaining few old school Teochew Restaurants such as Hung Kung (more popularly known as New Hung Kung by the oldies), Yuan Xing, Swa Garden, Huat Kee, Lee Kui etc. were all they counted on until recent years new restaurants such as Chui Huay Lim, Chao Shan Cuisine and Cheng Hoo Tian sprouted out.
Ah Liang, the owner of Chao Shan Cuisine comes from a lineage of the 80 years old Guan Hin (now known as Yuan Xin) legacy. After spending 30 over years cooking there, he decided to strike out on his own together with his wife, Nancy, 3 years ago to start the spiffy restaurant. Words go round and not only regulars of Guan Hin turned up, he also gain a following of new customers.
Just like before, he is still stubborn with quality, helming the kitchen himself with a small team of cooks. Every now and then in midst of cooking he mingles with customers, taking in feedback. Not sitting on his laurel, he travels to Chao Zhou several times a year to refresh himself studying new trends and sourcing for hard to find ingredients.
While he does perennial favourites found in most Teochew restaurants such as steamed fish, braised goose, prawn rolls, su cai (braised mustard green), chye poh kway teow, oyster omelette etc., he offers some not so common unique dishes. Best to call ahead to check with them for the day's special as only a limited portion made and usually reserved for regular customers.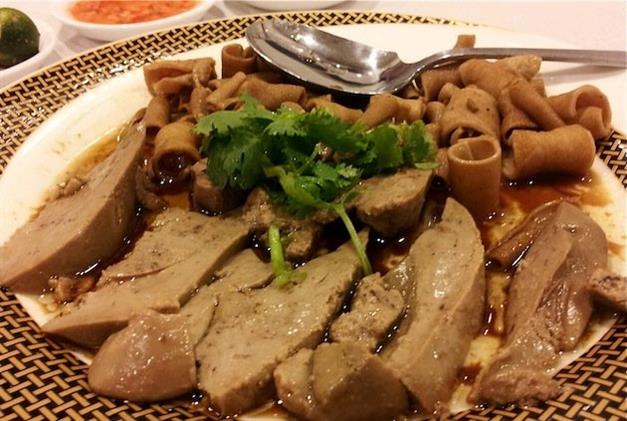 The French has their foie grais and it is commonly available, Ah Liang does a Chinese version. They don't get these goose liver all the time though. Unlike the chicken and duck liver we get at hawker stall, this is well stewed for the flavor of the sauce to be integrated into the soft and creamy liver. Almost sinful.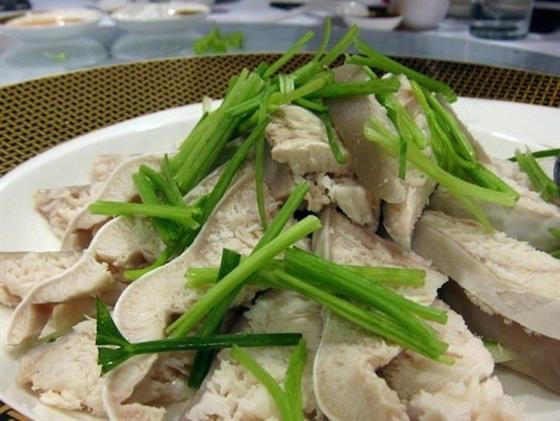 Steamed shark's meat is not a common item served in restaurants as this was previously cheap item and usually associated with street food. However it is getting difficult to find and expensive. The reason they don't do it everyday. It looks simple to cook but the preparation can be tedious. The meat does not taste fish-y associated usually with shark's meat but is fresh, clean tasting and texture gritty, almost like eating fish roe. The sweet and sour plum sauce only act to enhance and not distract.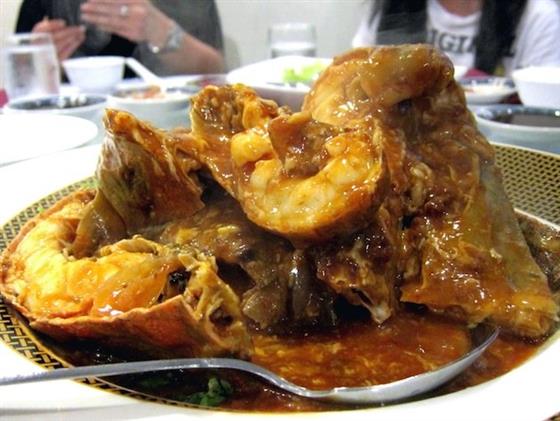 It may not be authentic Teochew dish but I love their version of chilli crayfish, perhaps this is a Singaporean thing. There is no overwhelming tomato paste's tang, chilli spice that burns and excessive saltiness of beanpaste taste. They all blended well, thickened by egg drops and sweetened with the natural juice of the crayfish. I can down 2 bowls of rice with this.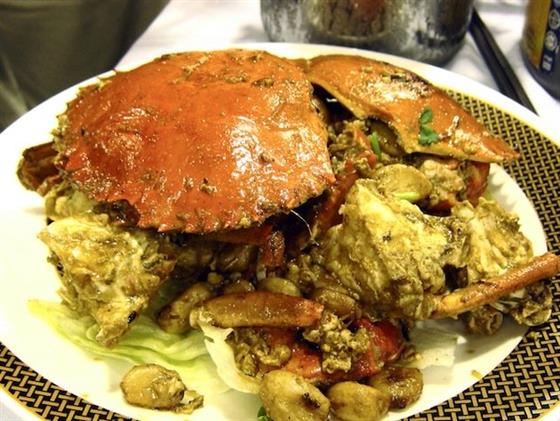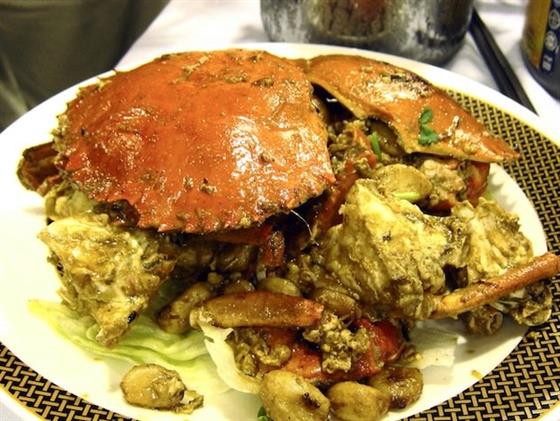 Cold crab is the first thing that comes to many people's mind when ordering crab in a Teochew restaurant. They do a decent one but what shines here is the garlic crab. Nothing fancy, just 2 main ingredients, the crab and lots of garlic cloves. Ah Liang simply baked the 2 items in a wok, liven it with a touch of preserved soybean and lots of Chinese wine. The crab meat essence completely absorbed by the garlic which in turn infused the crab. It is so delicate, no other garnishing are used to confuse the taste.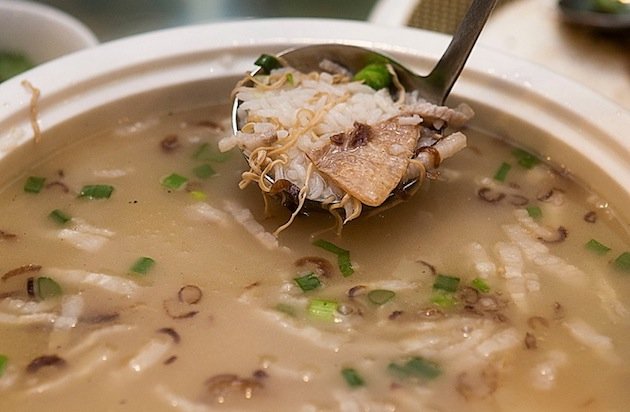 Instead of the usual cai po fried kway teow, I usually go for oyster or clam porridege. The rice is well cooked, grainy with a good bite. The stock is clear and with abundant seafood sweetness from the shell fish supplemented by shredded pork and dried sole (ti po). A refreshing filler.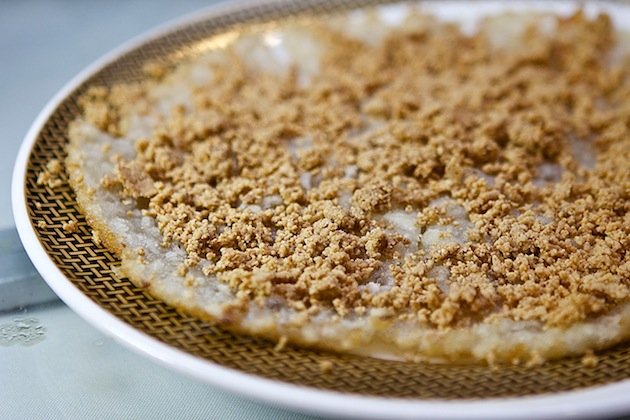 Their or nee (yam paste dessert) is popular but I strongly recommend the Zi Chang Luak (pan fried waterchestnut). A thin layer of waterchestnut cake is pan fried to crisp at the edge, crusty and yet spongy at the centre. Topped with crushed peanut, it is surprisingly not overly sweet. A perfect end to a meal.
Prices here is of mid-level restaurant. A meal for 10 people rarely cost above $300 unless expensive items such as suckling pig (which they do very well) or shark's fin (not a commonly ordered item) are ordered.
Ah Liang told me his daughter who is trained in French cooking but has met disapproval from her husband to work in the restaurant. Hard work and long hours will deter her from looking after their children. He doesn't know how long he is going to keep the business. Age is catching up and he has not been able to find a good protégé to possibly pass the business to. Right now it is day by day, cooking, entertaining his regular but eventually this will end, he says. Hopefully it will not be soon.
Chao Shan Cuisine (潮汕林)
85 Beach Road
Tel: 6336 2390
12pm-2.30pm, 6pm-10pm (reservation recommended)
Updated on 26 August 2018:
Relocated to 17 Phillip Street
#01-01/02 Grand Building
Operating Hours: 11.30am – 3pm, 6-10pm Daily