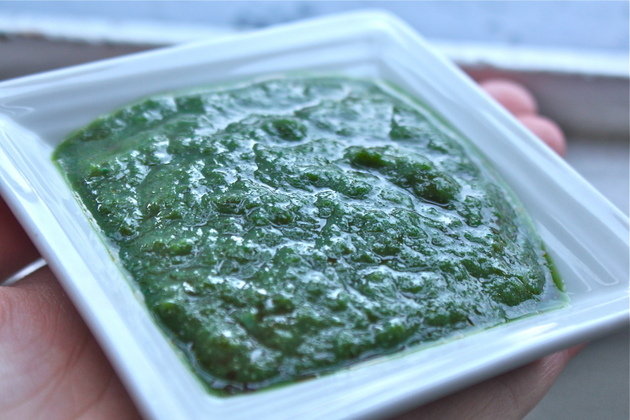 Chat on Chutney
By Tris Marlis - Thursday, Feb 14, 2013
Chutney isn't simply a condiment or a sauce; it is a versatile companion to Indian cuisine as it enhances or balances the flavour of a dish. It pairs well with other Asian and Western food too. And because there are no rules, anything goes!

Chutney can be wet or dry, sweet, sour, hot or mild. The difference between chutney and jam is that the former requires an addition of vinegar to preserve (on top of the usual sugar used in jam). The base is mostly made of fruits, vegetables or both, coupled with spices for flavouring. Each flavour serves a different function, and satisfies different preferences.

"You can make all chutneys at home. Most ingredients are available in Singapore without a problem. You just need the inclination and the time and a good recipe along with good taste buds to make a good chutney," says Radhika Abbi, owner of Mustard Restaurant (Flavours of Bengal and Punjab). Making chutney is as easy as chopping and cooking your selection of fruits or vegetables, mixing them with spices and reducing them to a smooth pulp.

There is a vast range of chutney that you can make at home, find in Indian restaurants, or at supermarket, like Mustafa Center (145 Syed Alwi Rd, Open 24hrs). Here are a few categories that you can explore:

The Tangy Chutney with Fruits

One of the most common fruits used in making sweet chutney is mango. Radhika Abbi, owner of Mustard Restaurant, tells us "you can have mango chutney with almost anything. It's a tangy chutney that could also be used with western style vegetables." Mango chutney is popular among westerners and often eaten as jam to pair with bread, crackers and cheese.

Other fruit chutney, such as apple, papaya or berries also have the same kind of tanginess. They are a good, if not better, alternative to regular jam.

The Zing Chutney with Veggie

Fareena Alam who prepares dinner for Khana Commune supper club in Singapore, always makes chutney for her dishes. On a recent dinner, she made a refreshing coriander chutney to go along her deep-fried bombay duck (a type of river fish). "[This chutney] comes from the Punjabi side of our family. It's perfect for adding freshness and zing to fried foods like our Bombay Duck fish. A good chutney lifts and draws out the flavour of the food on your plate," says Alam.

"Coriander chutney pairs very well with batter fried stuff," adds Abbi of Mustard Restaurant. Coriander chutney is often blended with mint for extra zing, and then there are also spinach, onion or tomato chutney that go well with Indian pakora. You can also try it with tempura or fish and chips.

The Spicy Chutney with Chilli

Chutney with spicy notes compliment savoury dish very well, especially meat-based dishes. On certain occasion, the Alam family also makes tomato chilli chutney for their guests to take home. Other spicy chutney, like garlic chilli, green chilli and ginger chutney can be found in jars at Mustafa Center.

In fact, chilli lends an additional layer to various chutneys. "Fresh chillis are often used to give fragrance and heat to the more common chutneys – mango, lime, olive, you name it," explains Alam.

So there you go, spicy mango chunky chutney, anyone?