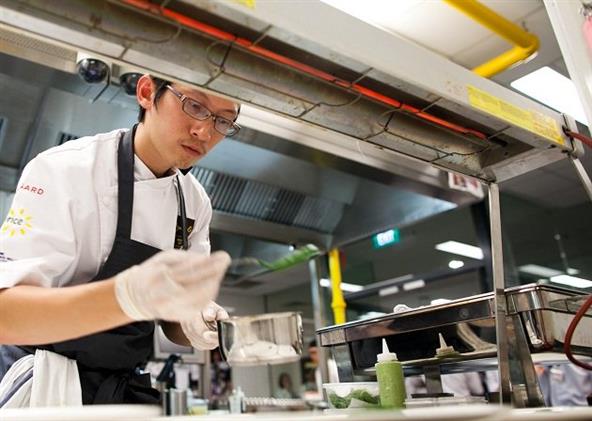 Chef Yew Wins Singapore's First Gold Medal in Bocuse d'Or Asia
By Catherine Ling - Monday, Sep 10, 2012
Singapore finally again has a chance at the prestigious biennial Bocuse d'Or championship in Lyon next year. Widely hailed as the World Cup of the culinary world, the Bocuse d'Or is the single most anticipated competition for individual chefs.
Chef Yew Eng Tong, who is Chef de Cuisine at The Cliff at The Sentosa Resort & Spa clinched the coveted gold medal of Bocuse d'Or Asia, beating out nine other countries at the Shanghai event in June 2012. This is the first time Singapore has won the gold medal. The last time a Singaporean chef stood on the podium was in 1989 when Chef William Wai took home the bronze medal.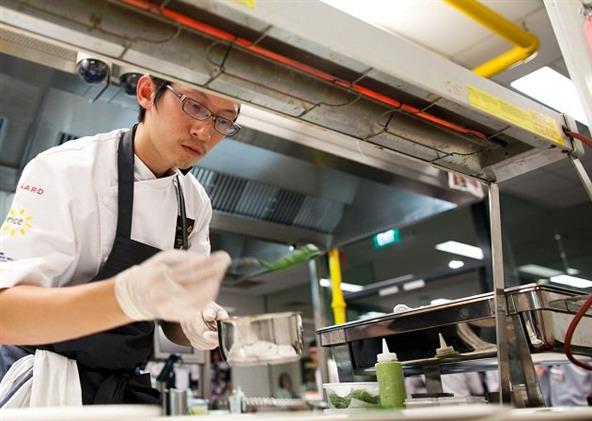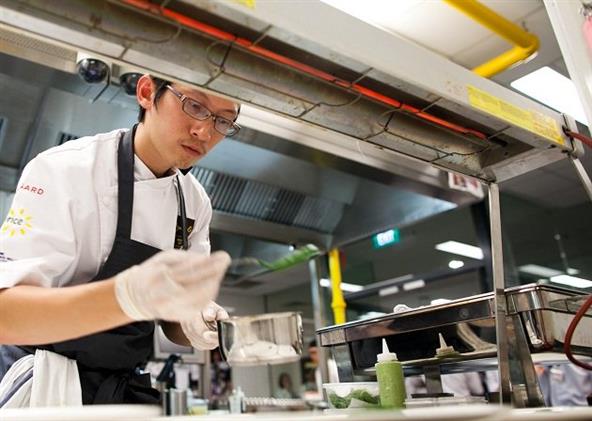 "This was the toughest competition ever," says Chef Yew, who is no stranger to competing. "This is my first time participating in Bocuse d'Or, and I had no idea it would be this difficult. But it is also my proudest achievement."
Chef Yew's winning dish consisted of beef tenderloin; minced oyster blade flavoured with ground cumin and coriander; and duxelles made with three types of wild mushrooms encased in spinach, all rolled and tightly wrapped in Parma ham with a sesame and parmesan crust. This was served alongside a beef pastilla medallion made with a citrusy braised beef cheek wrapped in crisp phyllo pastry; celeriac and truffle cannelloni made with thinly sliced baby zucchini; and four textures of onion.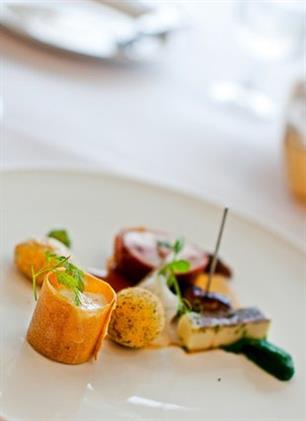 "My dish was not the most beautiful or impressive platter, but in the end, it won the judges over because of the taste," says Yew.
He trained for three months, practising the preparation of the dish within the given timeframe. Pressure was high, but now it is even higher. Chef Yew will battle it out with 20 other contestants from around the world.
But human beings do their best work when work is like play, and Chef Yew Eng Tong clearly has fun in the kitchen.
"The kitchen is my playground; I could spend three quarters of my day there!"
Chef Yew Eng Tong has always been good with his hands. He excelled in arts and crafts as a child, and has managed to parlay his sensitive aesthetic sense into culinary creativity. Under his watch, The Cliff won acclaim, awards and raves from industry and clientele alike.
Not bad for someone who never thought he would become a chef. "I always thought I would be taking care of animals," he says. But now he just transforms certain animals instead into works of edible art.
He had a vision of himself being in charge in a kitchen, instructing a group of chefs and delegating tasks. At first he didn't pay much heed to it, but the vision again appeared when he was contemplating his future. If only the rest of us could have such clear-cut career epiphanies. So determined was he that he rode out family objections and showed them instead through his achievements in culinary school and beyond that he had made the right choice. The Bocuse d'Or Asia win probably seals the case shut.
The SHATEC graduate counts the late Chef Toh Thian Ser (formerly the Executive Chef of Traders Hotel) as his biggest influence. Through school, work attachment and competitions, Chef Toh guided Yew on how to be a good chef and leader, and imparted food knowledge to the young chef.
When he joined The Cliff in 2009 as sous chef, he also did not expect to become Chef de Cuisine. But when that position was vacated, he stepped up into the role and took charge of the kitchen while interviews were being held. As luck would have it, none of the interviewees met the grade, and the restaurant decided to promote him instead. He was sent for training at Victor's Gourmet Restaurant, a 3-Michelin Star Restaurant in Schloss Berg, Germany, under the tutelage of Chef Christian Bau.
For now, the hallowed halls of Bocuse d'Or in Lyon beckons. How will Chef Yew prepare for the immense feat ahead of him? "At the moment, I'm waiting for the theme for the fish platter. Meanwhile I'm trying out some possible garnishes to go along with the platter. I will also be improving on the finishing of the meat platter from the Asia selection. Later on when both are set to go, I will be practicing twice a week for the next three months."
It looks like he will be pursuing the same formula that brought him success. All eyes are on him to bring home the glory next year!