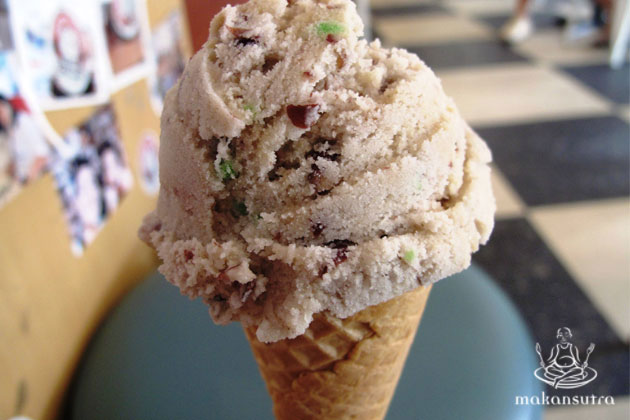 Chendol: 6 Different styles in Singapore
By Thammika Songkaeo - Tuesday, Aug 19, 2014
What? That's chendol? You might be surprised by the array of chendol styles seen here in Singapore. Although many people are now taking chendol pilgrimages abroad, the Singapore options call for an exploration on its own. From Thai to Peranakan, you'll be surprised to know what many here have been doing to this dear dessert.
Thai Chendol ("Lod Chong")
Diandin Leluk, 5001 Beach Road (Golden Mile Complex) #01-67/68/69, Daily 24 hours, Tel. 6293 5101
The terms "lod chong" mean "to slip through a hole" and refer to the green slippery chendol itself. The Thai version comes with an array of toppings – normally of your choice in Thailand. Diandin Leluk makes the dessert from scratch. Although theirs tastes overly diluted, it's not an inaccurate representation of the Thai topping possibilities. The bowl ($3) comes with yam, corn, agar agar, sago, and the option of shaven ice or no ice at all (unlike in Thailand, you don't have a toppings choice here).
Fun fact: there was once another version of Thai Chendol known as "Lod Chong Singapore", which originated in front of an old movie theatre, called "Singapore Cinema". It's not actually of Singaporean origin. Ironically, if you ask Thai vendors where you can find "Lod Chong Singapore" in Singapore, they will not be able to answer. Diandin Leluk's folks said "try Little India".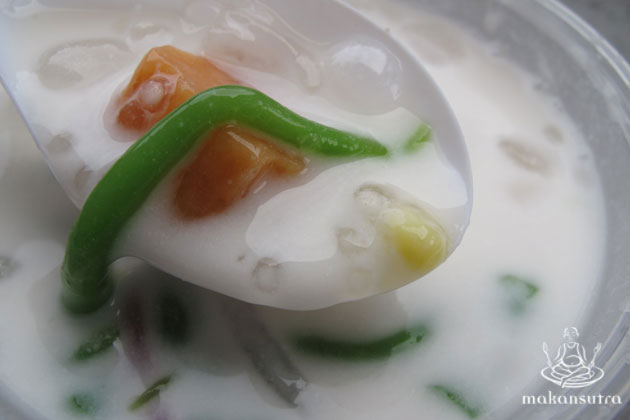 Chendol Slush
Faizal Famous Tea Tarik, Tekka Market #01-322, Daily 8 a.m. – 9 p.m. Closed every other Monday
It turns out that the crazier chendol in Little India is this chendol slush, found at Faizal Famous Tea Tarik ($1.50). The friendly woman behind the counter executes orders with a smile. She and another man turn their backs away from you when they're making that chendol, and it makes you wonder what they're doing to your food. The end product – still a slight mystery – combines condensed milk, blended red beans, a salty caramel, and, of course, thin pieces of chendol. The salty caramel is what makes their chendol different and refreshing. After getting a serious stir, the cup turns into a salty and sweet drink that you can just gulp down. Top points for innovation at the hawker centre.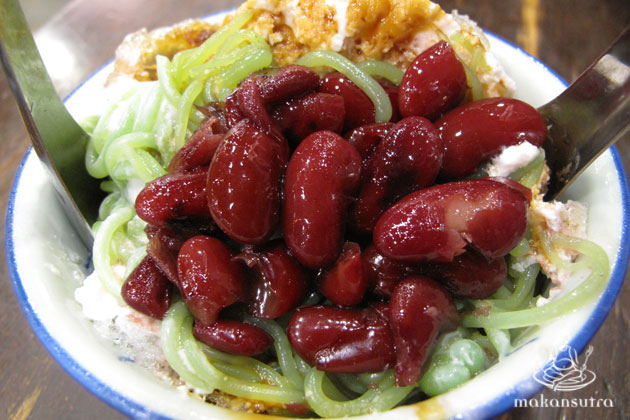 Penang Chendol
Malaysia Boleh, Jurong West Central 3 (Jurong Point) #03-28, Daily 10 a.m. – 10 p.m.
The pilgrimages that Singaporeans take to Penang to eat chendol attests to its greatness. If, however, you cannot make that trip in the near future, Malaysia Boleh's Penang Road's Famous Cendol Stall will have to do. Their plump red kidney beans add a crunchy texture to the shaved ice that's enhanced by comfortingly sweet gula melaka syrup. The resulting chendol tastes rounded and delicate, like it's a well thought-out piece of artwork. You'll want to embrace it with somebody because that cool sweet coconutty sensation is so alluring, you'll want others to understand, too.
Shendol Delights
Ujong, 328 North Bridge Road #01-10, Daily 10 a.m. – 10 p.m., Tel. 6635 6502
Not a typo, Shendol Delights ($15.90) is a panna cotta chendol named after its inspiring founder, Shen Tan, at Ujong at Raffles Hotel. She calls her version a "deconstruction" that takes apart what a traditional chendol is and then whips the flavours back together in a different look. Indeed, that's what Shendol is: a coconut panna cotta with a gula melaka syrup top layer, surrounded by sea of mung bean chendol, and red bean ice cream (which makes possible the absence of crushed ice). Ujong concocts all of these in its own kitchen. What makes this chendol a fave is how inspiring it is. It makes you wonder how else the same taste can be visually reconfigured. Lastly, the taste is just as refreshing to the palate as it is to the eyes. The one little peculiarity was the amount of chendol (not as much as the other styles), but this is a panna cotta more so than a chendol, after all.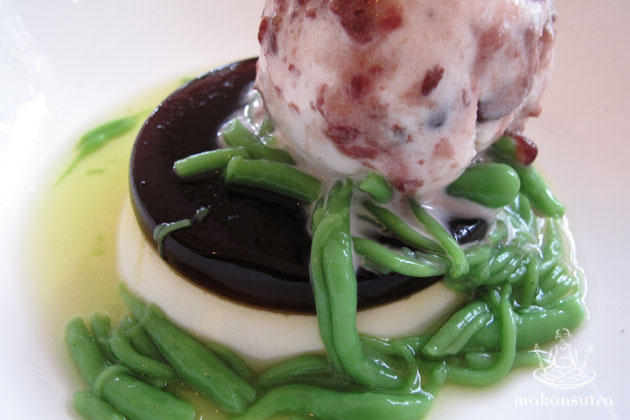 Chendol Cream
Candlenut, Dorsett Residences, 331 New Bridge Road #01-03 , Monday to Friday 12 p.m. – 2:30 p.m. & 6pm to 10pm, Saturday 6 p.m. – 10 p.m., Tel. 8121 4107
Chef Malcolm Lee at Candlenut again does not disappoint. His "Signature Chendol Cream" is a light custard – lighter than Shendol – and it gets its main umph from the thin, though penetrative, gula melaka syrup that sits on top of the gelatine. Infused into the syrup are the actual chendol – the right amount to allow the green pieces in every bite. Chef Malcolm doesn't add red beans, making you focus on the neat taste of the custard's quality, and the amount is just right to cleanse the palate at the end of a meal. Wait, what, it's only $7 for that work and Candlenut's atmosphere and quality?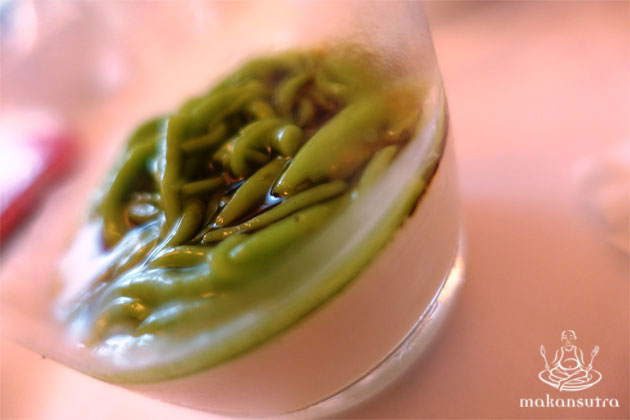 Chendol Ice Cream
Island Creamery, 10 Jalan Serene, Sunday to Friday 11 a.m. – 10 p.m. & Saturday and PH 11 a.m. – 11 p.m., Tel. 6468 8859
It's tough calling this one as "ice cream", since it felt more like a densely packed chendol ice slush (i.e. very icy), but since it's nestled among all sorts of ice cream at Island Creamery, let's give it the ice cream status. This chendol ice cream ($3.20) recalled a red-bean coconut ice cream bar, though with slight hints of gula melaka. The chendol isn't very present, and in fact, it's cut into small pinky-nail-size pieces. The best part was probably the combination of this ice cream with the crispy wafer cone. It gave this chendol the extra crunch that other forms of chendol missed. Maybe some more chendol and cream would be nice, but at least there's the cone-combination to be excited about.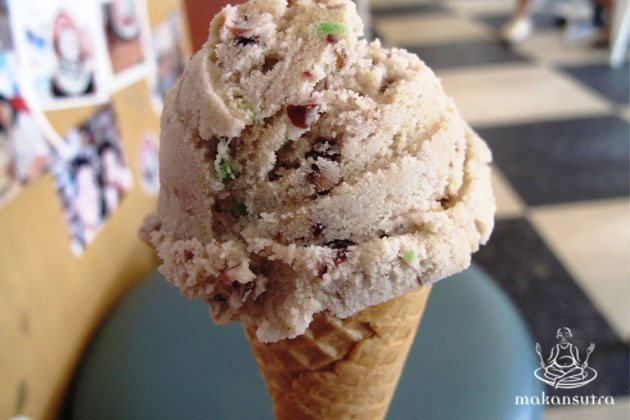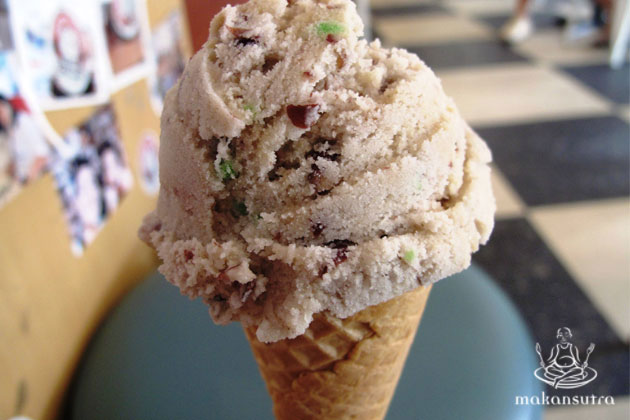 So go out and swim and savour in the chendol sea here. You might not really know chendol if you don't know its diversity.