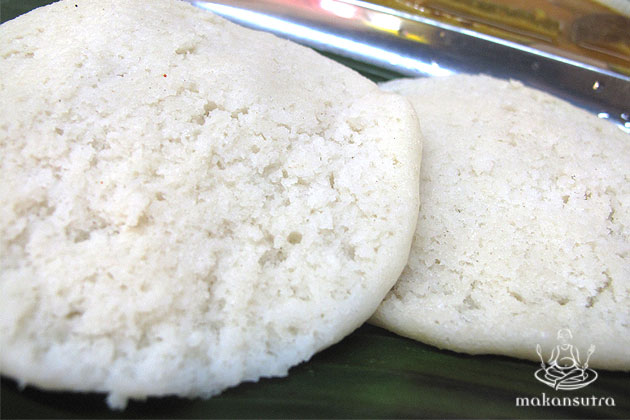 Chettinad Foods: The original cuisine of Singapore "financiers"
By Thammika Songkaeo - Friday, Sep 26, 2014
It's inarguable that Singapore today is a financial centre. The financial experts here aren't a new breed though. The Chettiar or "Chetty", who came from Tami Nadu, South India, even before the mid-nineteenth century, operated money-lending businesses in warehouses known as kittangi. Although they sound like very rich, sophisticated men, many Chetty operated their businesses simply, sitting cross-legged with a wooden box and a cupboard to safeguard documents, waiting for clients who arrived by word-of-mouth.
The look of their businesses mirrored that of their food. The Chettiar's curries and breads seem simple, when they are in fact deep and rich creations. Chettinad food might not seem as varied as, say, nasi padang's forty selections, but it's the penetrative essence of the spice perfume that highlight this cuisine. So, here's the big question: What is Chettinad food? What did some of Singapore's first financial consultants taste when their palates missed home, and what do today's sellers have to say about this South Indian cuisine?
Dosa
You've probably heard the term, but can you list five dosa varieties? The dosa or thosai is a thin pancake constantly made exciting by its forms. At Komala Vilas, mornings can begin with a platter-size Masala Dosa ($3.90), filled with spiced mashed potatoes and served with sambar and coconut chutney. Like most dosa-offering eateries, Komala offers an endless array (now things seem more like nasi padang): ghee dosa, butter dosa, onion dosa, and even mini chocolate dosa. Kebabs 'n' Curries, Mustafa Centre's rooftop restaurant (it sounds fancier than it really is), offers an unforgettable crispy and chewy Rava Dosa, made of semolina, for a mere $4. The sellers of Rava explain that "many customers who aren't Indian don't order this because they don't know it," but it's well-worth the try!
Vadai
This chickpea doughnut started off as a snack, but for the Vadai-obsessed, it's also a light meal any time of day. Located in Thye Chong Coffeeshop, a stall with no name makes crispy-on-the-outside, fluffy-on-the-inside rounds, at only $1.20 apiece. Vadai are sold individually, but they also come in sets, as it does at Komala Vilas for$2.90.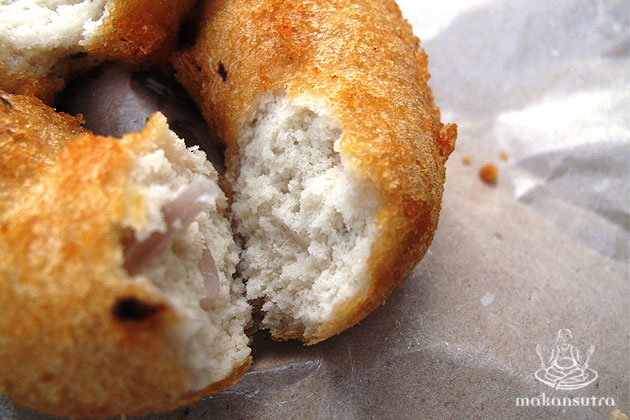 Pongal
Ven Pongal – herbs- and spice-infused rice, usually served with sambar and chutney – is a common breakfast in southern India, but you'll often see it as just "Pongal" on menus. It's hands-down comfort food, given the tenderness and mushiness of the rice. At Chetty Vilas Restaurant, the Pongal is decadently flavoured (Komala Vilas does it well, too). You'll be biting into pieces of cumin seeds and cashew. Sakarai Pongal is the sweet version of this, and you'll find it at Indian festivals (Deepavali is coming up!). Like Rawa, many who aren't Indian don't know of Pongal, and orders from non-Indian customers draw a mesmerized smile from any waiter.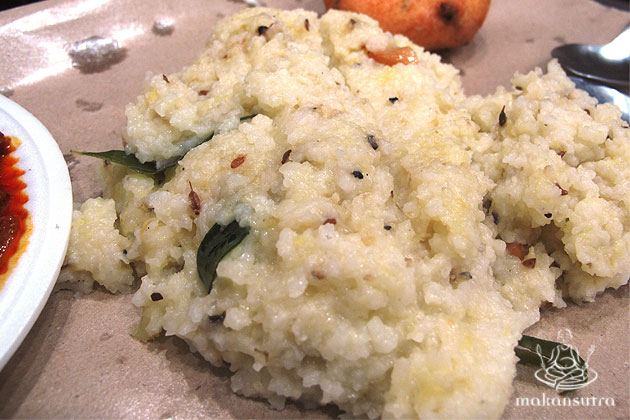 Chicken Masala
Chetty Vilas' Pongal was great, but the Chicken Masala was even better, just striking the chords of heaven. Together, and with an additional vadai, it cost only $6. The chicken, which is so tender it needs just your fork's soft nudge to break it down, is encased in a sea of spiciness that is intense, yet not overwhelming. Different notes hit your gustatory sense during different intervals, and the marriage of chicken and juice feels like an oceanic wave of hot, soft, and fiery, thanks to capers, corianders, and curry leaves. We were told that "food is spicier in the south, and less spicy in the north, where things are more and more salted" because the Spice Trade route affected South India more drastically!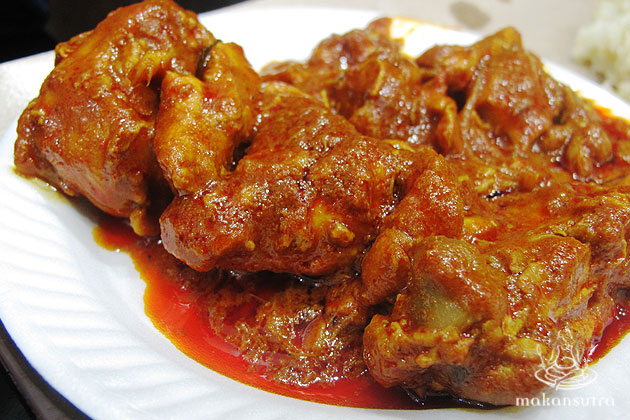 Idly
Another traditional breakfast item, Idly seems a healthier option, as it is a steamed fermented-lentil-and-rice cake. Dip the rice cake in any of the three condiments – sambar, coconut chutney, and tomato chutney – and then into the gunpowder chutney (a combo of lentils, chilli, and sprinkles of other spices) and you get a clean taste of a non-oily vegetarian breakfast. The Idly Set at Gokul Restaurant ($4) lets you feel the fermentation pretty well, with the sourness of the cakes. Ananda Bhavan's ($3) tastes less sour. Ultimately, it's Murugan Idli Shop (which is actually from India) that wins though. It's an Idli specialty store, where you'll find not three, but four types of chutney and sambar – quite a unique idly happening in Singapore.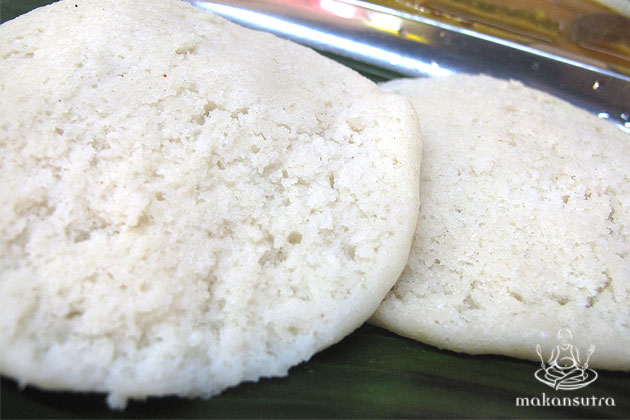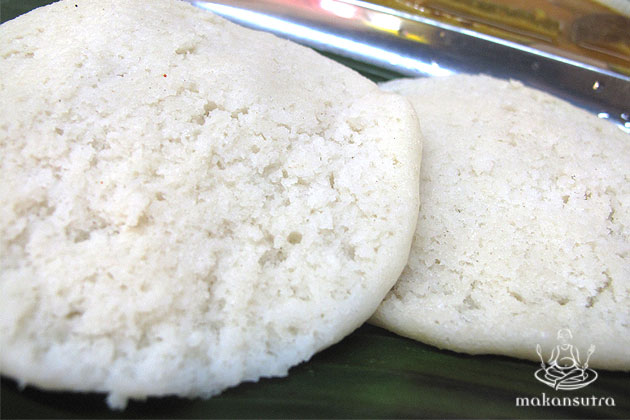 Keerai Kootu
It's a very watery spinach dish, and it's not as spicy as a curry, though cumin and turmeric make their way into it. Keerai means "spinach", and kootu means "added", and Keerai Kootu here signifies spinach added to lentils. There's a multitude of kootu dishes out there, since any green is pretty much permissible, our waiter explains. Puri, a deep-fried wheat bread, was our main spinach scooper. With puri that came with potatoes and the keerai kootu, the bill came to a mere $4.50 at Chetty Vilas.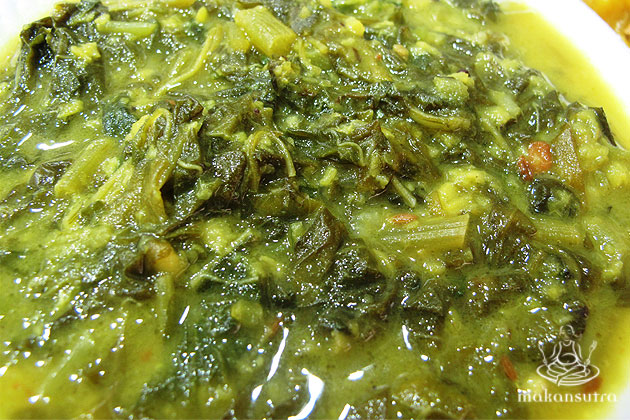 So, now that you know six Chettinaad dishes, what's the first you're going to try? With these low price tags, you clearly don't have to work in finance to delight tin South Indian wonders.
Komala Vilas (Dosa, Vadai, Pongal),  
76-78 Serangoon Road, Daily 7 am – 10:30 pm, Tel. 6293 6980.
Kebabs 'N' Curries (Rawa Dosa), Mustafa Centre (Level 7),
Daily 11 am – 1 am, Tel. 6419 0749.
No Name Stall in Thye Chong Coffee Shop (Vadai),
168 Serangoon Road, Daily 5:30 am – 1 pm.
Chetty Vilas Restaurant (Pongal and Chicken Masala),
10 Norris Road, Daily 6 am – 11 pm, Tel. 6299 1158.
Gokul Vegetarian Restaurant (Idly),
190 Fortune Centre, #01-07, Tel. 8:30 a.m. – 8:30 p.m., Tel. 6337 4811.
Murugan Idli Shop (Idly),
85 Syed Alwi Road, Daily 9 a.m. – 11 p.m., Tel. 62980858.
Ananda Bhavan Restaurant (Idly),
95 Syed Alwi Road, Daily 24 hours, Tel. 6398 0837.