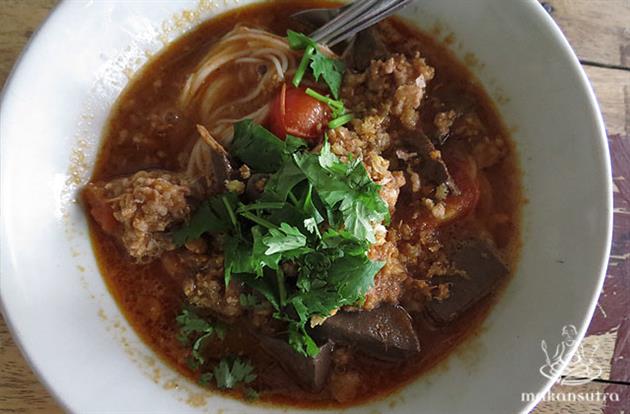 Chiang Mai Khao Soi: A Family and Thai Favourite
By Thammika Songkaeo - Thursday, Dec 04, 2014
Chiang Mai is a hot destination, easily accessible by both budget and blue-chips airlines, and this holiday season, many among us already planned for an escape there and December is probably the best month to feel the coolness of this Thai province. There's been a lot of development, with condominiums popping up everywhere, but luckily, the old town remain, with temples from the fourteenth century still glowing beautifully, with that pride of Chiang Mai in the air. Part of that pride shows in their khao soi, literally "cut rice", a Thai style laksa-like concoction, with yellow boiled noodles topped with deep-fried noodles in yellow curry. It's a dense broth for noodles, but slurping the richness of the coconut laced curry and the noodle makes this a favourite comfort food any time of the day in Chiang Mai. If you ask the informed locals where a good place for Khao Soi, they will point you to a place that's tucked in a little alley, or soi.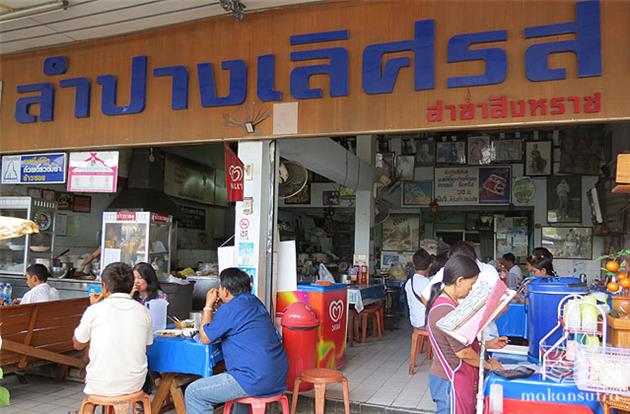 Lampang Lert Rot( ลำปางเลิศรส ) , which translates as something like "Supreme Taste Lampang" (a neighbouring province" is the birthplace of this family's recipe that has been passed down over a hundred years. The owner claims to be following her great-grandmother's recipe to the tee and from the robustness of her dish, which tastes close to the Burmese Mohinga version (and probably a prototype) of khao soi, her claim is pretty believable. The spices and herbs, which include coriander, turmeric and shallots, create a kick, and the curry latches onto the noodles, slithering down your mouth simultaneously with the noodles as you slurp. A khao soi that's not done well, she explains, tastes "watered-down" and "there's no balance of flavours".  She adds, "A proper khao soi should have three tastes: sweet, salty, and sour".
If you've had a few other versions before, you could clearly taste what she meant by  "watered-down". The others can come feeling watery, a bit closer to the texture of a light green curry. It's not just the curry that makes a difference.  If the noodles aren't al dente, then they don't match with what a khao soi curry is supposed to be. A common mistake is that some people make the noodles too soft.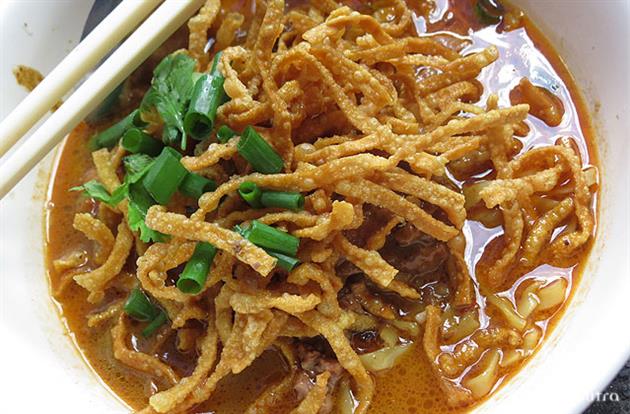 If you've already aced khao soi, then there's always nam ngiew ( น้ำเงั้ยว ), a tangy tomato-soup-based rice noodle dish. While khao soi uses the more common chicken meat (and sometimes beef), nam ngiew's got an item for the more adventurous: curdled blood cakes. They do enter your system very smoothly, just slipping down with the tomato flavours, and are worth a try too, at Lampang Lert Rot.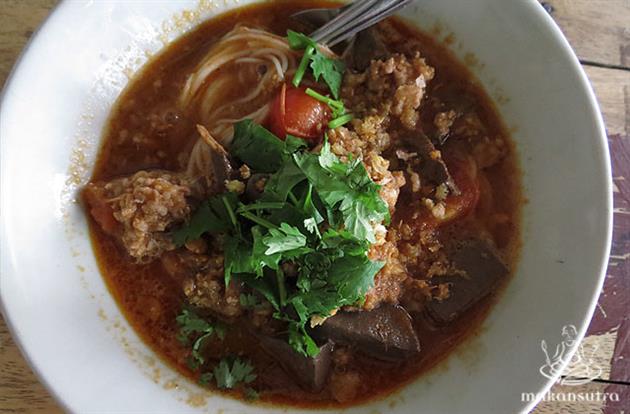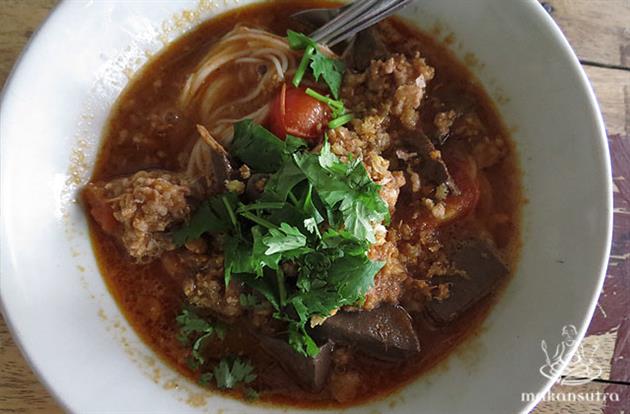 Lampang Lert Rot: Arak Road, Soi 2, Sriphum, Chiang Mai, Daily 10 a.m. to 5 p.m. ( ถนนอารักษ์ ซอย 2 ตำบล ศรีภูมิ เทศบาลนครเชียงใหม่ )