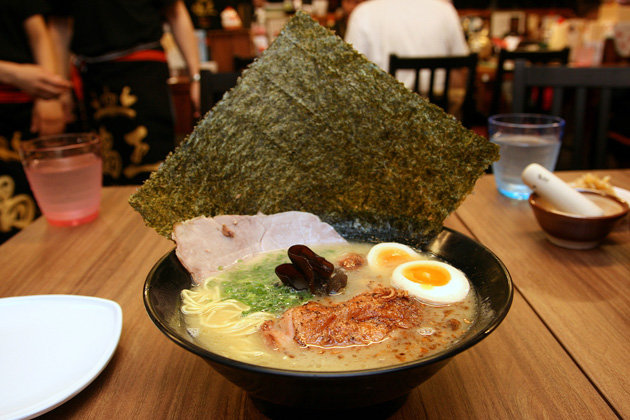 Chicken Broth Ramen Keisuke Tori King Opens at Amara
By Catherine Ling - Monday, Nov 05, 2012
It would have been easy for Keisuke Takeda, 43, to simply open up more branches of his wildly successful Keisuke Tonkotsu King in Singapore to cash in on the nation's love for pork bone broth ramen. But the chef remains a true artist in that every single outlet in his empire (including the 15 in Japan) is different.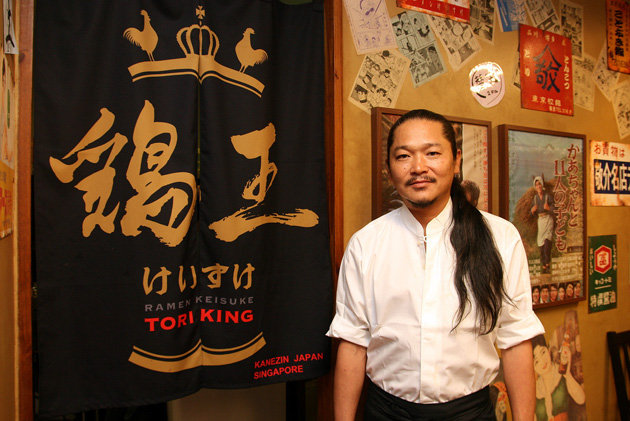 For his third shop in Singapore, Ramen Keisuke Tori King, he has chosen to offer chicken broth ramen ("tori" refers to chicken in Japanese). This is the first chicken broth ramen he has done. He doesn't even have this in Japan yet.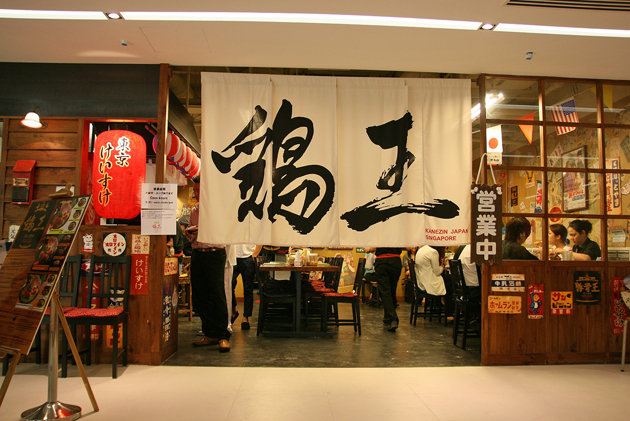 However, chicken broth ramen while not new in Singapore, has never quite taken off. Tonkotsu or pork bone broth is still the reigning choice of most Singaporeans. So isn't he taking a risk?
"Singaporeans like chicken. It's evident – take a look at chicken rice, for example," he says, pointing out our unofficial national dish. "It's just that we don't know how to use chicken in ramen yet. Plus not everyone eats beef or pork, so I want people to have a choice."
Well, he may have just nailed it for us. The chicken broth he has concocted is supremely unctuous and umami, with amazing body and flavour. It's been made by boiling chicken bones, chicken feet and kombu, stewing and reducing them for 8-9 hours. The ramen is topped with a piece of grilled chicken thigh that is stunningly fall-off-the-bone tender. It's also been poached and marinated 10-11 hours to get that kind of evenly smooth flavour that's permeated right through to the bone. The specially made noodles are also the perfect complement to the soup.
Enjoy it as its "Original" flavour, or topped with a "Black Spicy" (toasted szechuan peppercorn and garlic in oil) or "Green Spicy" (a creamy wasabi sauce). Customise it further according to toppings, firmness of noodles, and how strong or oily you prefer the broth to be.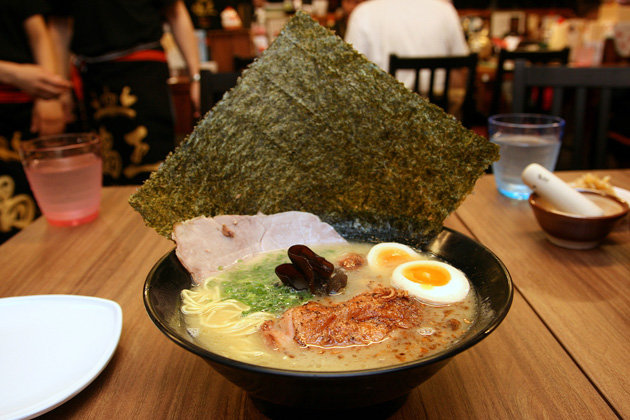 You might be surprised to find that this isn't an eatery that boasts specially imported premium ingredients. Keisuke-san firmly believes a professional chef should be able to make even ordinary ingredients sing. Apart from the Hidaka kombu from Hokkaido and premium soy sauce from Japan, all the other ingredients are locally sourced. It's not even sakura chicken he uses, just regular chicken.
His noodles are quite unusual – you can't exactly place them as any regional style (not Hakata thin and straight, or Sapporo chewy and curly). That's because he first creates the soup and designs the noodle to best match the broth. "I don't follow any particular style. My motto is to make food that people enjoy, and to surprise their tastebuds."
The 32-seater outlet itself has a warm, energetic retro buzz, with '60s and '70s posters, manga sheets and paraphernalia plastered on the walls. Tori King wants to bring diners back to the Showa period, a throwback to the days when life was more leisurely in Japan.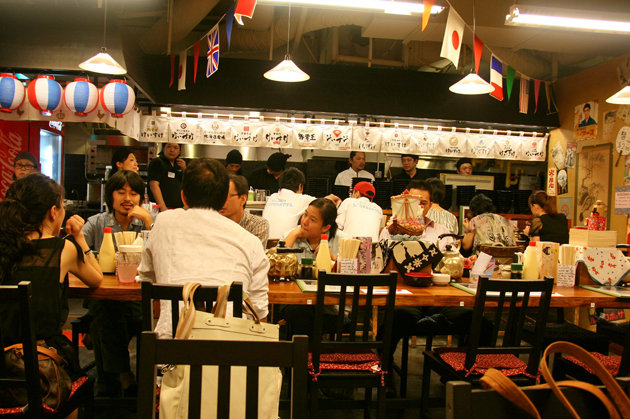 But another question begs to be asked. Isn't the ramen market a little too saturated in Singapore?
"Yes and no. When you look at Japan, there are far more ramen shops and varieties. There are a lot of brands here, yes, but most of the ramen here is tonkotsu based. There is definitely room for more flavour variety and depth," says Keisuke.
Keisuke certainly wanted to inject some variety when he first entered the scene in Singapore. He showcased his signature ebi or prawn broth ramen at Keisuke Tokyo at Parco, and while it was lauded as sophisticated by some, there were also too many comparisons to local "hae mee" (prawn noodles). Singaporeans did not take to it, and all prawn items were soon removed from the menu.
He admits that he did not study the market well enough at that time. His prawn broth ramen was perhaps too avant garde then, he chuckles. The market may be more receptive to it in a few years time. Right now the Parco outlet focuses on tonkotsu and kani (crab) flavoured ramen.
Keisuke, who was crowned Tokyo's Ramen King 2011 from out of some 30,000 ramen chefs, certainly seems determined to make his mark on Singapore. He likes how cosmopolitan this country is, and feels it is an excellent microcosm and testing ground for going international.
His focus is now to make Tori King successful. It's heartening to know he's got three Japanese chefs stationed at this outlet permanently to ensure continued quality control. There will probably be queues here just like at Tonkotsu King, but the wait will be worth it.
Ramen Keisuke Tori King is at 100 Tras Street, 100AM, #03-15 Amara Hotel, Singapore 079027. It's open daily from 11.30am to 10pm.