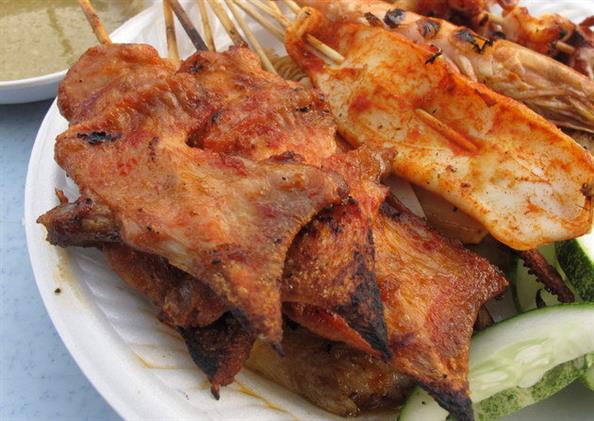 Chicken Wings Reign Supreme
By Tris Marlis - Friday, Jul 12, 2013
There is something about chicken wings that take our palate and tummy on a flight. Perhaps there are two things to be exact, skin and some fat, which are heavenly when it's perfectly fried or grilled to get the crispy exterior and moist interior.
This part of a chicken started gaining popularity in the 1980s. In the United States, it was at the Anchor Bar where the Beliisimo family started frying the remaining parts of their chicken (wings!) and tossed them in blue cheese and cayenne pepper sauce to make Buffalo wings. Back in Singapore, some hawkers in Bugis began grilling them in refashioned oil drums back in the 60s, and it became a craze that went on for generations.
On a previous article, [read here: http://y.ahoo.it/CQtNn] we count the many ways we love these wings, from the classic grilled chicken wings to har cheong gai (prawn paste chicken), but it wasn't enough. So we continued our search for other unique renditions of the most beloved wingettes, and where you can find them.
Si Chuan La Zi Ji
This Si Chuan version comes with cubes of chopped chicken wings fried until crispy and tossed in a wok with a heap of dried chillies, chilli powder, ginger, Si Chuan peppercorns, green onions and bell peppers. The dominant flavours – numbing and spicy – are bold, just like many other Si Chuan dishes. But it won't stop you from taking another bite. The texture is rich, with the onion and bell peppers softened as the chicken wings get crispier and smoky in the wok. Lao Si Chuan, 249 Outram Rd, 5pm- 1am.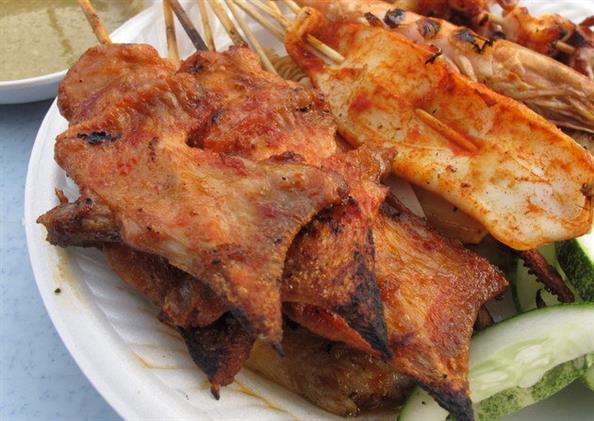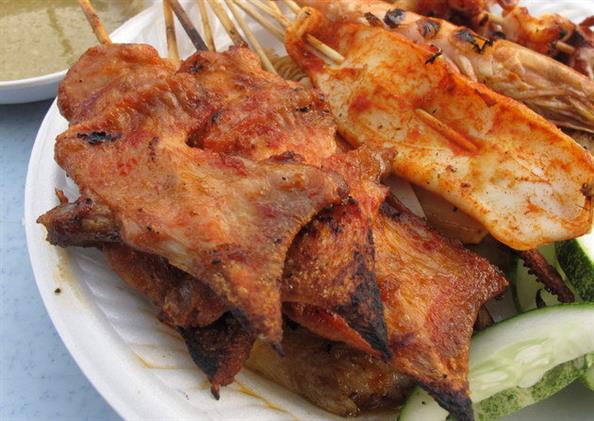 Grilled Chicken Wing Satay
This is not as simple as putting chicken wing on a stick. The hawker first has to dissect the wingette, spread the chicken skin and meat and lay it neatly on a skewer- like a open book wingette. The chicken wings are also marinated in seasonings, such as chilli powder, soya sauce, sometimes teriyaki sauce, before it goes to the BBQ pit. It has the smokiness of the usual grilled chicken, minus a little of mess. BBQ King Tabetai, #32 East Coast Lagoon food village, 1220 East Coast Parkway, 5pm – 12am.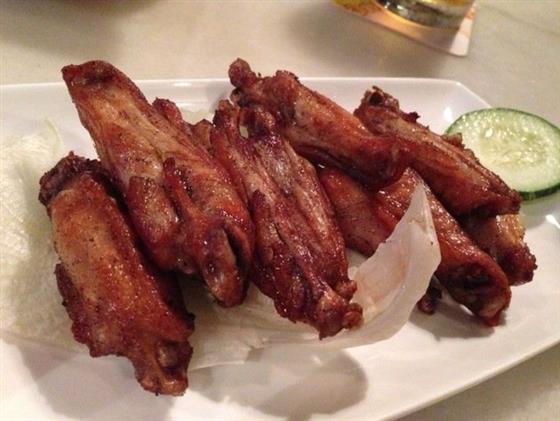 Thai Fried Chicken Wings with fish sauce
These wingettes are cut into half between the two mini bones, before it's marinated in fish sauce and deep fried until it lightly crisp. The flavourful wing served in a single bone reminds us of the delicate frog leg. It is moist and the meat falls off the bone easily, making it the ultimate finger food. The side of tamarind sauce gives it a little tang and call for another gulp of beer. Two Fat Men, 376 East Coast Road, 5pm – 3am.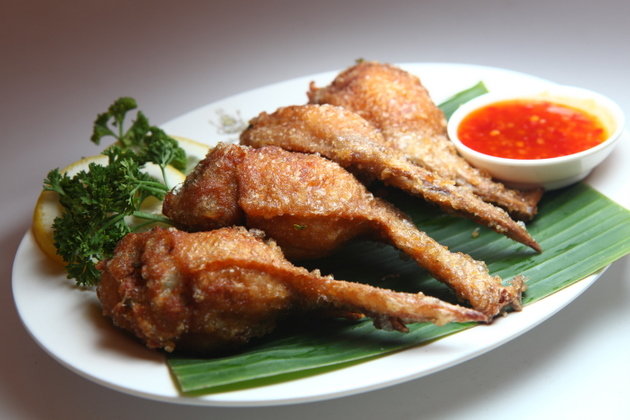 Thai Stuffed Chicken Wings
This version is a snack of the ultimate glutton, with juicy fillings stuffed in a chicken wingette and deep fried until golden brown. The bones of the wingette are removed before it is stuffed with a mixture of minced pork, shrimp, carrot, coriander root, other herbs and spices. It is also often called as "boxing chicken," because of its shape that resembles a boxing glove. Yummy Thai, #9 Makansutra Gluttons Bay, 8 Raffles Ave, 5pm – 2am (Mon-Thu), 5pm – 3am (Fri & Sat), 4pm – 1am (Sun).
Sayap Penyet (Smacked Chicken Wings)
Ayam Penyet (smacked or flattened chicken) is a dish which originates from Indonesia but has become one of Singapore's most beloved makan. It is basically deep fried turmeric chicken smashed, to break all the joints, release the juices and also to soften the meat so it falls apart easily. Sayap Penyet is chicken wings, prepared in the same fashion. The best part is it has a lot of skin (that's where all the marinade is) and soft bones. It is heavenly with the side of sambal. Ayam Penyet Ria, (Orchard outlet) #01-45, #04-25/26, Lucky Plaza, 11am – 9pm.