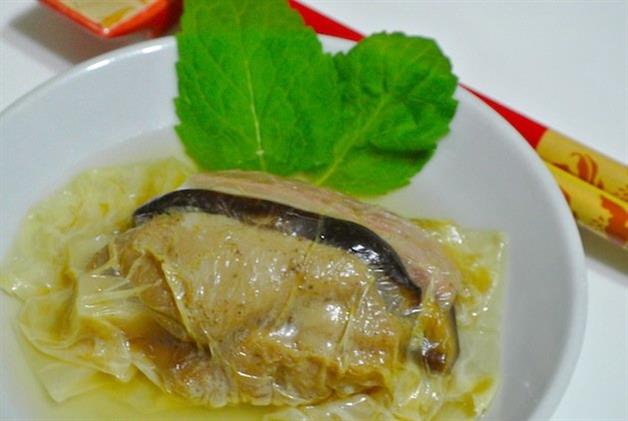 Chicken Wrap Dim Sum
By The Feiloh - Wednesday, Mar 20, 2013
Originating from the southern Chinese province of Guangdong, dim sum started off as hearty fare with which to start a day: large buns stuffed with either vegetables or meat, or parcels of rice and diced ingredients wrapped in lotus leaf.
However, over the years and with rising affluence of the diners, dim sum chefs began creating more varieties in the form of smaller, daintier offerings that appeal to both the eye and palate.
These newer varieties include deep-fried yam puffs that resemble ducklings or steamed dumplings that look like gold fish swimming in the dish.
Many of the recipes and techniques remained cloaked in secrecy: the proportions of different flours and kneading techniques that yield those fluffy white buns, or the chef's skilful use of a Chinese cleaver blade to flatten a lump of dough into the "skin" for translucent har gow dumplings.
Since most people would not have the time to invest in dim sum skills, here's a simple recipe for one of my favourite dishes, steamed chicken wrap or gai jat, that can serve as a great appetiser for a dinner party.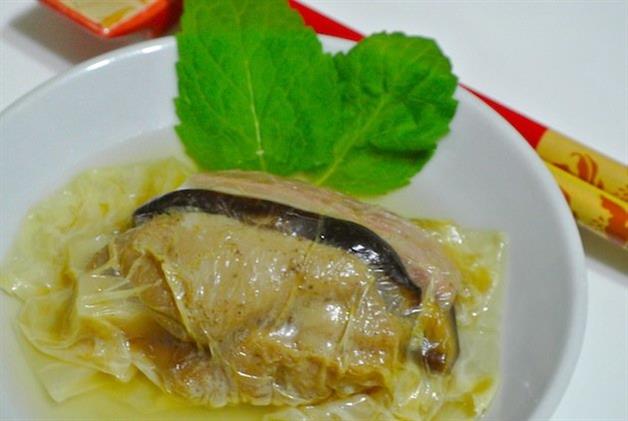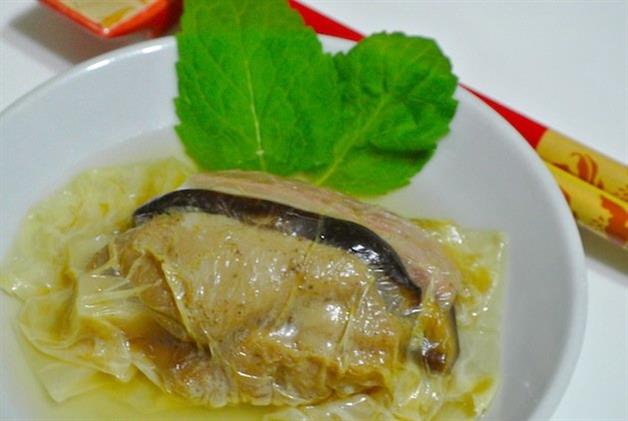 This dim sum has been given the ritzy title "Four Treasure Chicken Wrap" as it includes chicken, yam, luncheon meat or ham, fish maw and shiitake mushroom as the primary ingredients to be wrapped in a bean curd skin parcel. A variation of this is called "Cotton Wool Chicken" which is just the chicken pieces steamed on a bed of spongy fish maw without any wrapping.
This recipe is amendable to the "a dash of this and a pinch of that" approach; don't get too hung up on exact measurements of the seasonings. Also, except for the shiitake mushroom, the other ingredients should be in "batons" or little sticks around the size of your index finger (if you are a girl) or your pinky finger (if you are a guy).
In the rare chance that you bought an under-riped yam that doesn't get soft after 10 minutes of steaming, just pre-steam the yam batons under high heat for 10 minutes before wrapping.
This is where testing your first parcel comes in handy before you wrap up the rest of the ingredients. What if you run out of bean curd sheet before the other ingredients? Don't worry: just steam everything unwrapped – easy-peasy.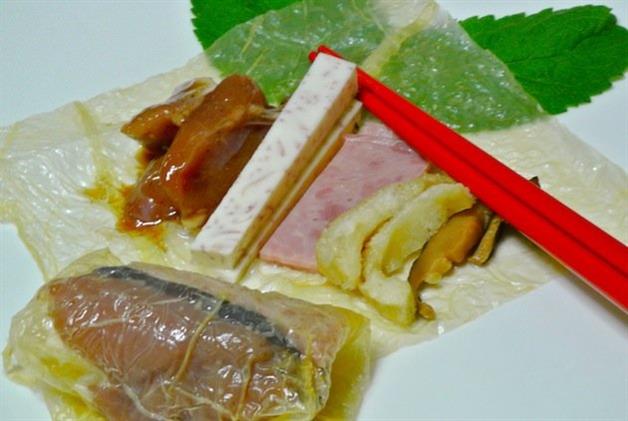 Ingredients:
300g of fresh boneless chicken thigh meat or fillets
One small yam (not the baby yams for Chinese New Year)
One or two dry, fried fish maw
One can of luncheon meat or 100g of sliced ham
Three or four dried shiitake mushrooms
One stalk of spring onion
Pre-made or store-bought chicken or pork stock
2 Tbsp oyster sauce
1½ tsp sesame oil
1 Tbsp corn flour (corn starch)
Ground white pepper to taste
One packet of bean curd sheet (be sure to ask and check that it's not the kind for soups that disintegrate in water)
Chicken Wrap Dim SumSteamed gai jat ready for serving
Method:
1. Slice chicken into finger-sized pieces, removing any tendons (tough white connective tissue). Mix and marinade with oyster sauce, sesame oil, corn flour and a dash of ground white pepper.
2. Soak the dried shiitake mushrooms and cut into long strips.
3. Soak the fish maw in cold water for an hour or so, drain, then soak for five minutes in hot boiled water; drain and cut into finger-sized batons.
4. Peel and cut the yam into batons
5. Cut the luncheon meat into batons or slice the ham into finger-wide strips.
6. Wash and cut the spring onion into pieces the same length as the batons.
7. Cut the bean curd skin into 15cm or 6 inch squares with a pair of scissors. Get a large bowl of water ready.
8. Assemble your items around a clean chopping board or large plate.
9. Dip one square of bean curd skin into the bowl of water once or twice to rinse it, drain quickly and then lay it flat, diagonally on the centre of your board or plate.
10. Place together one baton-size piece of the major ingredients (chicken, yam, luncheon meat or ham, and fish maw), a slice or two of shiitake mushroom and one piece of spring onion on the centre of the bean curd sheet and bring sides and bottom corners of the sheet together and roll to form a compact parcel, like rolling popiah.
11. Place the parcel with the gathered corners down, onto a large Chinese sauce dish, add a tablespoon or two of chicken or pork stock and steam on high for 10 minutes in a wok (or 15 minutes if you are using one of those anaemic, underpowered electrical steamers).
12. Cut open and check chicken and yam for doneness. If everything is okay, wrap the rest of the ingredients up and you can steam several parcels in a dish or individually. If the yam is undercooked, try steaming the wrap for five more minutes or pre-steam the yam batons before wrapping.
13. Enjoy your homemade gai jat dim sum.