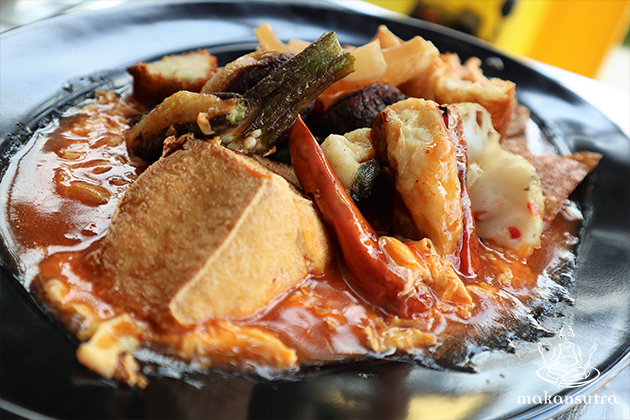 Chilli Crab Yong Tau Foo
By KF Seetoh - Friday, Nov 30, 2018
The best answer I ever had about what defines or is "authentic food" was a quip Mr Claus Meyer delivered at our World Street Food Congress in Singapore some years back. He said "authentic is an expression of who you are.", to which I'll add, because you know where you came from. Claus was the founder of Noma, the top Best Restaurant award winner for many years. When a Hong Kong food critic once said our pig offal soup was not authentic, I had to reply with a " which dynasty did he refer back to?"
The migrant Hakkas from China gave us Yong Tau Foo, originally a piece of firm tofu stuffed with salted minced pork and pan fried. But over the centuries, it morphed. Mushroom, eggplant, chilli, tofu skin, lotus root slice are stuffed with fish paste (so those avoiding pork can enjoy it too) etc… have found their way into the spread at a yong tau foo stall today. They hardly pan fry them but boil or deep fry and sit them in soup, laksa broth and in chilli sambal sauce. Today's version has come so far yet we still call them Yong Tau Foo. And now, enter chilli crab sauce, I kid you not. "I just felt this dish needed some extra oomph and it is a recognisable sauce, so here we are.", and Kylan Soo came up with this version about 5 months ago at this humble stall in Balestier Road.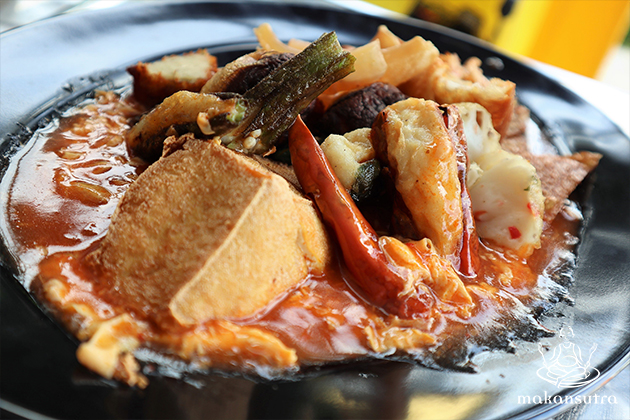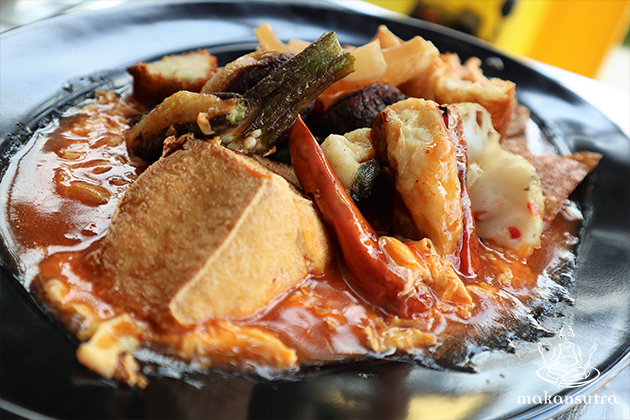 Their signature chilli crab sauce yong tau foo
Frankly the stall does not look fancy and the yong tau foo pieces (80cts each) come from a supplier. But home cook Kylan, who has never worked in a kitchen, takes that step to fry up every piece ordered and then make that sour, sweet, savoury and spicy chilli crab sauce (a dollar extra) to slather over it.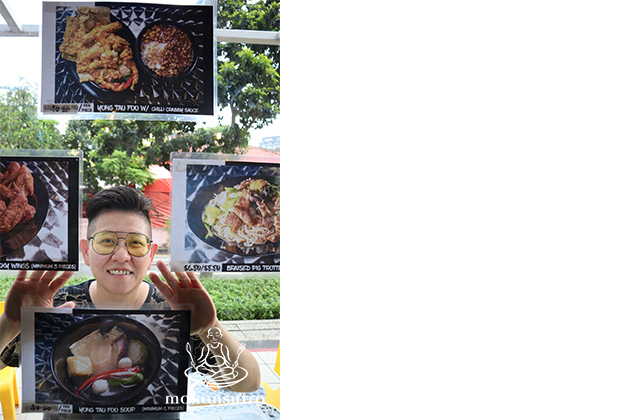 Kylan never worked in a kitchen before this
I have to admit it was refreshingly different yet is still yong tau foo as we know it. The tang, umami, spices, sweetness and egg drop swirled into the sauce lifted things nicely. I would much prefer if they had made some of their own or offered varieties of chunky minced pork yong tau foo pieces. The extra bite would have made a significant difference over the fish stuffed ones they now sell. Another surprise item in the menu is the Kiam Png ($4.50), or "salty rice", essentially much like baked claypot rice, except it's steamed with soy stock, mushrooms, Chinese sausages, pork slices and garlic bits. An order of this was so comforting with the platter of fried yong tau foo in chilli crab sauce. I only had to pick a few bunches of cabbage and asked that it be softly served in plain soy bean and ikan bilis soup. Flavoured rice, fried yong tau foo pieces and sweet cabbage soup- can't go wrong with that.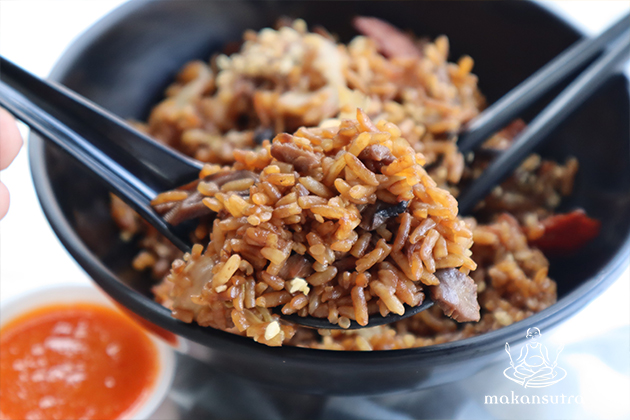 The very comforting Kiam Png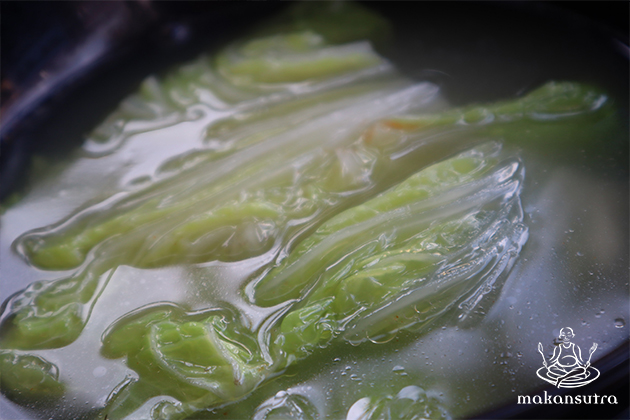 The sweet cabbage soup
They also have Ter Ka Beehoon ($6.80) in the menu but this one looks sad, and worse, it came looking dry and insipid. But bite in and it's all about flavour, every of that white strand of beehoon soaked up the flavours from the can of ter ka or braised pork trotters (the way it was commonly done at home), just add their extra spicy chilli sauce (self service). And having this meal on fold out tables, alfresco outside the stall which sits a little above road level and overlooking the charming Balestier Road, has its allure.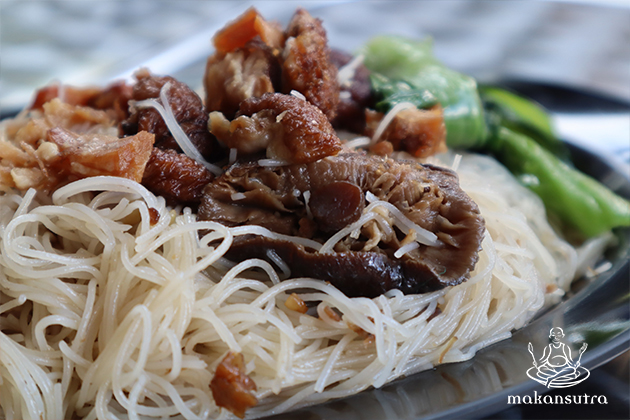 Plain looking and full taste ter ka beehoon
Niang Duo Foo
221, Balestier Road, #01-01
Rocca Building
12pm-10pm close on Sunday