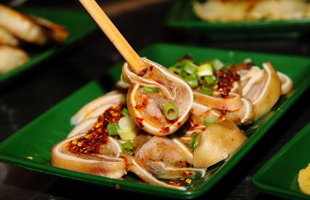 Chinese Dumplings At Pleasure Odyssey In Penang
By CK Lam - Monday, Jul 16, 2012
Chinese dumplings widely known in many countries as jiaozi, guotie and gyoza, are also found in many restaurants and hawker stalls around Penang. One of the places that we do visit for these pleasurable little bites is Pleasure Odyssey. This hawker stall is located in Northern Beach Café, along Jalan Sultan Ahmad Shah, more commonly known as Northam Road.
This stall sells homemade pan-fried dumplings which are made fresh on the spot to maintain its freshness. The dumplings came with fillings of minced meat and diced vegetable. Fried in oil, the round dumplings with crispy skin are alluring when eaten with the spicy ginger chili sauce, a concoction mixed just right, not overpowering. One serving comes with four pieces.
Another dish that we ordered is the fried dumpling, shaped like crescent moon with pinched edges. The flour wrapper is reasonably thin yet strong enough encasing the generous portion of well seasoned meat filling. Pan-fried till golden brown, the dumplings and served with the same dipping sauce of the round dumplings.
In addition to the dumplings, they serve soups, side dishes and snacks. The pickled lotus root is indeed appetizing – slightly sourish, flavorful with a crunch. This is a great snack to nibble on while waiting for the rest of the food.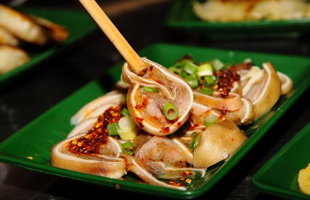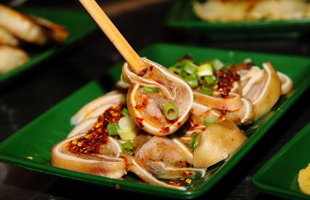 We enjoyed nibbling on the softly crunchy pig ear. Braised in a flavorful black sauce, the pig ear is totally delicious with moist skin and crunchy cartilage.
Besides the dumplings and snacks, we had the noodle in soybean paste. The noodle is tasty, with a good combination of braised minced meat and refreshing cucumber strips. Besides the food at Pleasure Odyssey, there are many other delectable temptations at this café which has an added appeal of the seaview and the mainland.
There are many hawker stalls serving Western food and local hawker fare such as rojak, yee mee, barbecue dishes and many more. Business hours are from 6pm to 11pm with its closing day on Tuesdays.
Northern Beach Cafe
58 Jalan Sultan Ahmad Shah
10050 Penang