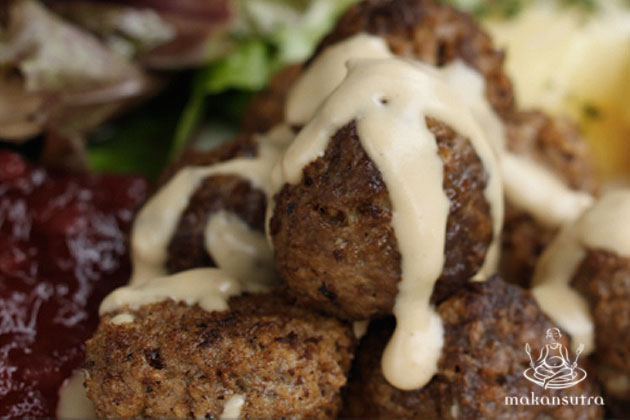 Chinese New Year Dinners: Give non-Chinese Eateries A Go
By Adeline Ang - Tuesday, Feb 17, 2015
If you're still planning to host your Chinese New Year reunion dinner at popular Chinese restaurants such as Hua Ting and Min Jiang, chances are you'd have to look for a Plan B. Or C and D. In case you haven't heard or have forgotten about our kiasu spirit, several Chinese restaurants have been fully booked since last year. But fret not; although you may be unable to dine at your go-to Chinese restaurant, there exist alternative restaurants that can offer you a more creative twist to your reunion dinner this year. As a fellow Chinese, I understand how ingredients such as fish, prawns, oysters, chicken, pork, fat choy and dong gu (mushrooms) are traditionally essential for the reunion dinner. But instead of eating the usual yu sheng or steamboat every year, add a little novelty by tasting different dishes that contain the essential auspicious ingredients this year for dinner. The old thoughts should make way for the new; that's why we have "new" years.
Violet Oon's Kitchen
Add a little spice to your reunion dinner with Violet Oon's Garam Assam Fish. Accompanied by lady's fingers, pineapple slices and swimming in a rich sour and spicy gravy, this aromatic mackerel dish will have you wanting more. Tick the chicken dish off your list with the Chicken Quesadilla. This dish may be of Spanish origin but the toasted flour tortilla stuffed with chicken goodness is definitely a refreshing addition to the menu. If the quesadilla is too foreign for your liking, the fusion Black Pepper Prawn Pasta which should take care of your wishes for longevity (noodles). Inspired by the black pepper crab, this pasta dish, together with its juicy prawns, packs the familiar peppery punch. But given the rising popularity of this Nonya eatery, it would be best to give them a call at least two weeks in advance.
881 Bukit Timah Road
Tel: 64685430
Tuesday-Thursday: 11.30am-10pm, Fridays and PH: 11.30am-11pm, Saturday-Sunday: 10.30am-11pm/10.30pm
Paulaner
Before you say "wahlao, why angmoh restaurant when its Chinese New Year?", hear me out. Although this German restaurant is known for its beers than its food, let me assure you the quality of its Pork Knuckles. Crispy on the outside and moist on the inside, this savory dish will be sure to satisfy all palates. At $32, this generously portioned Crispy Roasted Pork Knuckle with Sauerkraut and Potato Pancake is definitely a worthy substitute of the suckling pig. But since the dish is offered while stocks last, you may wish to make an advanced reservation. As for the seafood selection, welcome the Chinese New Year with some Grilled Prawns in Lobster Sauce with Vegetables and Pasta or a Fried Sea Bass in Beer Dough with Mashed Potatoes. Ditch the Tiger Beers and Heinekens this year and spoil yourself with Paulaner's Seasonal Beers starting at $17 for half a pint each.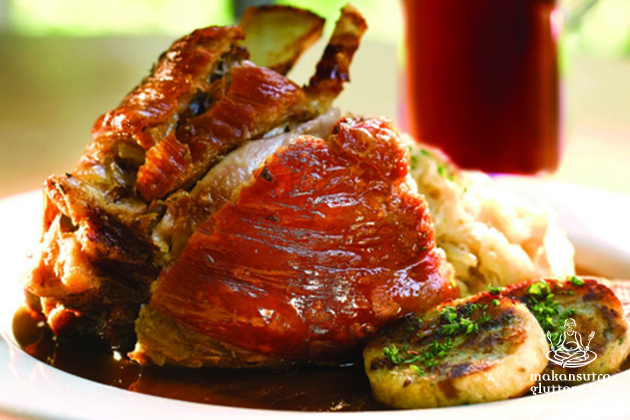 3B River Valley Road
Tel: 6338 0480
Mon: 12pm-1am, Tue: 12pm-2am, Wed-Sat: 12pm-3am, Sun: 12pm-2am
The Market Grill
Remember the yearly trouble you'd have to go through scraping the lobster meat off its shell to get your money's worth? With Market Grill's fresh Chargrilled Whole Lobster, you now get to save the shell-scraping (pun not intended) hassle plus enjoy the smoky and tender lobster meat. Infused with butter, garlic and a squeeze of lemon, the texture of the lobster also pairs beautifully with the side of mash puree. Instead of having your usual dong gu (mushroom) with stir-fried vegetables, try the Meadow Mushrooms (sautéed mushrooms served with truffle butter croutons, cheese and honey mustard vinaigrette) or the Portobello Mushroom Burger. Although the layers of beef may not exactly constitute any of the must-eat ingredients for a CNY reunion dinner, the plentiful creamed Portobello mushroom nesting above will have you wish you discovered the burger sooner. For an alternative meat, the Hungarian Mangalica Pork Chop consisting of rich, marbled and grilled juicy meat will definitely beat those pork slices you wolf down during the usual steamboat reunion dinners.
208 Telok Ayer St
Tel: 6221 3323 (no reservations)
Monday-Saturday: 11.30am-2.30pm, 6pm-10pm
Fika Cafe
Start your meal with Fika's signature Smoked Salmon Salad as a substitute for your usual Yu Sheng. Served with mixed mesclun salad, the fresh smoked salmon slices are also generous in thickness. For the meat lovers, the café's signature Meatball Melt will definitely have to be on you to-eat menu. With homemade cream sauce and sweet lingonberry jam, these handmade slightly charred crusted but moist meatballs will have you wanting more. Also, order the generous portion of Fisherman's Pasta Combo with Lobster consisting mussels, whitefish, squid and prawn to tick most of the seafood off your to-eat-ingredients list. If you're a fan of fish, do give the Swedish Bait of Luck, Fika's Chinese New Special a taste! The lime leaf infused grilled Barramundi accompanied by garlic butter rice, grilled asparagus topped off with orange coriander salsa will bring a refreshing start to the New Year (do note that this dish is only available from 17th-22nd February). To top it off, you can also bring your Muslim friends to celebrate the festive season at this Halal café!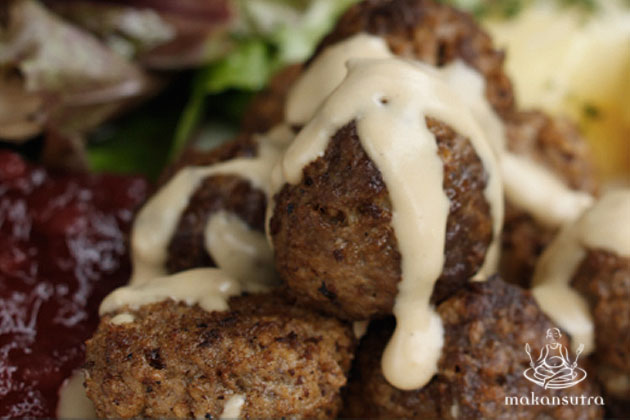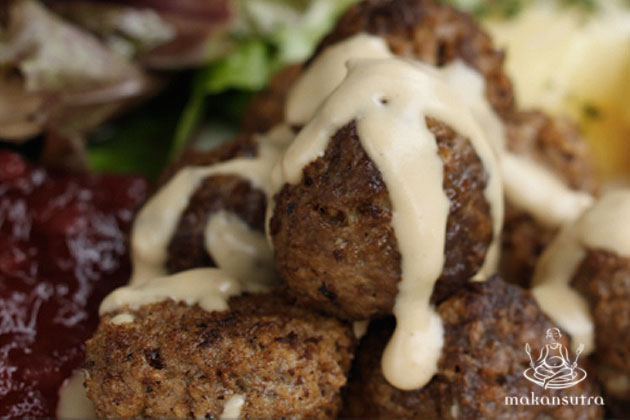 Branches:
1. 257 Beach Road
Tel: 6396 9096
Monday-Friday: 11am-11pm, Saturday & Sunday: 12pm-11pm
Millenia Walk,

9 Raffles Boulevard, #01-20 
Tel: 6336 7234
Monday-Friday: 11am-11pm, Saturday & Sunday: 12pm-11pm
Flee Away
Tucked away in Little India, this hidden gem is, unlike many hipster cafes, offering a Chinese New Year themed menu. Get into the festive mood by starting your meal with a Pineapple Tart Milkshake (the Hokkiens would love this Ong-Lai or the-king-is-coming connotation) or Tangerine Smoothie(or golden smoothies, to the Cantonese). Indulge in their signature Le Char Kuey, a crispy-on-the-inside-and-fluffy-on-the-inside You Tiao triple its normal sized stuffed with, you'd never guess, Fish Skin Crackers. This dish is also served with Miso Steamboat so you don't have to worry too much about the elderly having to adapt to café-fare. For the fellow fans of Yu Sheng, an essential Chinese New Year dish, you will be pleased to know that this café offers Le Char Kuey with Porridge served with Smoked Salmon Yusheng and Crackers.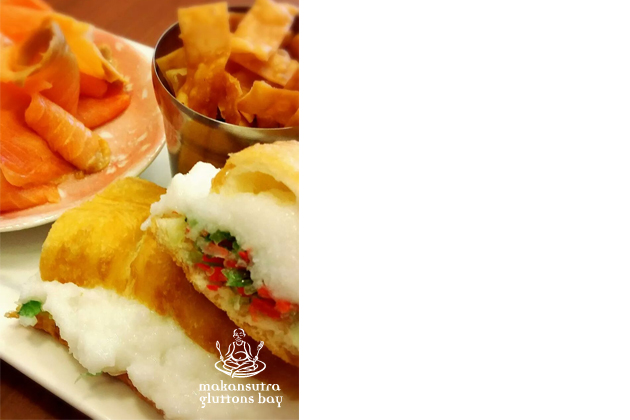 70 Dunlop Street
Tel: 6341 7843/ 6291 6778  
Monday-Thursday: 11am-9pm, Friday-Saturday: 11am-10pm, Sunday: 10am-5pm
So fret not if you're unable to have your reunion dinner at Wah Lok or similar restaurants; add a little novelty to your reunion dinner this year and give these alternative restaurants a try. After all, togetherness is what matters.