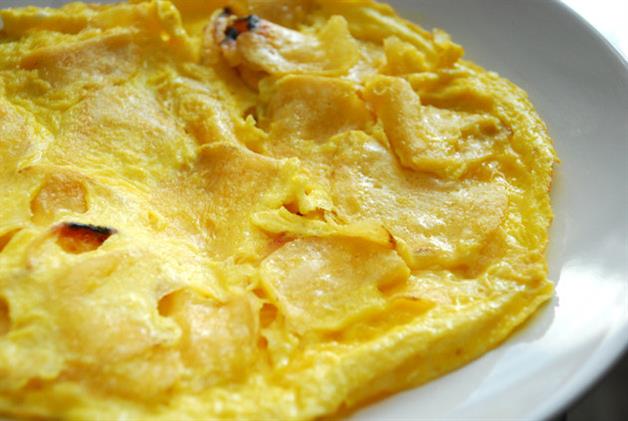 Chip of the Old Block: Potato Chip Omelette
By Sheere Ng - Friday, Mar 22, 2013
Ferran Adria, a chef so often described as an alchemist or magician, whose cuisines at El Bulli is surely one of the most highly acclaimed, is unexpectedly so willing to suggest the use of readily-available commercial products in his new book: "The Family Meal".
His recipe for tortilla de patata, a Spanish potato omelette, bizarrely calls for the use of chips as an alternative. After having tested in our kitchen, we find that the final product is not far from the original yet it takes only fraction of the effort – clever, just clever.
The chef didn't state the type of potato chips to use (as junk food eaters we are aware of the varieties), so we experimented with a few thick and thin ones of various flavours to find the best combination. Kettle's salt and vinegar, it turns out, provides the best flavour and thickness. It withstands the moisture of the egg while the thinner chips of other brands like Calbee was simply drowned by it.
Now you know what to do when you have remnants of chips!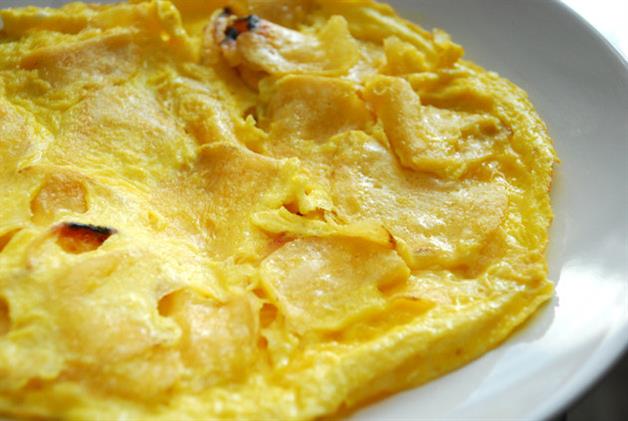 Ingredients
3 eggs
40g Potato chips
Cooking oil
Method
1. Beat the eggs in a bowl.
2. Soak the chips in the egg for about a minute.
3. Heat 1 tbsp of cooking oil in a pan over low heat.
4. Add the egg and chips mixture into the pan.
5.Use a spatula to separate the egg from the pan.
6. Once the bottom is cooked, before it's browned, about 20 seconds later, slide the egg onto a plate.
7. Add another 1 tbsp of oil into the pan.
8. Slide the egg back into the pan, cooked side facing up.
9. Use a spatula to separate the egg from the pan. Once the bottom is cooked (with the centre moist and soft), about 10 seconds later, turn off the fire and plate the egg.