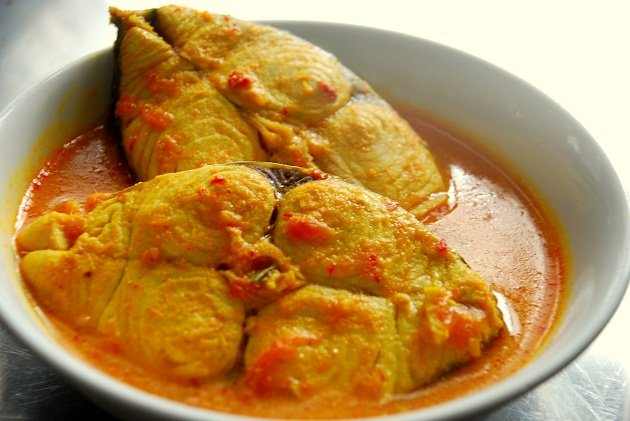 Chitty Chitty Bang Bang Part 2: Here's a rare curry dish at your fingertips
By Cheryl Teo - Wednesday, Apr 11, 2012
The first installment to the Chitty series can be found here ( http://sg.entertainment.yahoo.com/news/chitty-chitty-bang-bang-part-1-060725419.html ).
Delving into the subject of Chitty has sparked my curiosity. I wanted to try (and of course get my hands on the recipe of) a true Chitty dish – Lauk Pindang (Lemongrass Curry), or Serai Curry.
In her 3-bedroom unit, wearing a loose fitting long baju, Sharon Sivagami, 76, shared with us a little more about her Lauk Pindang recipe.
"It is a very common Chitty everyday dish. I use to cook it all the time, and you cannot find it anywhere in Singapore," explains Sivagami, a homemaker, "I got this recipe from my mother, and she got it from hers. But I've tweaked it here and there after years of cooking."
The flavour comes from the spices, fish and salt only, no coconut milk is needed. So to all weight watchers out there, indulge away.
"I don't use coconut milk because it is a bit too rich, and at my age I have to be more mindful of my diet," Sivagami adds.
There are indeed similarities between Asam Pedas and Lauk Pindang – a little sour and savoury. But Lauk Pindang is a gentler, milder yet robust version of it. It also has a well-balanced taste as no particular spice hijacks the flavour.
The gravy is easy on the palate, if you are good with chilli heat(otherwise go easy on the dried chilli used) and the soft bite of the fresh fish meat, washed down with fragrant rice…..I am going to leave you to it while I help myself to another serving.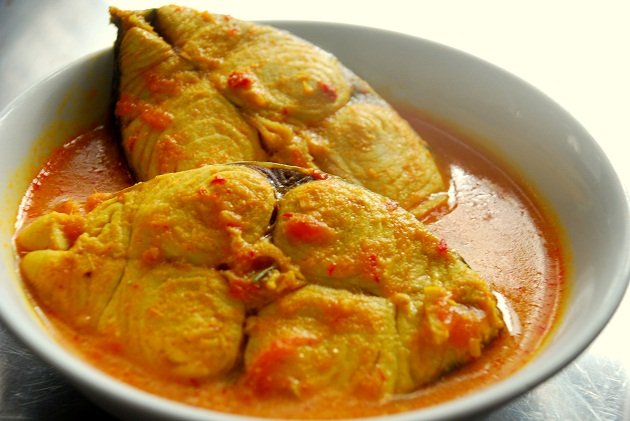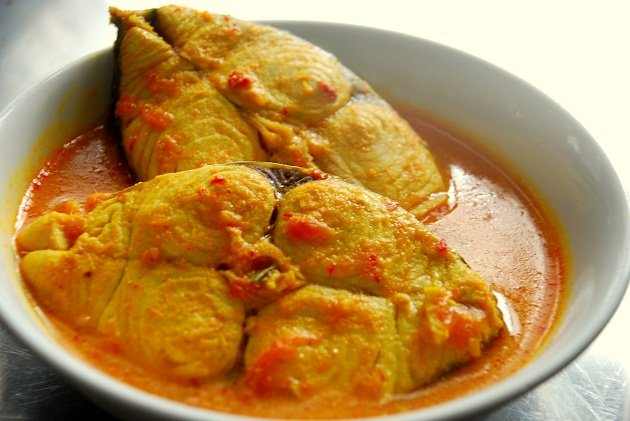 Lauk Pindang (Lemongrass Curry )
Time: 20 minutes preparation time, 40 minutes cooking time
Serves: 4
Ingredients
5 pieces of batang fishes
7 pieces dried chilli, sliced
4 buah keras (candlenut), halved
8 small onions, chopped
3 pieces of lemongrass, sliced
3 cloves of garlic, chopped
3 tomatoes, quartered
1 tsp of turmeric powder
540ml of water
Method
De-scale the batang fishes, wash and put it aside.
Grind the dried chillies either in a blender or withpestle and mortar
(*Add about 1.5 tablespoons of water if you're using a blender)
Add turmeric powder, buahkeras, lemongrass, tomatoes, onions and garlic into the blended chilli
Further blend the mixture into a paste
Heat 2 tbsp of oil in a pot and throw paste in. Stir-fry until it is fragrant, about 3 minutes
Add waterto make gravy
Once the gravy boils, add the tomatoes and batang fishes
(*If you prefer it to be more tangy, add tamarind juice)
Let the gravy simmer over low heat for 30min (or until gravy is thick enough) and it is ready to be served.
Taste the gravy and add salt as you deem fit