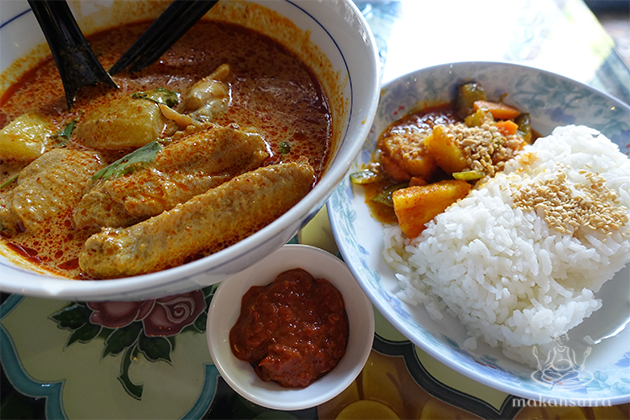 Chong Wen Ge Nonya Café: Enlightened Laksa
By KF Seetoh - Friday, Nov 10, 2017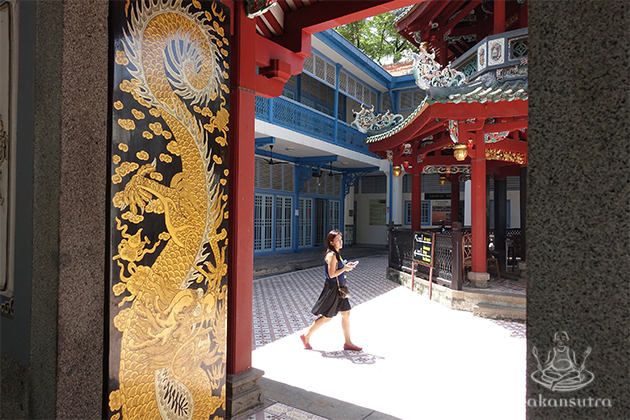 About a month ago, I found a Nonya café in Hangzhou, now, I stumbled upon one at, of all places, inside a Chinese temple. But this one takes the cake, or rather, kueh. You find increasingly more such cafes and even hawker stalls stringing a few popular Nonya favourites (perhaps four to five items one can easily chomp down on without much hesitation). Plonk, Mee Siam, Laksa and Curry Chicken with Popiah and Kueh Pieti, stick some Nonya tiles frame a couple of Baju Kurong on the walls and viola…a Nonya café! But I look at, smell and devour the food, then perhaps pay some attention to the décor if it warrants so, after. I did just that here. For starters, this place, once used as a school and function room by the Thian Hock Keng Temple, has no signboards (part of the preservation rules, I suppose). You notice only a couple of pull-up standee posters at roadside and you trek your way in to find it, past the celestial door entrance guardians of the temple.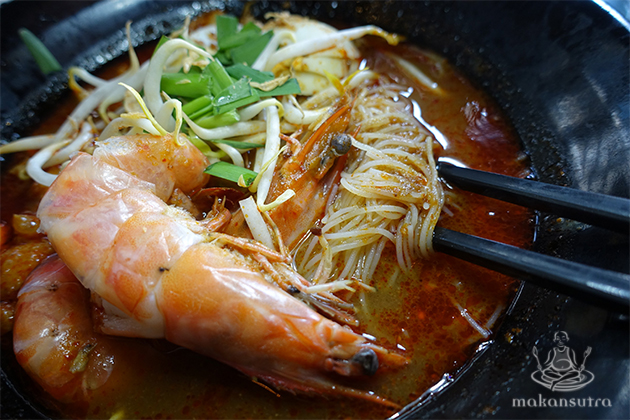 Now, for the actual starters. The Mee Siam ($10.80), like the other dishes, were well plated and presented. It came with two huge grey prawns, sliced in the middle and twisted and contorted to please the eye or camera. The kuah (or sauce) was rich and had a handsome rendering of rempah but it came a tad sweeter than I like. But I think it's because they forgot to hand me the limes, but I liked it on its own anyhow.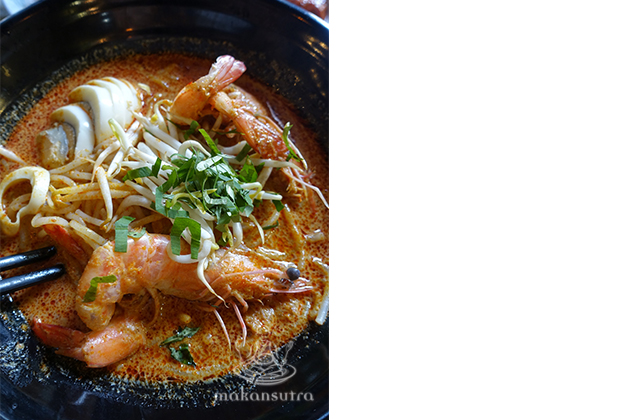 Then, the Laksa ($11.80) sauntered on, I must confess, because of the way they place the twisted prawns atop too, I thought it was my mistaken second order of mee siam. But no, a glance at the dots of rempah oils and spot so curdling coconut in the curry, beckoned a first slurp of it and it very well said LAKSA. The best part, if you like it more spicy and kicked-up with spiciness, the sambal the counter (it's self-serve) is a DIY thing, you can kill or enliven that laksa with however much sambal you want. My favourite touch here was the simple topping of raw taugay, simply warmed and gently softened by the kuah or laksa curry as you stir it in, it lent a lovely texture at munch point.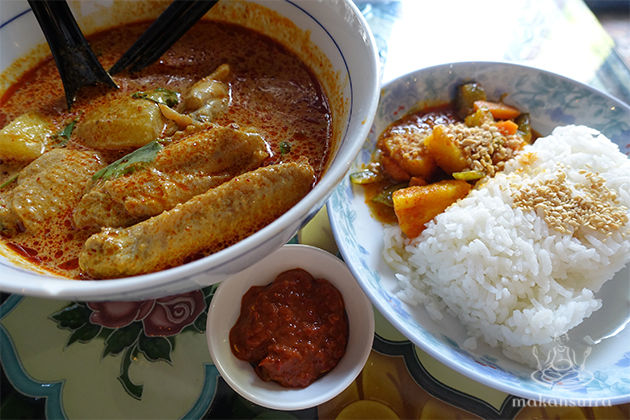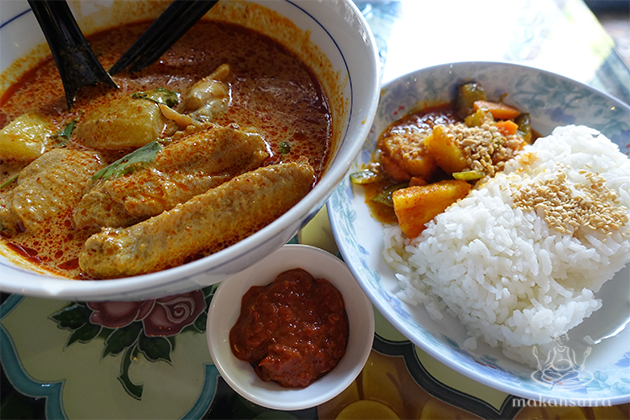 Next, was a plate of rice, dressed with a generous portion of achar, before the Chicken Curry was next next plonked down. Immediately, I was impressed, the sweet, sour, spicy and crunchy achar was great twist to the thick and rich Nonya Chicken Curry ($10.80)– done with more sambal than masala and with fresh chunks of chicken and potatoes. I love the achar, rice, curry and chicken combo.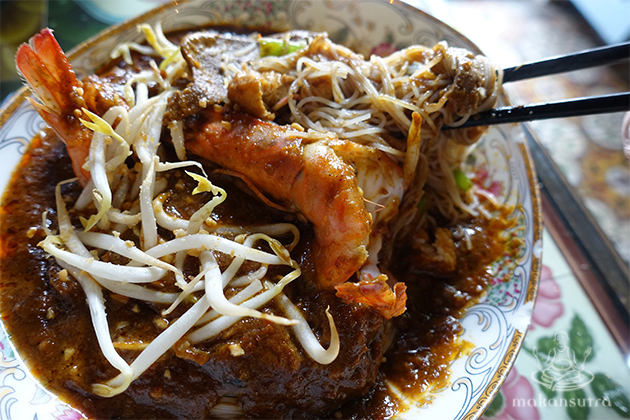 Before the fourth bite in, a messy plate of Satay Beehoon ($11.80) came along (not quite Nonya, but might as well be). As usual, two huge twisted prawns rose above the peanut sauce and hid the cockles, pork, cuttlefish and liver slices (authentic enough, I thought), then I swirled the all-important satay sauce in the palate and I'll admit this is one of the best I've had, right up there with Bak Kee (at Redhill Food Centre) and even the defunct master version of Ming Kee (formerly at East Coast Lagoon Food Centre).
And no I am not ranking the pretty kueh desserts…it seems so perfect and mass produced and tasted very "shopping mall, no-kitchen café type", though I could be wrong.
Chong Wen Ge Nonya Café
168, Telok Ayer Street (annex of Thian Hock Keng Temple)
10am-6pm daily
Tel: +65 8688 3208