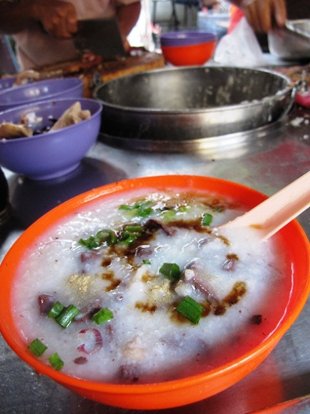 Chopped like an automatic guillotine
By KF Seetoh - Monday, Jan 09, 2012
I know why I am so comfy in front of sushi chefs the first time I sat in front of them. Growing up in the 70s in Singapore, this was the only way you sat at many street food stalls, when they were literally, by the street. Their food cart had a hole where the stove sat in and the pot or wok, rested on. You sit in front and eat at the little space at the edge of the cart. On reflection, it's how people celebrate dinner at the Chef's table, it was a multi sensory experience- sound, smell, colour and flavour all, in one go. So it was no surprise I felt this old comforting sensation eating offal pork porridge at this humble street food stall by the Chowrasta market in Penang. It is so easy to miss this stall in that loud street market as they're tucked and recessed behind a row of colourful umbrellas. But the noisy queue is a giveaway.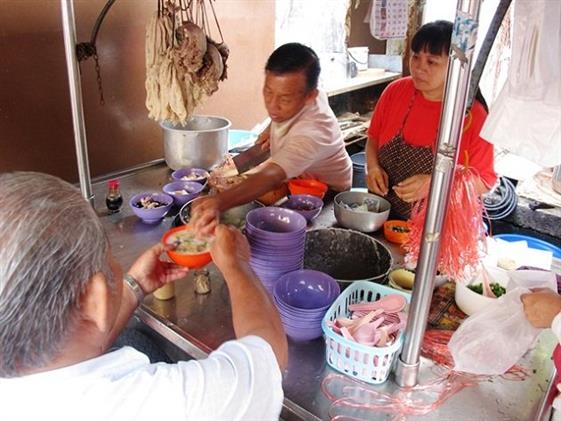 The old porridge master rarely looked up as his assistant was constantly shouting orders, above the din, at him. You can tell that the smooth, almost creamy Cantonese style porridge had been simmering in low fire for a long time. Shout for your order -they don't take time off to ask you "what would you like sir", especially at peak hours. It's a first shout, first serve basis. I sat before this porridge king for all of 15 minutes before he unceremoniously plonked that bowl of joy under my nose. Watching such measured and artful street food kitchen tricks, was a pleasure. One item by one, he took some char siew, boiled tripe, crispy fried intestines and like a little guillotine set on fast repeat mode, he deftly and finely chopped each item into bits- the crispy , the crunchy and the meaty with slices of fresh blanched liver. About one cupful of the mixed chopped meat and offals was then placed at the bottom of the bowl before he buried it with a huge ladle of that über smooth porridge. Creamy, crunchy, crispy with bits of char siew was the sensation upon the first mouthful. The soy sauce and white pepper only served to give it more zing and savouriness.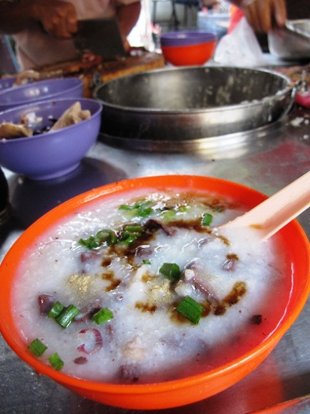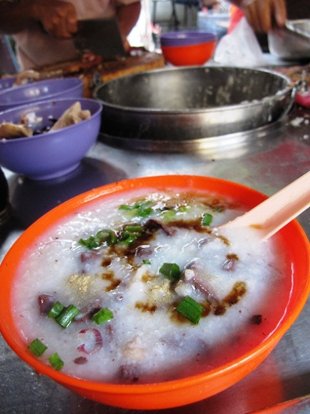 I think he gave me more ingredients than others as i employed the chat-and-praise-the-overworked-and-underappreciated-hawker trick.
Pork Porridge Stall (in front of shop no 1, Jalan Kuala Kangsar by Chowrasta Market)
Penang town, Malaysia 7am till about 1030am Close Monday and Friday