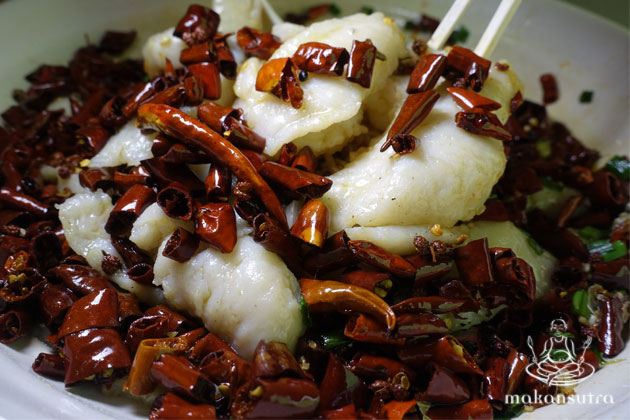 Chuan Wei Fang: The Chinatown Szechuan Connection
By KF Seetoh - Friday, Feb 17, 2017
"Ye Lai Xiaaaaaang.." and the aging busker calmly croons about the Evening Flower as a group of weathered oldies and retirees gather around, some dropping appreciative dollars into his little money tin. But just a shout behind is a noisy cacophony of feeders in this particular section of this hawker centre…where the spice hunters congregate. If you come here in the evenings from 6pm, don't expect to find and vacant seats in front of this row of Szechuan specialist hawkers. About two rows of little kitchens punch the air with thick aroma of mala (numbing and spicy) smells, very typical of an authentic Szechuan eatery. From the mala pots, Szechuan BBQ skewers, hot pots to the casual (in attitude but not menu) cze cha stalls, they crowds fill the place and overwhelm our charming crooner even though he used an impressive looking amplifier. This is where you come to get cheap street entertainment and very affordable restaurant fare sans and fanfare of a restaurant.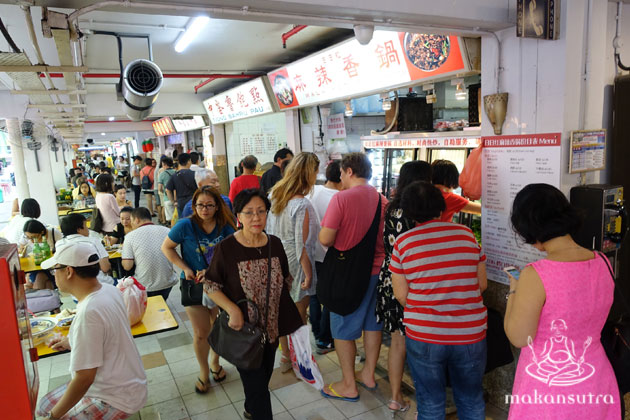 One of the stalls caught my eye, because, a few stalls down that row, another very similar one has the same name but "they are not related to us and their quality is very different" said the boss of this stall that has a little "original stall" (in Chinese) word inked at the top. There's a mind blowing 31 dishes offer in this little 10×10 sft stall, and the range is very impressive.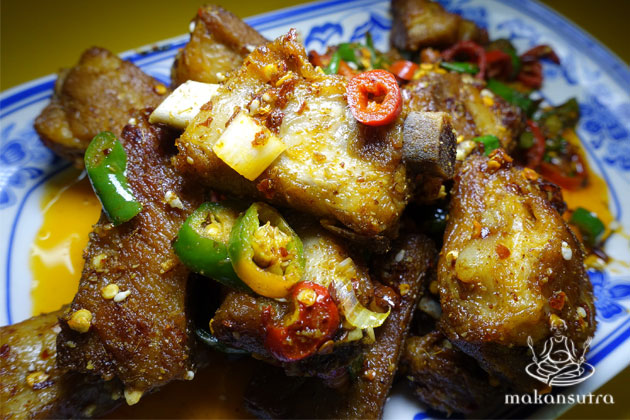 The Beggar's Pork, (and don't ask me how this name came about as there are too many such named dishes in China already) was a simple plate of double cooked deep fried pork ribs tossed red and green chillies with mala spiced oil and, what else…more chilli oil. It was crispy outside. You either have to love this with beer or a tone it down with a bowl of rice and both hit the spot for me.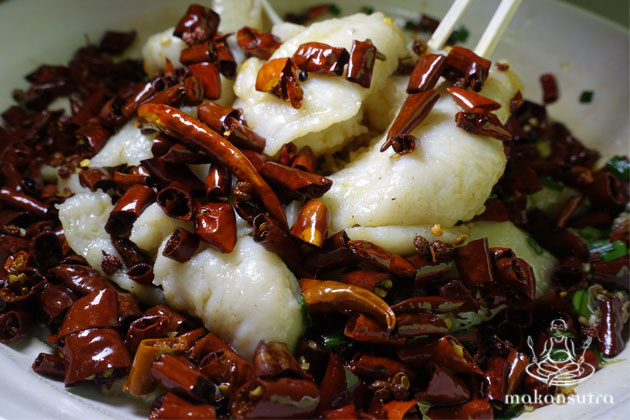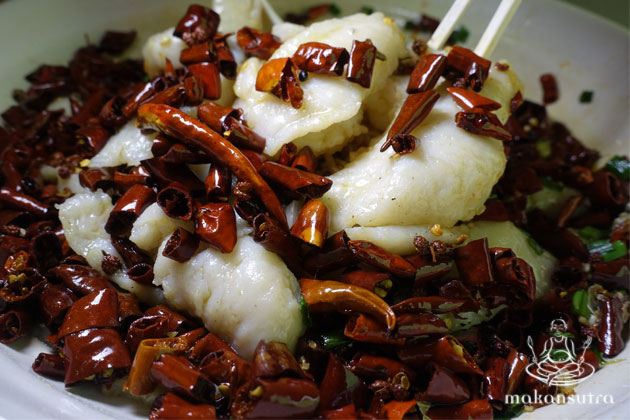 The Shui Zhu Yue or the famous Sizzling Spicy Fish, can be shocking. It came in a family sized bowl and that thick layer of dried chillies floating atop the oily chilli broth was just daring you to dive in and find your fishy treasures below. I did and was worth the adventure. The slices of carp was soft yet not overly spicy (I'll spell why later) and the bean sprouts provide some complimentary sweet nutty crunch to the hot and rude shock of this dish. If you are no pepper hillbilly and fear no chilli, then read on.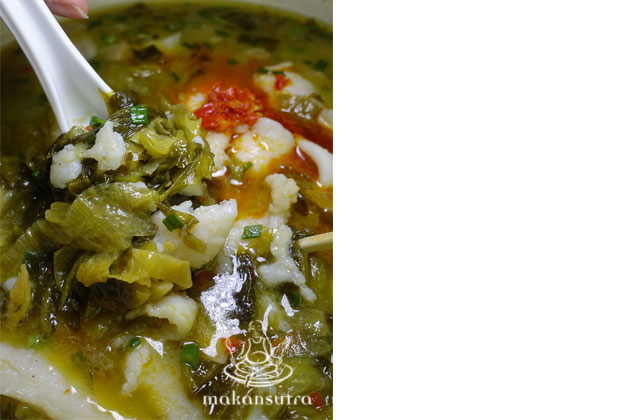 The Stir Fried Chicken or Intestines (a choice) would sound disappointing. But it came possessed by a layer of mala spices with slices of lotus root and potatoes. Again, you can only reason this with rice or cold beer. But sanity was restored when the Fish in Pickled Vegetable Broth came. It's basically carp slices in kiam chye soup with just an infantile portion of chilli. This was extremely addictive and strangely comforting and the liang pi or mung bean kway teow below was a nice touch. Now, you may sense, between my lines here that this meal was not as mind blowing spicy. That's because I merely forgot to insist it be cooked "yuen wei" or authentic, as in spice level. So go forth, do it your way and say "yuen wei". This whole meal, fit for six people, created a little wallet dent of $59.
Chuan Wei Fang
01-1040, People's Park Food Centre (next to OG Shopping Cte)
11am-9pm daily