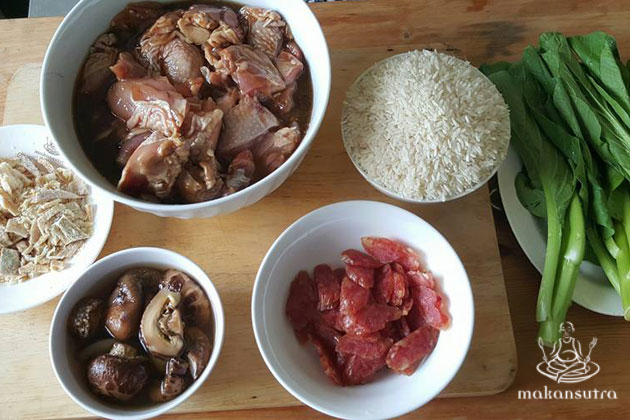 Claypot Chicken Rice..make your own
By Victoria Lim - Friday, Feb 19, 2016
A traditional dish in Guangdong province, the claypot rice is typically cooked over a charcoal stove, which adds a distinctive smokey and charred flavour to it. Alas our everyday kitchen is not built for such wood fire cooking method, so we'll have to make do with what we have. Of course, it's best if you can do this over charcoal heat. And because it is our own recipe, we were a tad too generous with the ingredients. You've been warned.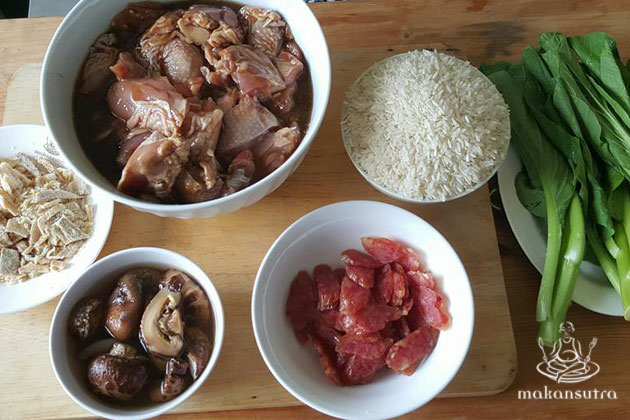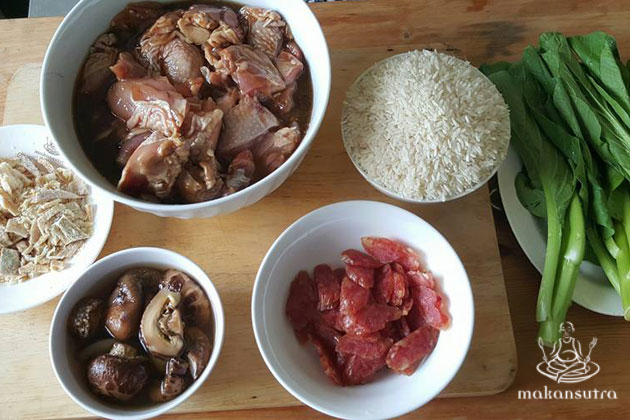 Watch the video below on how we cook this simple yet flavourful dish.
Ingredients (serves four)
1kg or chopped our cut chicken chunks
For Chicken Marinade
4 Tbsp of Sesame Oil
3 Tbsp of Chinese Wine
4 Tbsp of Oyster Sauce
4 Tbsp of Light Soy Sauce
1 ½ Tbsp of Sugar
A spoonful of White Pepper
For Claypot Rice
400g of Rice
300ml of Water
10 Chinese Mushrooms(halved)
2 sticks of Chinese meat sausages
half bowl of sliced Salted Fish
Marinated Chicken Parts
2 Tbsp of Dark Soy Sauce
Method (Chicken Marinade)
1. Mix all ingredients into one bowl.
2. Pour the marinade over the chicken parts, mix it and chill it overnight.
Method (Claypot Chicken Rice)
1. Wash rice. Place it aside.
2. Soak the Chinese mushrooms in warm water for 10 minutes. Place it aside.
3. Cut/slice all the ingredients into little chunks.
4. Save the extra chicken marinade. Heat it up for later and use it for the claypot rice dripping.
5. Add the water to the rice in the claypot and cook it over very low heat and cover the pot.Cook the rice for 20 minutes.
6. Place the ingredients over the rice. Cook for another 25 minutes.
7. Place vegetables on top of the ingredients. Cook for another 10 minutes.
8. Pour the heated marinade and dark soy sauce over the claypot rice.
9. Give it a good mix and let the claypot rice breathe for 5 minutes to dry up extra moisture before serving.