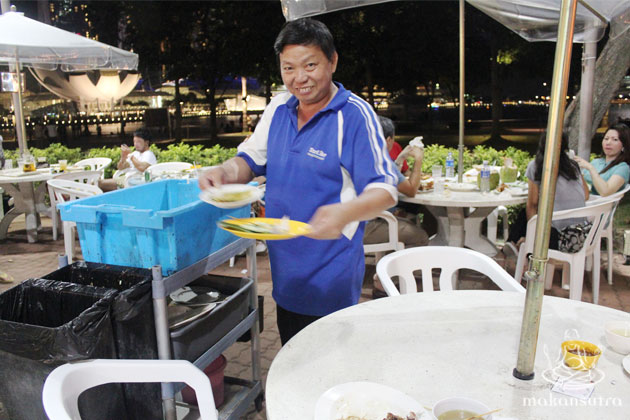 Cleaning Companies: Buck up or Ship Out
By KF Seetoh and Thammika Songkaeo - Wednesday, Sep 03, 2014
We observe them as we did our rounds – clearing, wiping, straining, sweeping and cleaning the tables. Some customers not familiar with local habits and expectations still treat the floor as a dustbin, which is why they have to clear bones, wrappers and used tissues off the floor, constantly, at this 11,000 sq. ft. food centre in town. Some even throw chopsticks, spoons and forks on that same floor just because they can easily replace it with newly washed ones.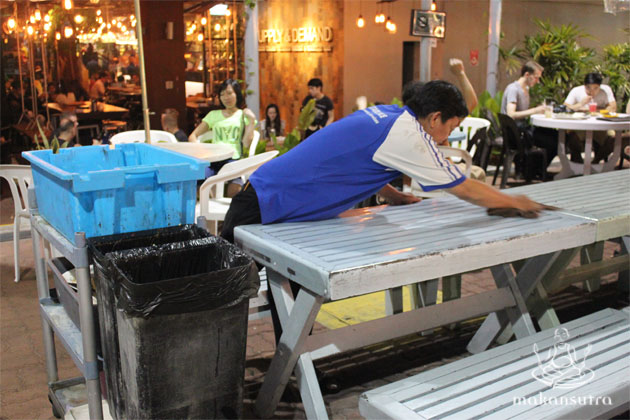 These cleaners, or what I call "hygiene troopers", have to sift and separate trash from "cash" as they will be accountable for these discarded utensils if they don't separate and rescue them. Often, that's how it works with their clients. It's like renting a car- you have to be responsible for mishaps. Their jobs are not easy. At one stage, not too long ago, they were earning under a $1000 a month. Their hours are long and it's almost entirely on their feet. This is a very thankless job many are not keen to do, but it is a necessary service provision in our society. You just figure out the conundrums plus the demands (of the job) and the supply (of the manpower).
One silver lining for cleaners introduced this week is the recognition of these workers and the adjustment of their pay scale. The NTUC folks, led by their chief Minister Lim Swee Say, successfully lobbied for the Progressive Wage Model. In short, it is not just about implementing a minimum wage of $1000, but also about better work flow, use of machines and better techniques to improve productivity. This paves the way for these approved cleaning companies to look at ways to increase their performance and goals and offer better career advancement for these workers, all without the need for a bigger headcount in this tight manpower market. Cleaning companies can tap on NTUC's Best Sourcing Initiative where such companies can seek assistance and advice on how they can do, say a cleaning job, more effectively with the same or fewer workers. Their investments on better cleaning machines and equipment can be co-funded under the scheme. A food court cleaning supervisor can expect to earn a minimum of $1,600 under this new initiative.
Literally, on the surface (table and floor), we should be looking at cleaners doing a more effective job without the need for more elbow grease and sweat or more headcount. We've seen cleaners in Indonesia clear out a massive dining mess literally in seconds. They pick up and separate waste from utensils in quick time, wipe and clear off the mess, spray sanitize liquids on the table, squeegee it and wipe it clean – no more dirty cloth and grey cleaning water. They are well trained. In open air food centres like the Gluttons Bay in the Esplanade, hygiene trooper like Mr Tan Khiam Poh, uses liquid vacuum machines to dry up the place (instead of unreliable mops) to refresh it after a downpour. No extra manpower is needed for performing that task more effectively.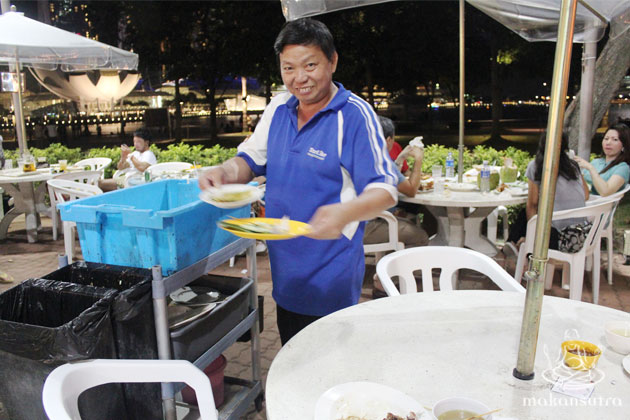 Although he and his teammates earn more (up to 20%) than this new guideline, it is also the good working spirit and understanding they get from their colleagues and hawkers at Gluttons Bay, that matter. "I trust them, they do a good job. So what if it cost more, it's worth it and I also give them free makan when they are not so busy. They look after us very well," says Sam, who runs the satay and Muslim food stall there.
It isn't all about money either. Some food courts and restaurants offer as much as $3000 a month for stewarding staff, but the take-up rate is not as warm as anticipated. Perhaps the environment and work culture were not as conducive. As colleagues, bosses, customers and supervisors, we have to do our part if we want things better. We have to adopt better habits, treat and respect the work environment better. It will also help bring out the best of these necessary workers in our midst.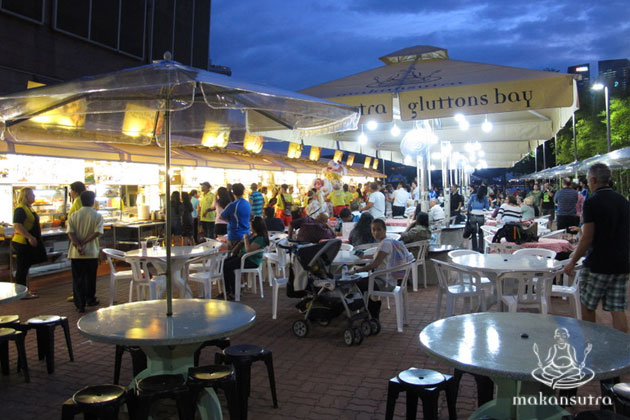 It will be a while before the pay scales of cleaners here get to be on par with other developed nations around the world. From 1st September this year, cleaning companies that do not abide by these rule and guidelines will have their licenses revoked by NEA (National Environment Agency.
But this is a good start, and things can only look north for these workers in future.