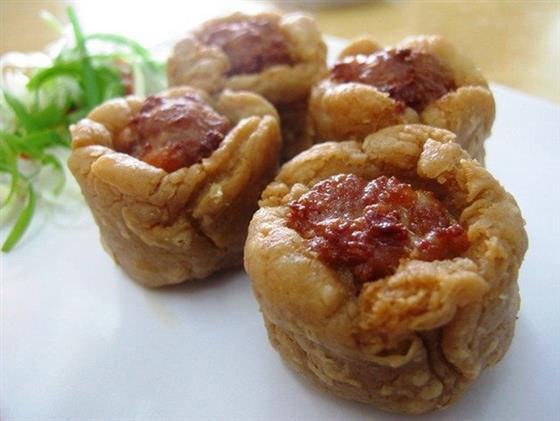 CLOSED- Are You Sure It's "Good"
By KF Seetoh - Friday, Aug 30, 2013
One of the most difficult words to comprehend in food writing is "good" or worse, "best." Especially if it comes unqualified, like someone telling you in your face, "I am the anointed one, give me 30% of your salary now and no questions allowed." This is the most complicated four letter word. It is a word that calls for another four letter expletive to question its meaning. Good, is absolutely subjective, as many of us know by now. Yet, to the others who don't know, detailing a post or a review with an unqualified use of that word, can be a pain in the derriere.
I was trawling cyberspace and came across this pretty picture with a review of fried Ampang style yong tau foo with a thick brown sauce. Very enticing, and pictures can lie better than words. The copy was plastered with more than a few "good" words. I have my opinions of the dish, as like any food hunting sucker, I often fall for good pictures and so, I made my way to the east for this feast.
But this time, I shall try to decipher what this blogger meant by good. I shall get in the mind and tummy behind the pen, or keyboard. To begin with, their signature is a set of pre-casted selection of deep fried yong tau foo items sitting in brown sauce. I suppose "good" can apply to the crispiness of some of the items – like the bean skin rolls, fried shui kao dumplings and even the tempura mushrooms. That's like saying all potato chips are good. Perhaps even deep fried army socks, done well, are too.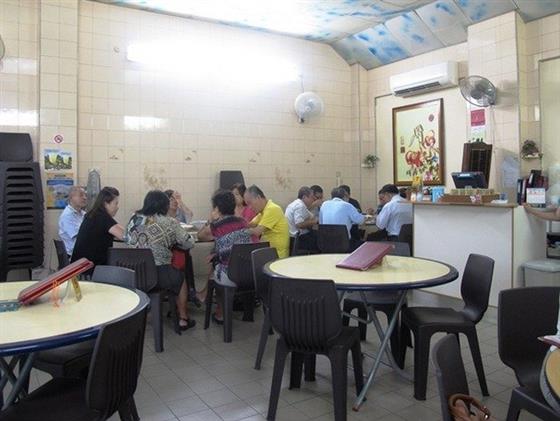 You can quite easily tell the items had been sitting in the cold room, systematically thawed and lowered in the cauldron of boiling upon order. Can't cross the "fresh" column in the tick chart of goodness. I think the "good" applies to the fact that it was freshly fried, then becomes not quite fresh and freshly fried again. The stuffing, made of fish paste, was consistent all through. Eat blindfolded and the taste and texture is gratifyingly similar, all crispy and with fish paste – if that floats your boat. I have come across yong tau foo stalls that use about two to three types of meat, prawn and fish paste combinations for different items. Their sauce, if you let it swirl naked in the mouth, is simply… salty. But I know why someone said it was good, and I'll attempt to dissect at the end of this story, bear with me.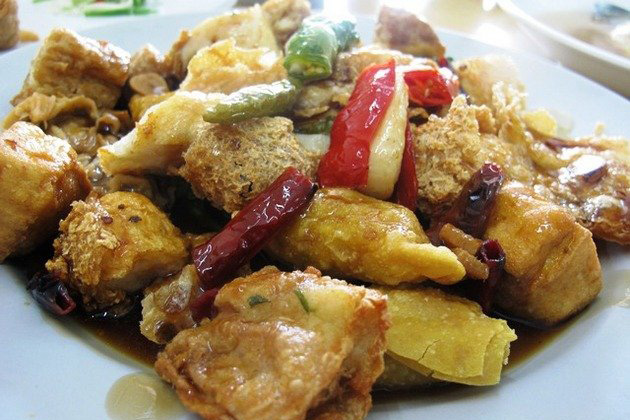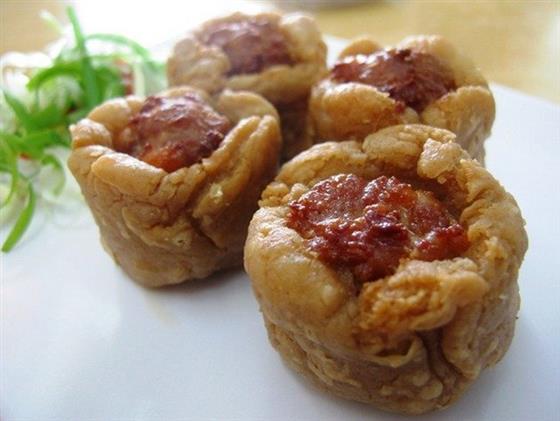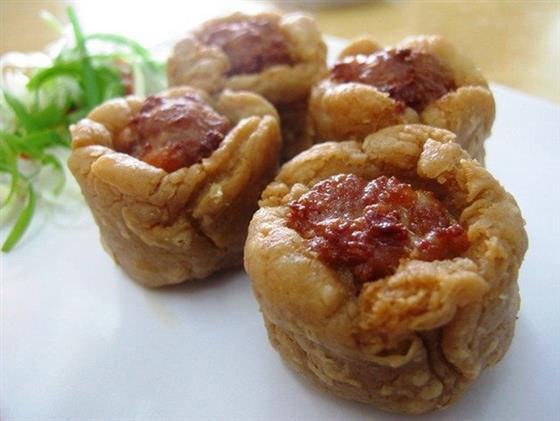 I was also distracted by another picture in the menu. What seems like a mini bite-sized yam ring with a tiny dugout in the middle filled with minced meat. How can I not try it, especially when it is so photogenic. Again, an ardent reviewer said it was good. I thought really hard on this one. I realised it must have been the fact that it is deep fried (it was the best reasoning I could muster). It would be a completely different tale if the minced pork sauce was poured fresh over these fried mashed yam cupcakes. But that's my opinion, which does not matter in this story.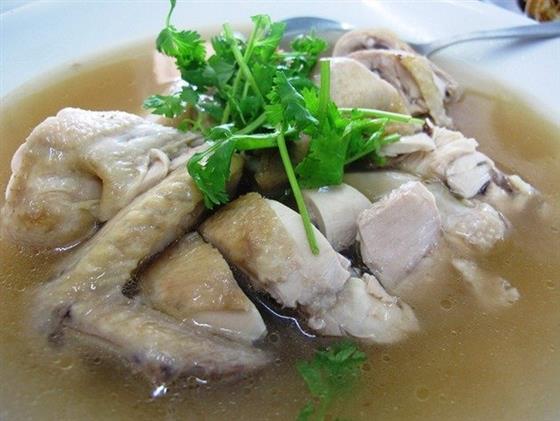 A saving grace came in the form an inconspicuous looking platter of boiled chicken sitting in stock labelled as "Chicken in Wine Sauce" or something to that effect (the menu needed rejuvenation too). This time, against the will of my photo appreciating eye, I ordered it, thankfully. The chicken was not too dry and the sauce, or soup really, had a judicious splash of wine, and the umami and savouriness of the stock was not compromised. Spoon the soup over the rice, dunk a piece of the upper leg meat in the chilli sauce and, "claw" the rice in with chopsticks. It's comfort food.
Now, if you factor in that bowl of soft, steamy, sweet and starchy bowl of rice, all the above makes sense. The saltiness, crispiness, the chunky fried sensation, soup, juicy chicken, etc… was designed , like many good old traditional Asian or Chinese dishes, to pair with rice.
But what do I think. If you do not have to work like farmers with a compulsory need for a lot of rice each day, then walk a few doors down to the Goldhill Hakka Restaurant (299A, Changi Road). They pretty much do the same, except they boil their items (they offer only seven types) and offer it in a sauce or soup which I can afford to devour and leave out the paunch friendly bowl or rice.
CLOSED
Simpang Yong Tau Foo
310 Changi Road 9.30am-7pm daily
Tel: 6444 9986