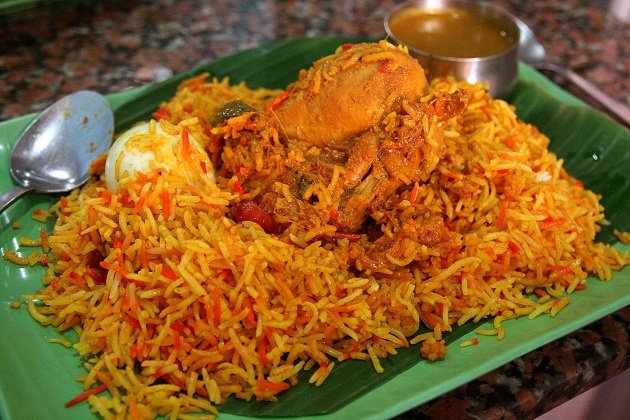 CLOSED- Blue Diamond: Dum Good Briyani
By Catherine Ling - Thursday, Aug 02, 2012
Throw a stone in Little India, and chances are it will land on someone's plate of briyani. Yes, the neighbourhood is full of briyani shops, but there's one that doesn't give a hoot about the stiff competition. Blue Diamond just focuses on making good dum briyani.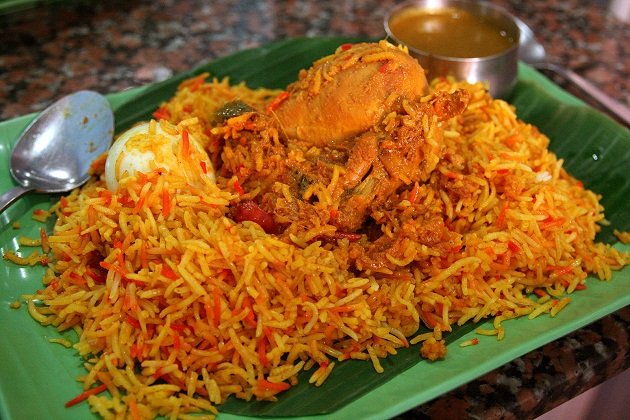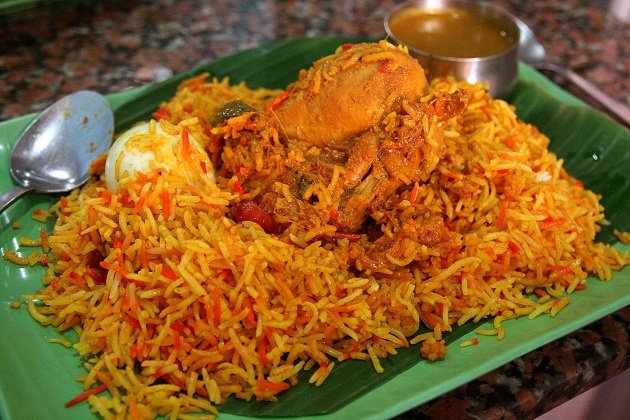 The chicken briyani (S$6.50) comes with a large chunk of bird and an even greater mound of rice. Maybe it feels like eating like there's no tomorrow. But the generosity isn't just in the quantity but the fullness of flavour. Each moist grain is heavily spiced and the chicken totally smothered in a rich gravy. Interestingly, the mutton briyani has a different set and ratio of spices.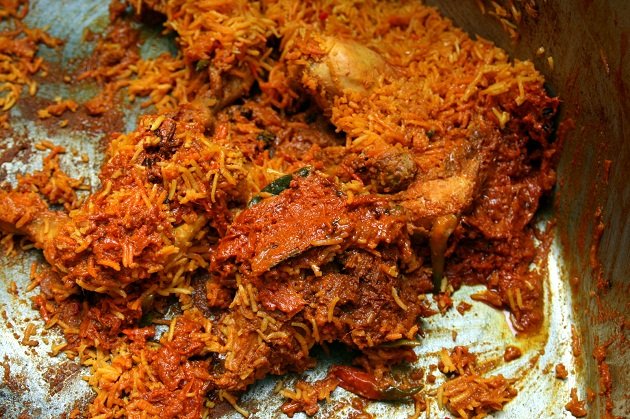 This is how good dum briyani is supposed to be, they explain. Spices still wet but not watery, sitting atop the meat and infusing it with heady flavours. The rice is cooked on top of this mixture, all in a sealed pot.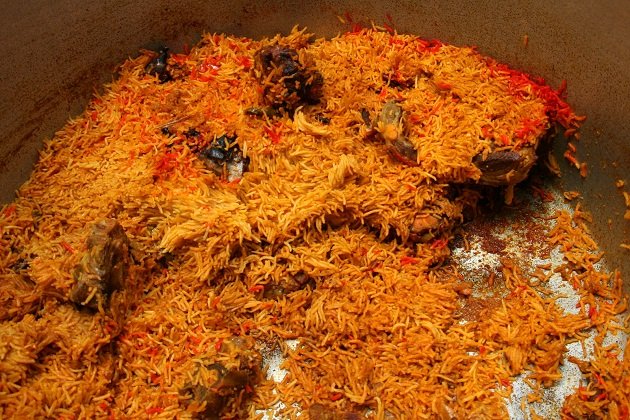 This is the mutton dum briyani pot. Their style is more Southern Indian, where the meat is cooked with bone still on, and the meat in big pieces. Northern briyanis tend to use boneless and smaller pieces of meat.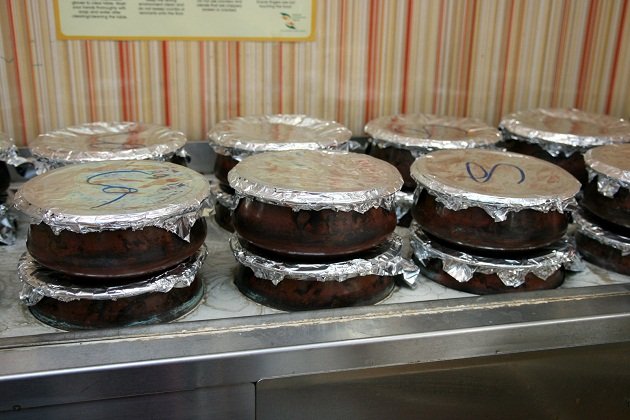 The briyani is scooped out into individual servings and kept warm in these little brass pots. This is so that customers can enjoy the rice still hot instead of lukewarm.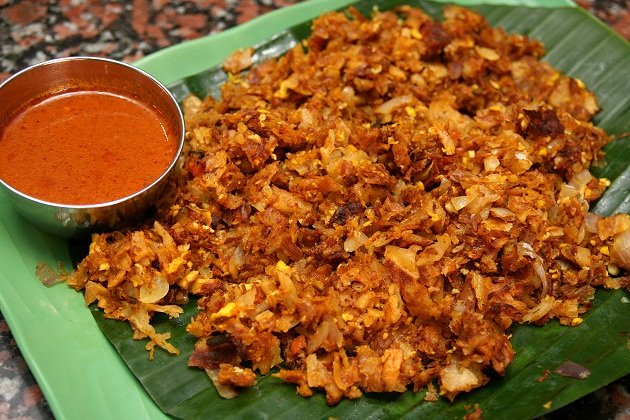 Their other bestseller is the Kotthu Prata (S$6.50) – a traditional Sri Lankan dish of chopped prata griddle-fried with onions, curry leaves, tomatoes and either mutton or chicken. It's like a murtabak all chopped up and stir fried, almost. What really makes it sing though, is the curry sauce that accompanies it.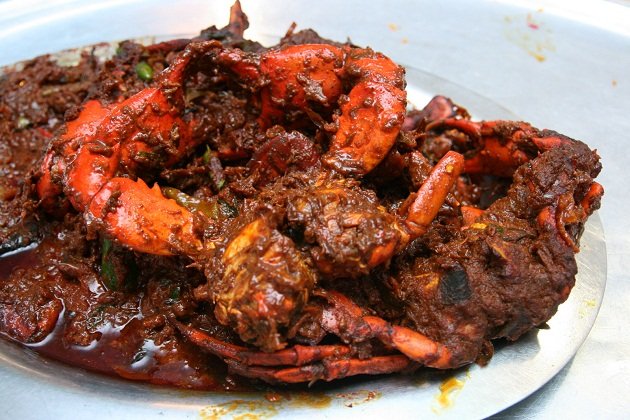 The other notable dish is Masala Crab, and they are proud to emphasize that they use Sri Lankan crabs for this. A half-crab portion costs S$8, which sounds like a good deal.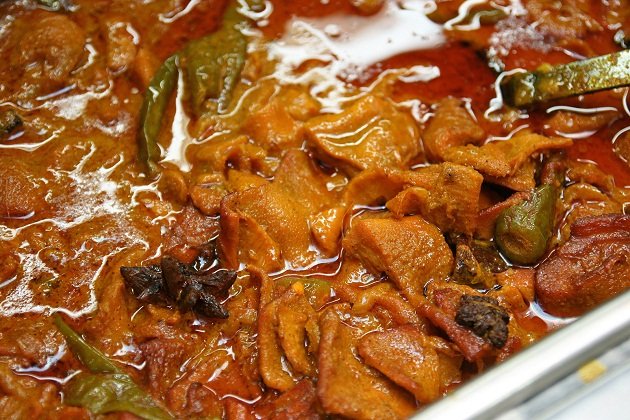 If you're game, you can try the more unusual dishes like mutton intestines or mutton liver.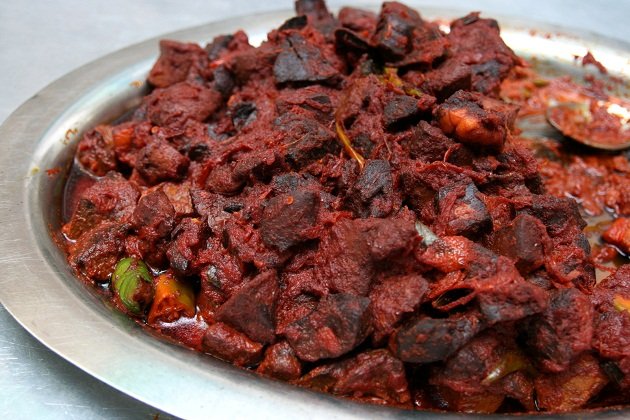 It's a mix of Northern and Southern Indian cuisine at Blue Diamond. You can see tandoori items and naans in a display window upfront, but you can sense that Southern Indian fare still dominate.
Owner A.M. Farook, 55, came over from Kumbakonam in Tamil Nadu, on the southeastern coast of India. He worked in Andhra Curry restaurant before starting his own restaurant in the Orchard area. But then came the opportunity to take over Blue Diamond in Little India and he did so, closing his own restaurant after a while.
Over the next 20 years, he led Blue Diamond to great success, churning nearly S$1m in turnover. Today he's expanded into catering, property, import & export and other businesses, so you might not see him at the shop.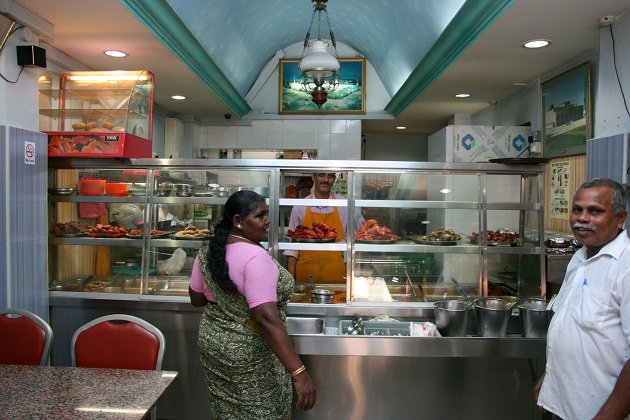 But he's got a busy and capable team running the shop. Blue Diamond is also halal-certified, and sees a healthy crowd during the evenings of the Ramadan fasting month. Lots of people do takeaway, and the place is packed for dinner. Come during lunchtime or off-peak hours.
CLOSED- Blue Diamond
24-26 Buffalo Road Singapore 217191
Tel: 6291-1629 Open 10am to 10pm