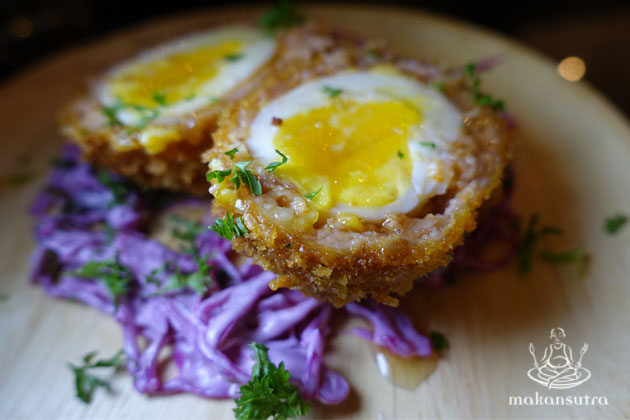 CLOSED- By the Fire: New and Fired Up Hawkers
By KF Seetoh - Monday, Jun 08, 2015
It used to be that young and aspiring chefs would take on entry level gigs at reputable restaurants around the world, pay their homage and dues, come back and set up shop with new found gusto and passion. The likes of Justin Quek and his cohorts back in the day did just that and today, are stars in their own right (Justin now heads up his Sky at 57 restaurant in MBS).
It's not all the case now. I've seen youngsters, fresh out of culinary school do their thing at fine dine establishments, including at 3 Michelin star restaurants and celebrity chef eateries, then come out and prove their mettle, at hip hawker joints. We've seen the likes of Emmanuel Tee, whom after stints at fine places like Guy Savoy, move on to define his feel for French chow at a coffeeshop in Bukit Merah that specialises in western and modern food. There's also Jeremy Han, who recently opened his "premium grill" hawker stall at Simpang Bedok Marketplace and touts some fine platters like a grilled Iberico pork cheek.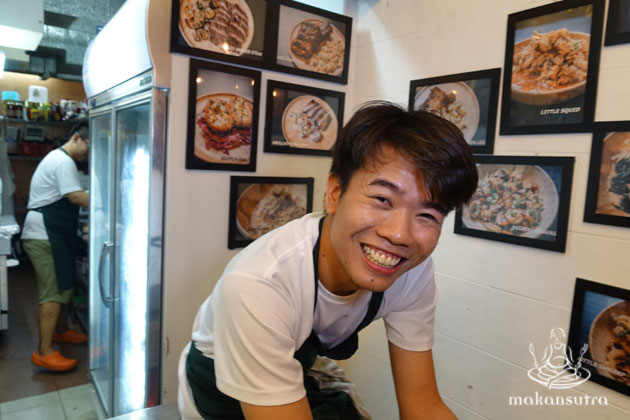 Now, there's Alex Chong. He partnered Emmanuel Tee and set up By The Fire- a "do what I feel international food should be" kind of hawker stall in the Katong area. There are just about 12 items on the menu and each is designed with its own appeal. "I flavour these international dishes with my own Asian touches and accents" says the 29 year old Alex, looking like he just completed his basic national service. He's worked for the likes of Guy Savoy and Patrick Heuberger of Au Petit Salut . "I learnt not just about techniques but also attitudes.", and tells me that he will do everything on his own if he senses operation hitches in this stall- from taking orders, handling the mise en plus and handling orders, adding "staff don't stay long these days".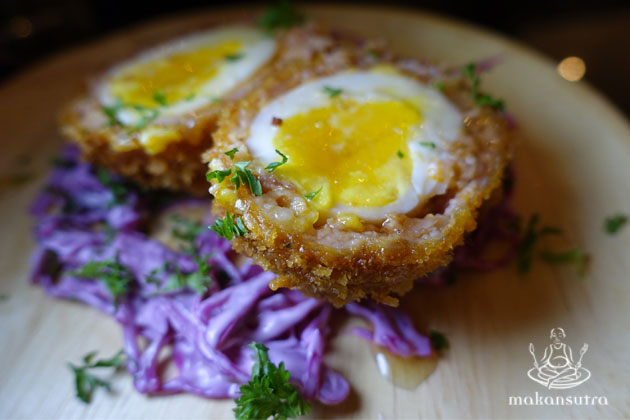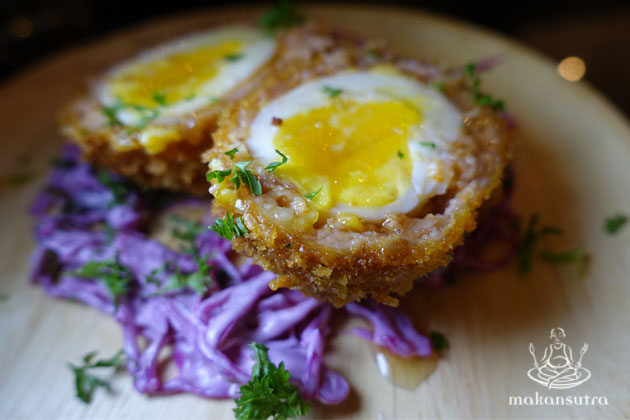 But still, he whips out a clever starter Scotch Egg ($6.90), done oozy yolk onsen style, delicately wrapped in a layer of minced meat, crumbed and fried. A pink bed of pickled vegetables under, foils and colours the dish. I would have desecrated that with some soy sauce on the drippy yolk but none was not in sight. No complaints from me though. His BBQ Pork Rib with Mac and Cheese was as Yankee as can be. That two slabs of ribs was first braised then grilled with classic tasting but "secret" sauce. I am not fan of mac and cheese but this version made be sit through four mouthful of it. The little specks of bacon bits and spring onions, turned me in.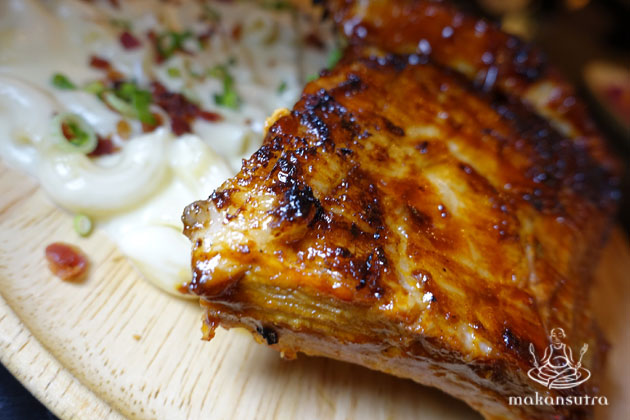 The Pork Jowl ($15.40), done confit, grilled and carefully constructed with pumpkin and potatoes dusted with Japanese curry spices, was off the mark for me. The cut was too creamy fat and overly soft, but it floats other's boats, I know. It overwhelmed his efforts at flavouring. I save the best for last- his Keystone Seaweed Pasta ($8.90). That plate of angel hair aglio olio was so delightfully buried with bits of konbu seaweed (umami assault number one), bonito flakes (two) and sakura ebi (three) plus shards of fried garlic. I was hard to stop eating this one even after all those above.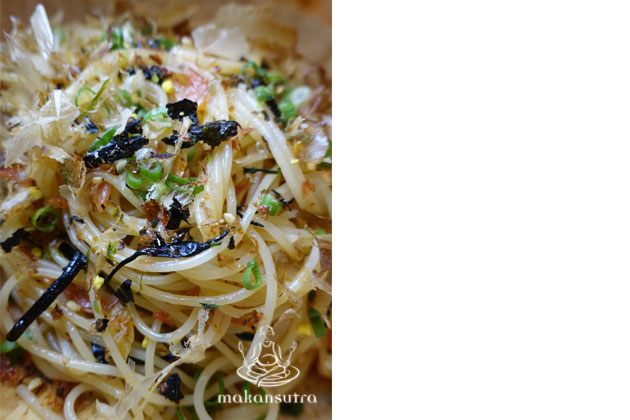 Next trip there, on my list, is their Hangar Steak and the come-hither Squid Ink Pasta with Sea Urchin Cream and Hokkaido scallops.
By the Fire- CLOSED
Alibabar The HawkerBar
125, East Coast Road
12.30pm-3pm/ 6-10pm (weekdays)
12pm-10pm (weekends)