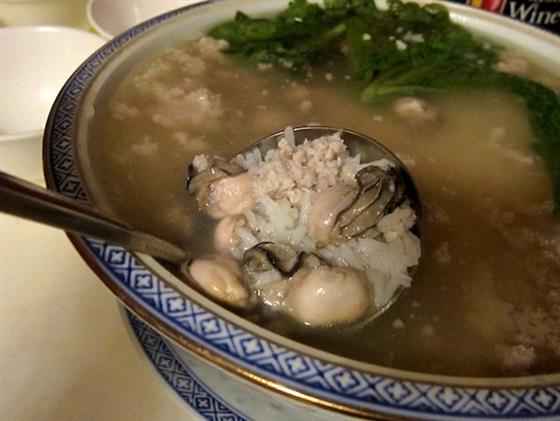 CLOSED: Cheng Hoo Tian, A Teochew Gem
By TianTianChi - Thursday, May 30, 2013
For about a year there has been buzz of a private dining style Teochew Restaurant setting up. It finally opened several months back to much excitement.
The restaurant looks like an antique shop with two huge stone statues standing guard. Engraved wooden screens and display shelves and a vintage looking signboard above the door complete the antique look. Strains of light Teochew opera music greet diners walking in. Valuable Chinese artifacts are all around, many of them displayed so casually, they may be easy to dismiss. The private room on the top floor requires a four-storey climb, and is filled with precious china, a lifetime's collection with some items dating back a few hundred years.
The menu looks rather common, with dishes you can find in any Teochew restaurants. That's until the manager suggests the private dining menu that features the best of the day items not found on the standard menu.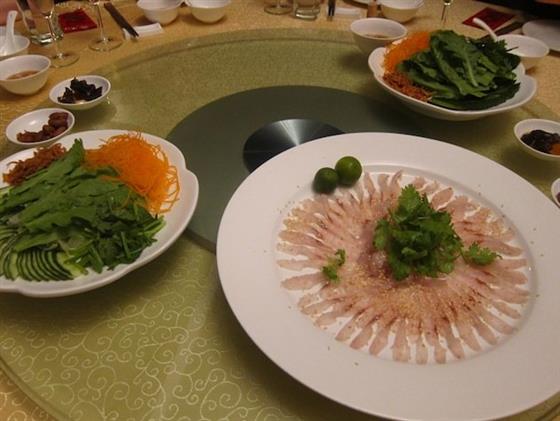 I always love Teochew style raw fish salad but it is mostly only available during Chinese New Year. Unlike Cantonese style lo-hei, the fish is not tossed with the myriad of vegetables and the sauce mixed in. The raw fish (Ikan Parang served here), tossed with some sesame oil and lime juice, is wrapped in tang-o (garland chrysanthemum) with shredded carrot, preserved radish, cucumber, Chinese celery. It is then dipped in plum sauce. The flavor and texture of slightly bitter tang-o, fresh sweetness of the fish, crunchiness of the vegetables, fruitiness of the plum sauce and savory taste from the preserved radish made this a very delightful and refreshing starter.
The pig trotter aspic may be a little too soft, but the pig head jerk comes firm and flavorful. The prawn and liver roll tastes decent though a little mushy in terms of bite.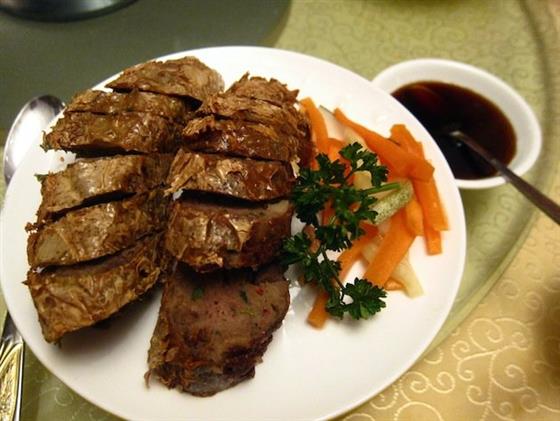 Although I am no big fan of shark's fin soup, they do an excellent one here. No fanciful toppings but you can tell good things have gone into the making of the stock. It is creamy and sticky from collagen-producing ingredients such as pig skin, chicken feet and shark cartilage. The flavor comes from Chinese ham, old mother hen and pork bones. The shark's fin comb is thick and the portion generous.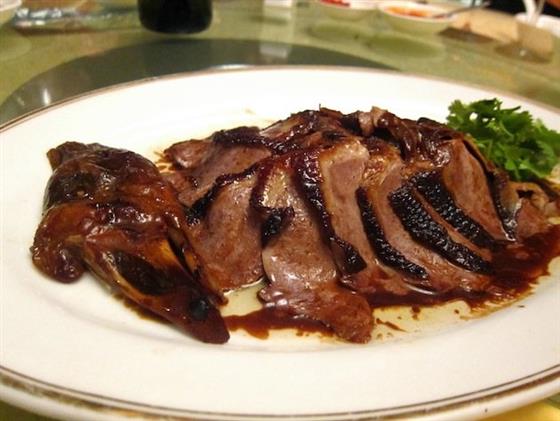 We were told they are among the few who still serve goose meat as they managed to secure supply from Hungary.The roasted goose is dipped in a slightly sweet sauce and served over a bed of "gu chye" (chives). The juicy and flavorful meat is surprisingly more tender than what goose is usually like. The sauce penetrates the gu chye, softening it and masking the normally pungent taste.
The braised dishes here, such as goose web with sea cucumber, are not overwhelmed by heavy handed use of dark sauce and oyster sauce. They do it by reducing the superior stock, allowing it to be absorbed by the goose web, and coating the sea cucumber with judicious use of starch.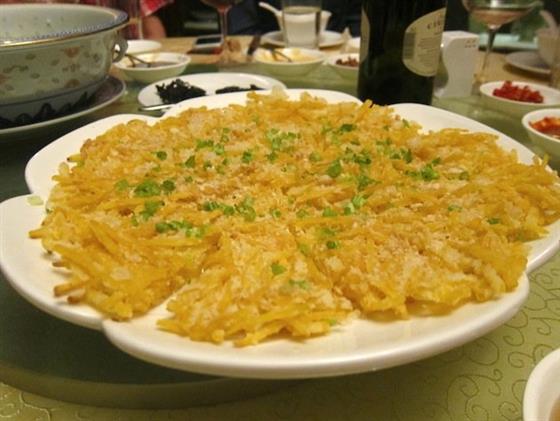 As an interlude, we were served pumpkin pan cake. Julienned pumpkin is pan-fried till crispy and held together by melted sugar with a good sprinkling of natural citrus essence and 30-year-old dried orange peel. It is not as sweet as I imagined and the mellow citrusy flavor refreshes the palate.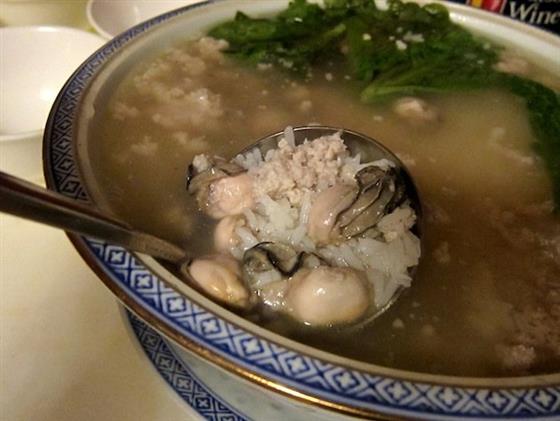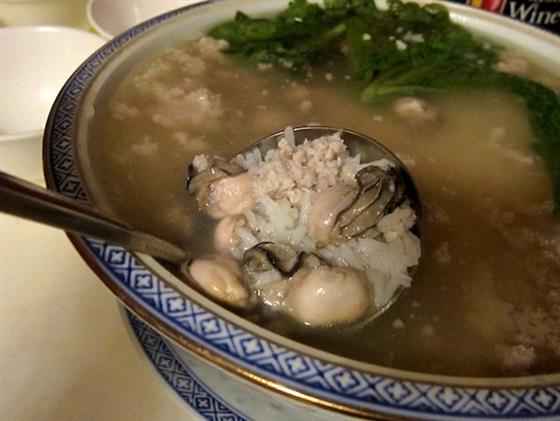 One unusual way of enjoying it is to dip the pumpkin pan cake into the oyster porridge. It surprisingly pairs well with the intense seafood hit from the broth. They use large oysters here and what a delight it is biting into those.
The perennial favourite Teochew Su Chye (mixed vegetable) is done rather well. The stock is infused with flavours of dried shiitake mushrooms and balances nicely with the bitter mustard green.
It is getting difficult to find people making "or nee" (yam paste) with traditional methods using lard due to customers being more health conscious. This is why it seldom comes smooth and rich like it used to be. It is a pleasant surprise to find that not only do they still use lard, but they serve the or nee with a strip of candied pork belly, an old school practice. Despite the lard, the or nee does not feel greasy.
Dining here can be stressful though. You have to move about very carefully without breaking any of the precious antiques in the rather tight space; it is certainly not a child friendly restaurant either.
The meal is delightful and satisfying but be prepared for the bill. The meal above cost S$100 per person for food alone. At first this seems a princely sum but given the quality of the food, and the effort put in to preserve forgotten traditional recipes, perhaps it is well justified.
CLOSED
CHENG HOO TIAN
41 Keong Saik Road Singapore 089146
Tel: +65 63822222
Open Daily: 12pm-11pm