CLOSED- Peranakan Flavours Restaurant: Bakwan Kepiting to die for
By KF Seetoh - Monday, Sep 15, 2014
Pardon me if I gush today, but it's been a while since I stumbled upon a Nonya eatery that's so write-worthy in so many ways. We had spoken about and devoured Damian D Silva's (Immigrants Gastrobar) Buah Keluak Fried Rice (and his minced century egg and tofu starter, which isn't Nonya but is in his menu anyway). There's also Malcolm Lee's (Candlenut Restaurant) braised beef ribs in buah keluak sauce and his white Yeye Kari.
This place is four months old and is headed by Chef Ben Teo who spent 16 years in the famed Li Bai Restaurant kitchens before he decided to head back home to his Nonya roots. He ran a Nonya style nasi padang restaurant in the CBD without much to show for and then went on to helm a Nonya kitchen in a Joo Chiat guest house, "but these budget foreigners just wanted free bread and butter in the buffet breakfast" laughed Ben, eyes rolling. When I chanced upon his creations (as some a done with a wicked twist that takes nothing out the heritage), I was almost remorseful that I missed this chef's food all this while.
To begin with, the place seats only about 36 , if they extend seating to the boutique hotel's (where it's located in) lounge. Which is why Ben can afford to painstakingly make his own rempah and stocks daily, with the help of his godson and assistant chef Gabriel Goh.
The starter, is already a twist- fried yam cake, in a shout-out to his Cantonese food experience at his former workplace. He did it because he likes the dish personally and many of his customers will not let him remove that item in his Nonya menu. The insides was mushy soft filled with bits of hae bi and Chinese sausages and encased in a crispy outside. Dip it in sambal, and the whole thing comes alive in the mouth.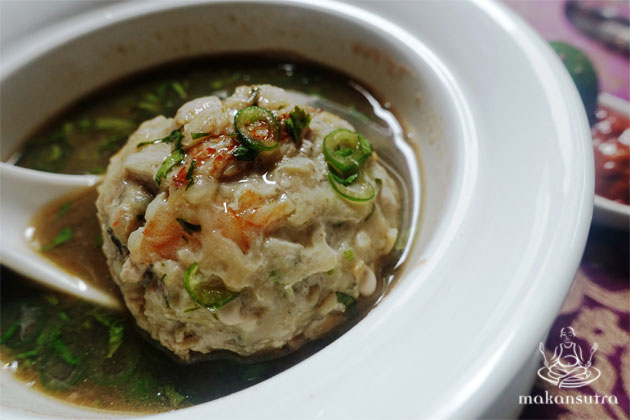 Then the deal breaker came- Bakwan Kepiting ($10 each) , as one rough looking golf ball redolent with chopped shrimps, crab meat, some turnips and minced pork held firmly together in a broth made by blending shrimp head and flower crabs shells. I can have this everyday, it's the best I've ever had so far.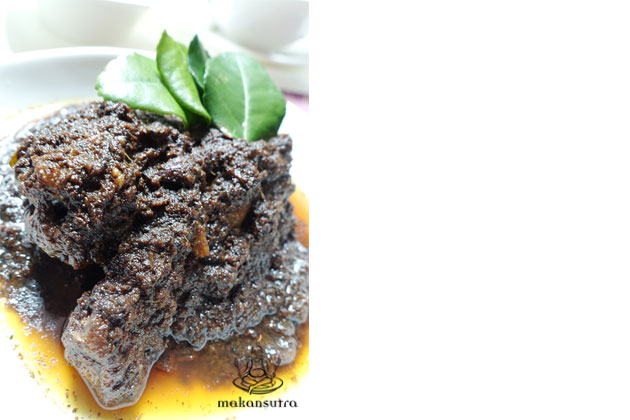 Then I fell over his Ayam Buah Keluak ($24), which he also does with pork ribs or trotters. It's the buah keluak rempah, done with sharp hints of blended belimbing (sour wild starfruits) instead of tamarind, that did me in. You can forget about your no-carbs and rice diet with this one.
The innocent Udang Nanas is given a wicked makeover here. The shrimps are mashed and stuffed into tofu then deep fried and served with pineapples in that classic sour sweet and spicy sauce. He calls it Nanas Yong Tau Foo (family portions at $20). The rare Ayam Kerabu Salad (off menu but available almost everyday) is done with such a complicated yet agreeable sauce I gave upon figuring out the details but totally enjoyed a scoop of it wrapped in fresh crunchy lettuce leaf. His other signature, another of my favourite, is the Ikan Sambat, double deck stack of snapper fish and otah wrapped and deep fried in fish skin…OMG. Hearing Ben describe how this one is done, made me appreciate these people a whole lot more.
If all that is not firing you up, ask Ben for this humble hae bi hiam "done like how grandma used to do- with lard and fat."
Update as of 15 August 2018:
CLOSED
Peranakan Flavours Restaurant
11, Jalan Klapa (inside The Ardennes Hotel)
11.30am-2.30pm/ 5.30pm-9.30pm
Closed on Tuesdays
Tel: 67891001