CLOSED- What's up with Madam Kwan's
By KF Seetoh - Wednesday, May 21, 2014
As a fellow business person, I had to ask "you raking it in here?". And his big jolly and hearty demeanour suddenly toned a few notches down as he shrugged and shook his head. But this man is not perturbed by it. They have a brand named after his mother who "is a celebrity of sorts" back home in Malaysia and they tout that warm "mummy's creativity and talent". Datuk Rudy Foo is the President of the Madam Kwan's, that feisty little comfort food restaurant from Malaysia, and jolly son of Mdm Kwan, that "like everyone's grandmother" founder.
I had a very charming yet intriguing conversation with Rudy and wanted to pick his brains with a few burning questions that have been bugging me, first of which is that signature of theirs – Nasi Bojari (more of that later). I had a detailed glance at the menu and I really wondered – why would it work here, especially in a mall like VivoCity. It touted a wistful nasi lemak (it should not, but it's there), as something special. It did not come with the Malaysian classic like fried ikan kuning (yellow scad), wrapped in a banana leaf. It came plated the usual café "compass" style – centre – rice, north – cucumbers, east – achar and sambal ikan bilis, west – rendang and egg and south – you, the customer. It's special only if you don't know that there's a stall in Adam Road hawker centre that offers rendang with nasi lemak too, way before they did last year. Their sambal, I admit, was not the typical Singapore cloying sweet spicy style , but rich, savoury and spicy. So, yes, something special there.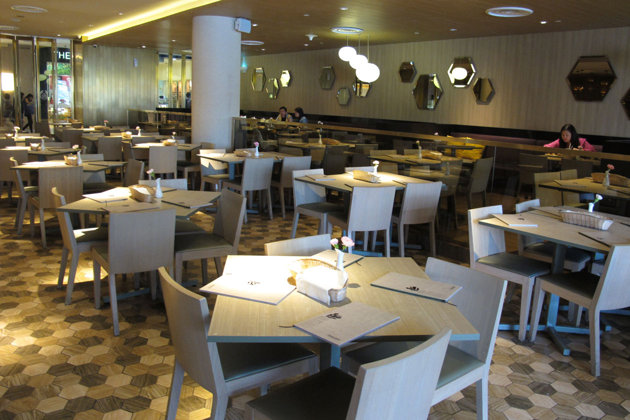 I was quite curious when he mentioned they now want to target the younger 18 – 35ers (away from the family crowd), who are less "taste sensitive", at the same time went on a spiel about just how impeccable and authentic his mummy's cooking is. This was, I suppose a new marketing and rebranding exercise to reach out to the new generation crowd. But it made no sense to me – mummy's great recipes for less "taste sensitive" customers. Plus, the décor – seemed more like it's for youngsters of the 80s, reminiscent of the Café de Coral days in Lucky Plaza.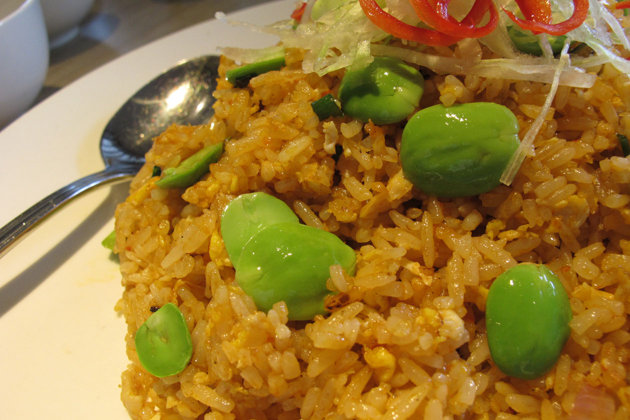 So I let the food do the talking. First up, the sambal petai (stink beans) fried rice – surprisingly this came out well because the savoury spicy sambal contained the golden bitterness of the bean and was very refreshing for me but it was a tad oily though. Kids will give this a miss by a mile, at least. Then the nasi lemak came laid out around it with achar, sambal ikan bilis, rendang, egg and hae bi hiam. It felt that the rich coconut rice was gently infused with light chicken stock – a neat trick to please the masses. Their rendang is the mass appeal type – soft, infused with a thick sauce that's slathered around and had no outstanding overarching spices that may irritate the palate, like too much cloves or kaffir lime leaves. The otah fried rice was a good idea… but when it comes to food, good ideas can fail because of execution and ingredient usage… like in this case.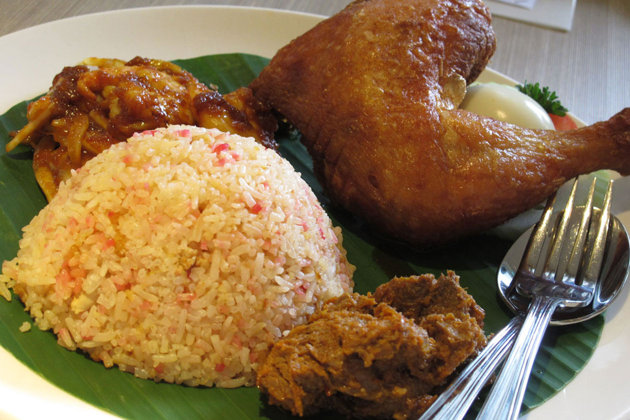 Then the signature Nasi Bojari, which Datuk Rudy says is a "One Malaysia" dish. How? "The fried chicken represents the Indians as you see all Indian mamak stalls have fried chicken, the rendang stands for the Malays" and strangely, he continues with a "the sambal prawns… the chinese." The colourful rice represents the vibrancy of Malaysia. Ok, I decided not to investigate, put them in the mouth and hum some national song. The Indian-ness did not resonate through, but the doneness of the fried chicken did – the skin was awesome crisp (sans batter) and it was moist and juicy inside. The sambal prawns had a nice tinge of tang which accented the colourful Bojari rice (chicken flavoured) well.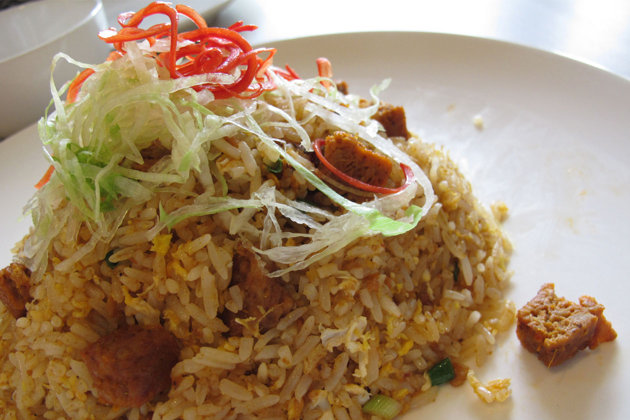 Datuk Rudy is ambitious. He wants at least one outlet in every major city in the region and I wish him well but first, perhaps he wants to clearly define his market space and adjust the menu to suit it.
CLOSED- Madam Kwan's
#01-152/4, VivoCity
1, Harbourfront Walk
Tel: 62719989
Lunch and dinner daily