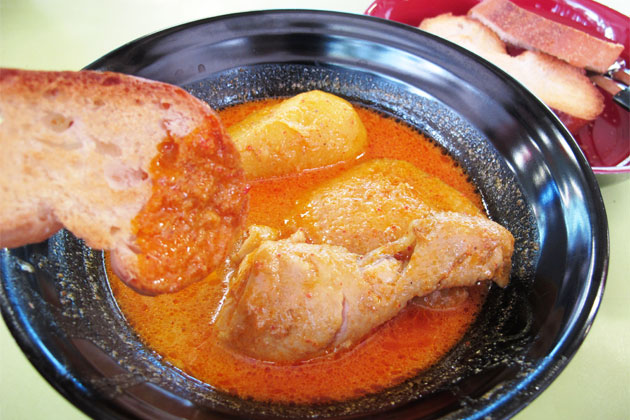 CLOSED- Young Curry Agents
By KF Seetoh - Monday, Feb 24, 2014
The first thing I noticed in their little matchbox kitchen was the Robo Coupe blender. This, you won't normally find in hawker centre stalls. Top flight commercial kitchens use heavy duty blender and in this case, it meant that these folks blend their own rempah for their chicken curry, in their little hawker stall.
They were blitzing their opening (earlier this week) on social media and the thing that caught my eye was the young couple behind it, and they have three beautiful kids, all boys. He, Lim Kim Bak, 26, was the chef and brains behind the kitchen and his petite wife Eunice Oh, 25, handles the front of house, aka the waiter. Bak's former property business partner Nicholas Pang, 32, is also in on the act and takes your order. I just had to meet these new generation street food soldiers.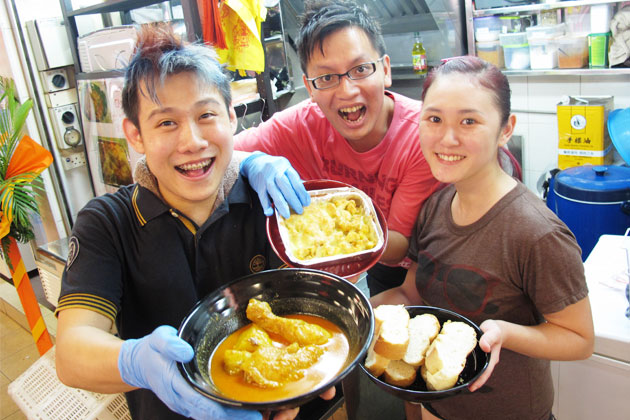 "Property business slowed down so much so we had to think of survival alternatives.", said Bak (whose nickname is Bok, hence the stall name) who took just a month to decide jump head long into the street food business. "It's my aunty's recipe" and confessed, "but I have to modify to suit the customers here". His initial fears was about handling the crowd, maintain quality and speed. He ordered about 100 pieces of fresh whole chicken leg (frozen ones have dark bones after cooking, but not theirs) and they cleared 70 portions on the first day of business. When I visited again the next day, they already sold 100 orders by 2.30pm. "It is very encouraging" Nicholas shared and when I pried, he declared "We will be happy if we can average 150 orders per day."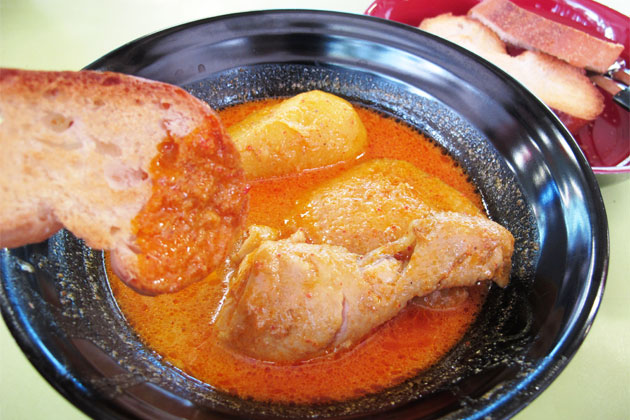 The curry, which comes with rice or toasted bread (which I prefer), was balanced right for the Chinatown crowd and regulars. I felt the rempah was nicely balanced on its own, no overarching accents of any spices. But there are the odd visiting foodies who would like them richer (with coconut milk) and spicier (with chillis). "That is a balance we are trying to achieve, and we will get there soon", Bak tells me, and admits that this regime – he is at the stall by 4am each day to start preparations and he closes by 3pm, is tough, "but I like the job, so no complain for now."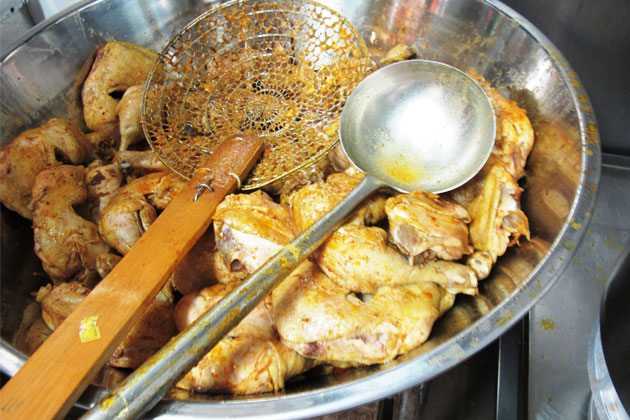 His wife Eunice is not having it any easier too. She has to prepare her three kids, from 3-5 years old, for school and nursery each morning before she heads to the stall late morning to handle the lunch crowd. Frankly, I doubt they will problems shifting 150 portions a day eventually, in fact, 200 is more realistic. They need work on their baked cheese curry rice though. The flavours are intact and generous with chicken chunks but the sheer dull brown should be lifted with cauliflower or broccoli with red capsicums and carrots, for added texture, sweetness and colour. Or some sayur lodeh (vegetables in coconut gravy) should be spooned over.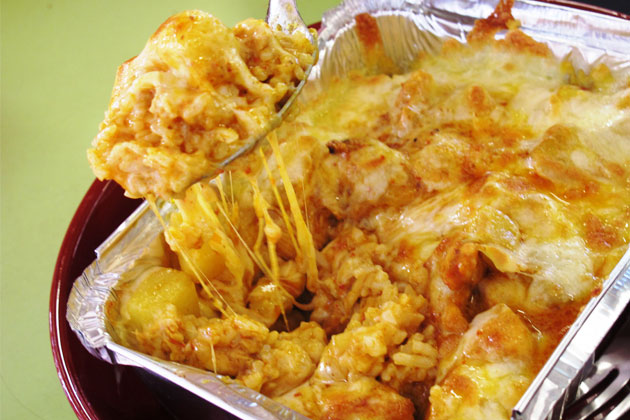 Don't stop now guys. Keep reacting and evolving and always watch and listen to customers.
CLOSED
Bokky Curry
#01-67, Hong Lim Food Centre
10am-3pm daily (for now)
https://www.facebook.com/bokkycurry