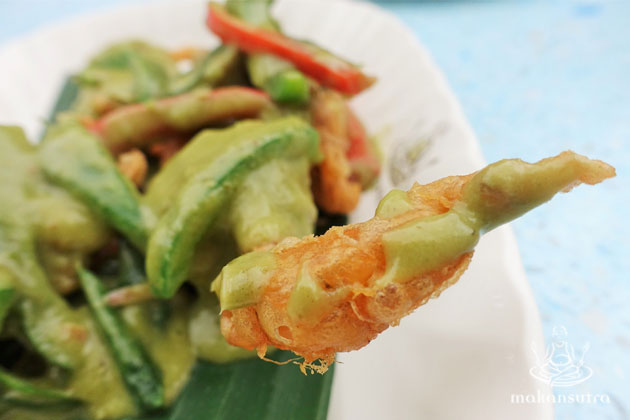 CNY Dish Fatigue: Some Spicy Reprieves
By KF Seetoh - Monday, Feb 23, 2015
By now, the mere thought of a week more of Lo Hei Prosperity Raw Fish Salad can be scary. Don't even think about what they say when you eat too much raw fish. Also, you have to face more steamed or fried prawns, steamed or baked fish, bak kwa of various flavours, braised chicken, monkey nuts, pineapple tarts etc.. plus, just how much more mushroom, dried oyster and fatt choi stew can you handle. It's daunting. Did you also notice that these old school mum and pop Chinese New Year dishes are often lightly flavoured- it's basically soy and oyster sauce, meat stocks, a dash of pepper, sugar, some Chinese wine, a splash of sesame and maybe a speck or two of chilli, for colour.
You yearn for something different because you are spoilt for choices in our multi coloured, cultured and flavoured makan city. You want to spice up the system and wake the face up. We have some interesting options for you.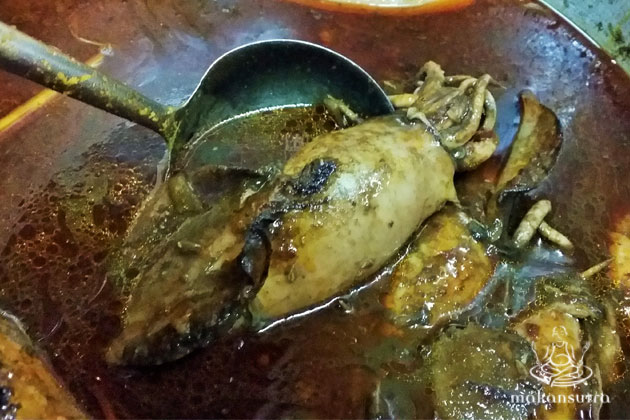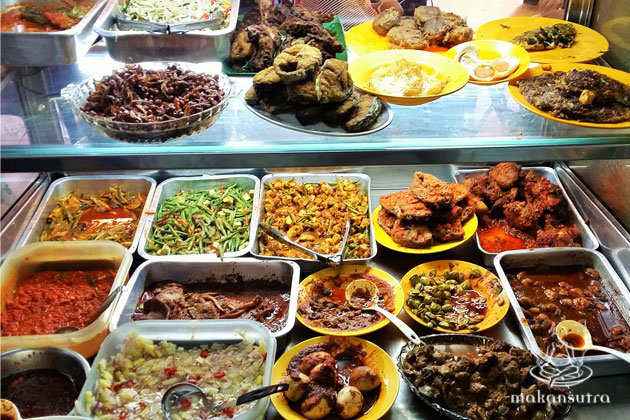 Squid Ink Curry Sotong (Nasi Padang Lor 1 Geylang, 487 Geylang Road (junction of Lor 27, 5pm-9pm, close on Sunday)
They braised this over very low charcoal fire in a lightly spicy black curry tainted with the squid's black ink, till it gets soft. You can sense the old school charcoal aroma in this one. All you'll ever need at this stall is this black ink sotong with its sauce over steamed rice and their stunning sambal. Of course, I dare you to resist slapping on their mutton rendang, sayur lodeh and fried sambal fish slices. The couple holds day jobs and come only in the evenings to operate this stall for four hours.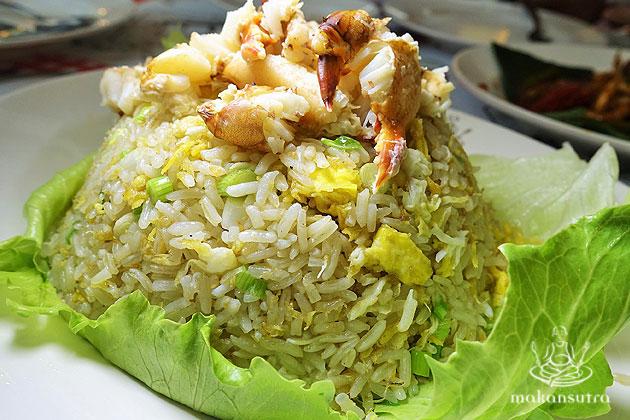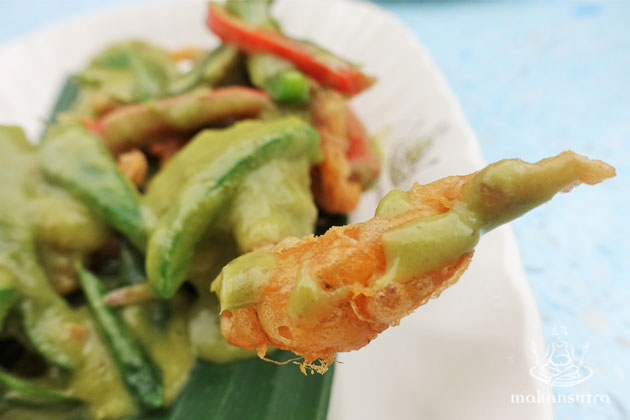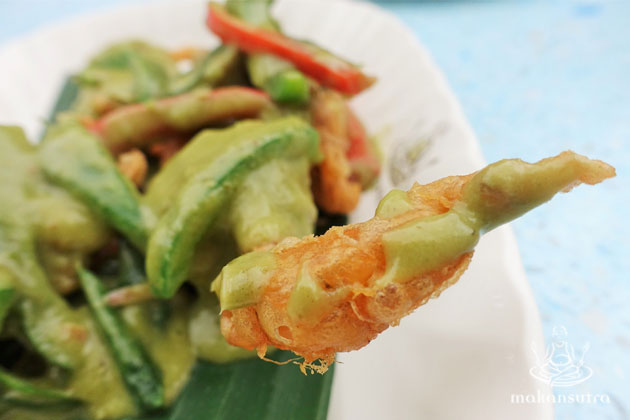 Soft Shell Crab in Green Curry Sauce (Yummy Thai stall, Makansutra Gluttons Bay, next to The Esplanade taxi stand , 8 Raffles Ave, 5.30pm-2am daily)
You can expect a humble little Thai food stall to offer the same old jaded signatures- just like how you'll expect to rattle off the same old orders like pad Thai, tom yum, grilled pork collar (moo yang), glass noodle salad (yum voon sen) and som tam (papaya salad) etc.. but the folks here took things up a notch. They fried up soft shelled crabs and tossed it in a thickened green curry sauce (those are words you can taste) . The green curry sauce is rich, has a slight sharpness and tang. They also came up with this mean lemongrass fried rice with crab meat chunks. The hints of lemongrass is there just to perfume and not overwhelm the robustly done fried rice.
Satay Beehoon Halal Style (Alhambra Padang Satay stall, Makansutra Gluttons Bay, next to The Esplanade taxi stand , 8 Raffles Ave, 5.30pm-2am daily)
This Teochew dish is getting rare to find in our markets and is unique to Singapore and this is even rarer because it is about the only Halal version I've come across. What's a halal version , you say? Sam is a second generation Malay satay hawker whose father hails from the original satay club row along Beach Road outside the then Alhambra Theatre. His satay beehoon uses no Chinese style five-spice powder "which the Malays are not so used to", he says. His nutty satay sauce beehoon is topped with seafood, bigger prawns and sans cockles reiterating his Muslim customer's initial feedback " they don't like cockles in this dish".