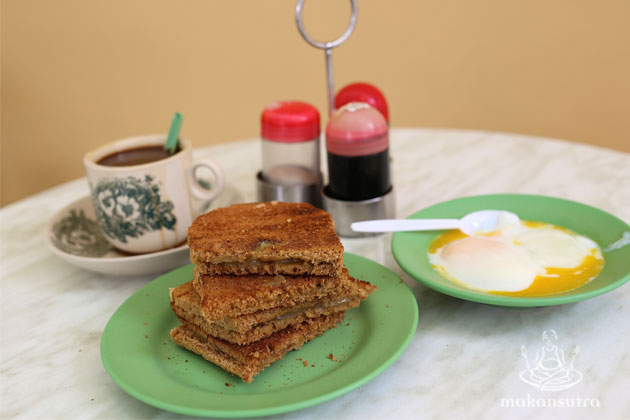 COFFEE & TOAST: OLD SCHOOL BREAKFAST AS ITS BEST
By Cecilia Joven Ong - Wednesday, Jun 24, 2015
The old school iconic local breakfast typically consists of coffee and kaya butter toast together with a set of half-boiled eggs- otherwise known as the kopitiam  breakfast specials. This is a part of our food cultural heritage that have been around for many generations but has been slowly replaced by modern cafes and some of those old coffee shops that were around for decades have been closed down one after another six old places that still hold firm to this tradition in style.
KENG WAH SUNG
783 Geylang Road Singapore 389672 (Junction of Geylang Road and Lorong 41)
Operating Hours: 6 am to midnight (Daily)
This is one of the oldest coffee shops in Singapore and has been family-run for more than 70 years. Their Breakfast Set consists of coffee, toast and eggs for $3.20 is one of the cheapest around. The perfectly crisp toast was served with thick slices of butter and generous spread of their homemade Hainanese kaya which you can buy a jar of. It is own-made and naturally it has a short lifespan as it's done with no preservatives. Though the kaya tasted a little sweeter, this is the taste that most Hainanese grew up with. Their traditional coffee really hits the spot and it is amongst the best in town.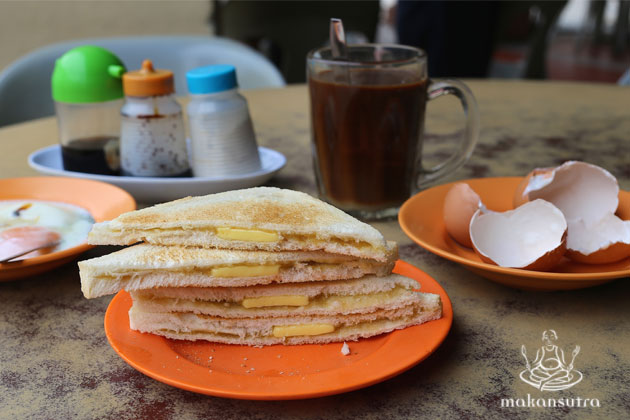 GOOD MORNING NANYANG
14 Scotts Road #02-23 Far East Plaza Singapore 228213
Operating Hours: 8.30 am to 8.30 pm (Daily)
Their Ciabatta toast is a unique item as compared to the usual bread or baguette. The Orange Ciabatta toast with kaya is their signature item. As you eat it, you could taste bits of orange peel embedded within. They toasted it lightly to give it a slight crisp and served it with their homemade kaya. Their kaya comes old fashion- rough and like a paste, not the regular commercial smooth version. It is redolent with the aroma of pandan leaves. It went really well with their coffee and eggs as a set, at $5.50. Their traditional coffee is wonderfully aromatic with a strong flavor. Their half-boiled eggs were done just right.
CHIN MEI CHIN CONFECTIONERY
204E East Coast Road Singapore 428903
Operating Hours: 8.30 am to 4.00 pm (Closed on Mondays)
Their freshly baked soft round bun at $1.00 each is what distinguishes them from others and their kaya has a distinctive coconut and eggy taste. The bun is halved then spread with a thick layer of generous kaya and a slice of salted butter that tasted quite different from most other places. There are also baked goodies like cream puffs, cupcakes and egg tarts to go along with coffee. Their soft-boiled eggs at 0.80 cents were done expertly- all wobbly and oozy inside. Their coffee at $1.10 is very comforting, but the muggy and warm atmosphere inside (packed with regulars all the time) is not.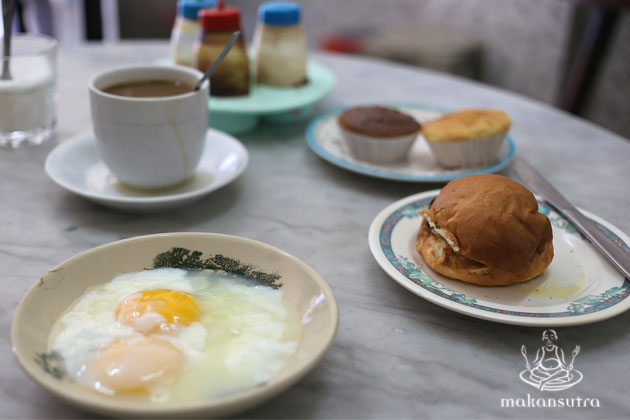 TONG AH EATING HOUSE
36 Keong Siak Road Singapore 089143
Operating House: 11.00 am to 2.30 pm / 5.30 pm to 10.00 pm (Alternate Wednesday Off)
Their toast is slightly charred on the outer layer but still retained its softness within, together with their homemade kaya and a slice of butter. They still serve Butter Coffee, which was featured in a New York Times article, and is a rare find these days. It has a rather unique taste; it is much creamier and smoother with a distinctive buttery texture. The old folks will tell you it aids digestion. The tip is to drink it while it is still hot to fully appreciate the taste. You could pair it with their old school steamed bread or extra crispy toasts that is toasted on both sides for a delightful texture. Their Kaya & Butter Toast set is $4.30.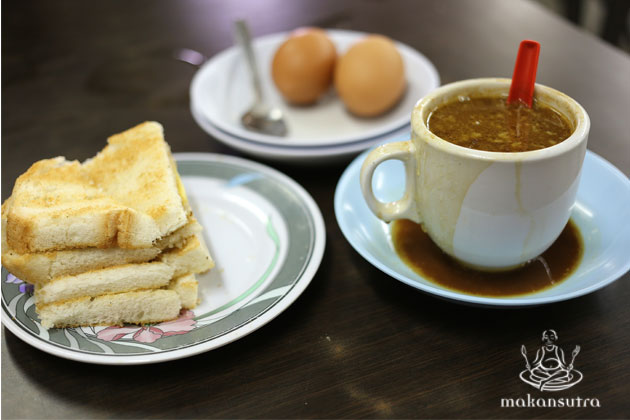 HEAP SENG LEONG
Block 10 North Bridge Road #01-5109 Singapore 190010
Operating: 4.00 am to 8.00 pm (Daily)
Time has stood still right here, as this is one of those old-school coffee shops that still remain. They also offer the Butter Coffee, and it is superb if you know how to appreciate these things. Their toast is still toasted over the charcoal fire before kaya is spread on with a  thick slice of butter to it. They are still serving old-fashioned steamed bread that is not common these days. The Butter Coffee together with toast comes at a very a reasonable $2.30.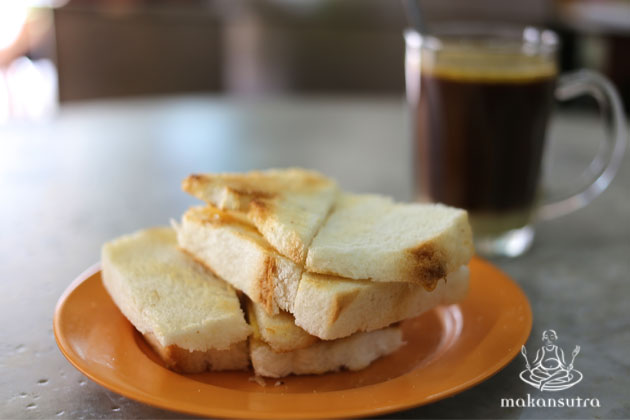 YA KUN KAYA TOAST (www.yakun.com)
18 China Street #01-01 Singapore 049560
Operating Hours: 7.30 am to 6.30 pm (Monday to Friday) / 8.30 to 5.00 pm (Saturday/Sunday)
(Please refer to their website for other outlets)
This is also one of the oldest and most famous names  for coffee and toast. Their toast is thinner and crispier as compared to most out there and it is served with relatively good coffee and half-boiled eggs for $4.80. This particular outlet is their flagship and is run by the son of Ah Kun (the late founder) and it has all the attendant old school charms. There are different types of toast available but just go for their traditional Kaya & Butter toast. Their kaya is nicely fragrant with a well-balanced level of sweetness. With their 40 outlets island wide, you could pop by for breakfast or tea break anytime.