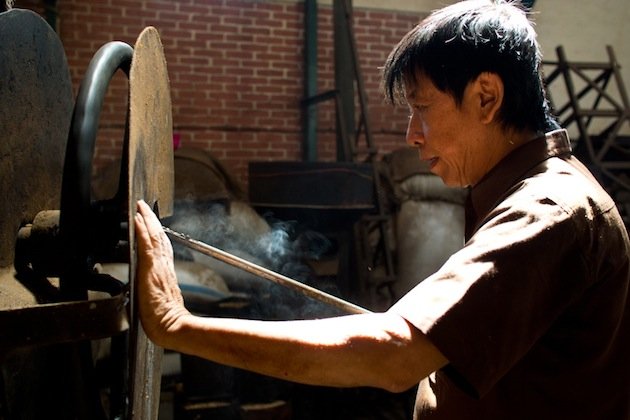 Coffee with Virtues
By Marchellinus Hanjaya - Thursday, Jul 11, 2013
It sounds like eons ago when we heard about honourable business ethics and principles are being practiced. Today, many people work on the same basic money-oriented method – gain as much profit as you can, as simple as that. But, once in a while, you meet an odd one , a figure integrity, of honour who will still conduct business righteously. It no difficult to spot them. They provide a service or product that draws the customers like bees to honey. In this case, they even show up before opening hours in anticipation of the product and service promise that is proffered.
In the heart of Bandung, Indonesia, locals would wait in front of a traditional coffee roastery, Aroma Koffie Fabriek, for a bag of fresh coffee beans, before they go home and brew their morning cuppa. The roaster don't even sell a cuppa.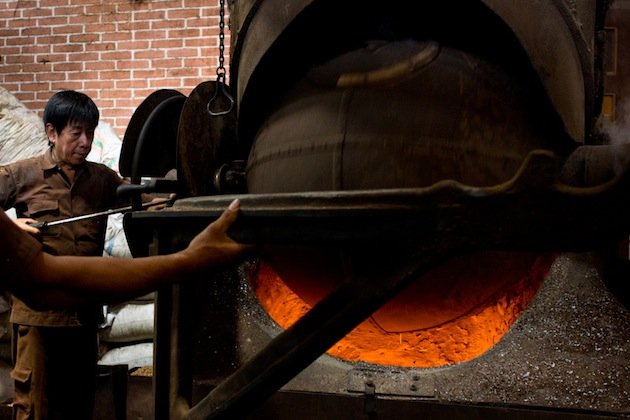 For these folks, the wait is all worthwhile, knowing that the bags of Arabica beans are of the highest quality from the local farmers which have been handpicked by the owner of the roastery and aged for eight solid years to develop the aroma. The aged coffee beans are later roasted in a German made ball-shaped roaster over rubber wood fuel, slowly but sure, to create brew that is low in acidity and fragrant. The whole coffee making process is a promise that Aroma Koffie Fabriek has been keeping for the past 80 years or so.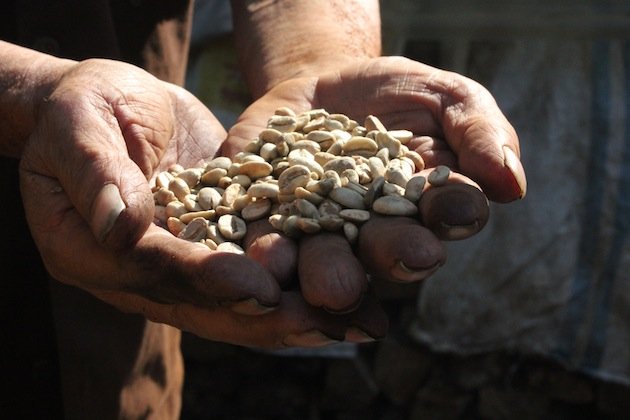 The man behind this humble business is Mr Widyapratama Tanara, or simply known as Widya. The factory was founded in the thirties by his late father, Tan Houw Sian, who learned the art of coffee roasting from his Dutch boss during the colonial era. After several years of apprenticeship, Mr Tan started his own business using the same model, method and equipment. However, he had a guiding force – noble business ethics.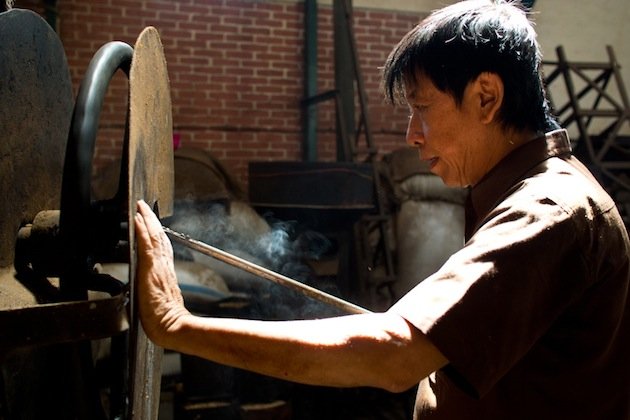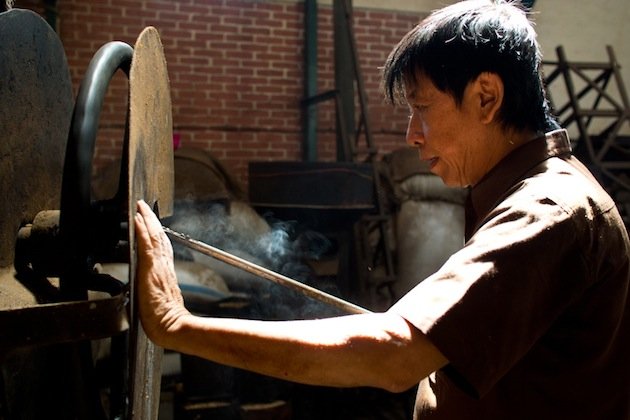 Young Widya took over the business in 1971 when his father passed on. He had everything he needed to run the business, both expertise and passion which he had been sharpening since young. By putting his heart and soul to the factory, the business grew bigger, but everything remains the same at Aroma – the warehouse with stacks of aged coffee beans, the roaster and the coffee-brown uniforms. He even ensured every process is not compromised, and done in old honest fashion.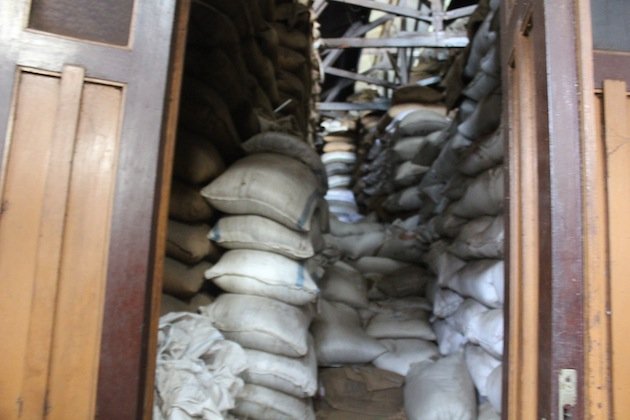 All his stakeholders, both the customers and the farmers, love him. He makes sure to benefit both sides by buying good quality beans at high price and yet still sells it at affordable prices- by relying on bulk sales. His respectful and humble way of business not only brings enough profit for his company and family, he had also made extra to find the disabled and poor students to continue their education at higher level.
One of his customers, Jeffry Yunus, once told us: "He (Widya) is a kind hearted man, and when people request to repay his noble deeds, like advise roasters on special pointers and be judge and advisor in coffee competitions, he will not accept any money, all he asks for is a bag of good coffee beans. So people pay him with coffee!"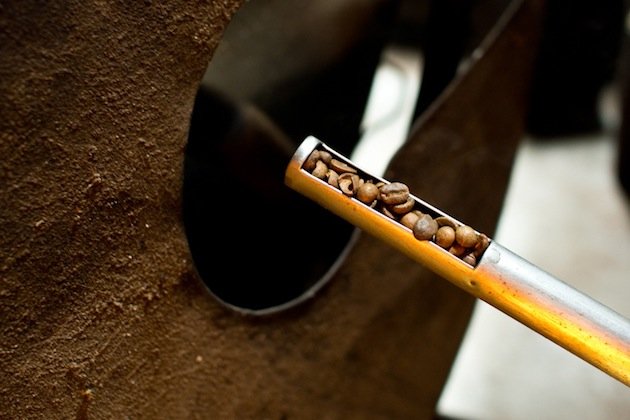 When we asked for his secret of success, he shares his philosophy, "there are 7 M's in this business. Man, money, material, matter, machine, management and market. All of these must balance." And it takes an eight "M" to do that – a master, like Widya.
Today, Widya still involve himself in every coffee making process, from picking coffee beans to roasting. He is always wearing his signature coffee-brown uniform, just like all his workers, and a ready smile on his face. He's does not act nor works like a regular boss. He is hands-on at every corner of his factory, an act much appreciated by his subordinates who regularly seek his advice.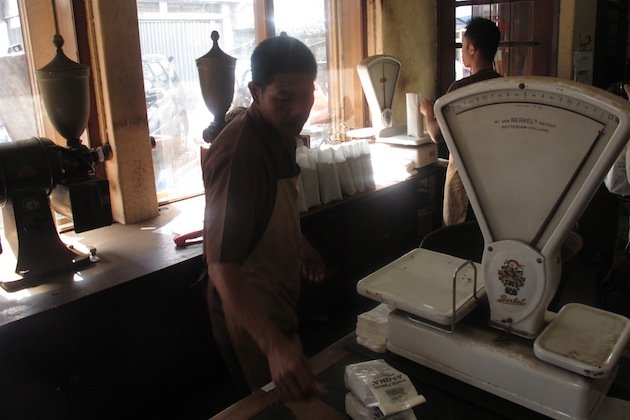 Being the only child in the family and has three daughters who were not keen to inherit, we once question him on the continuity issue and he quips: "I am not worried at all. God will take over." And sure He did, we recently heard that his first and third daughters have changed their minds and had begun to inherit the skills from their father. This factory not only produces coffee, but it brews a lifelong history and heritage.
Aroma Koffie Fabriek
Jalan Banceuy 51
Bandung 40111
Indonesia