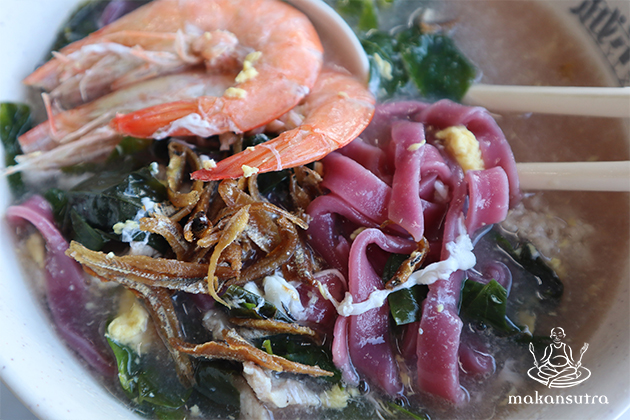 Colour Mee Purple
By KF Seetoh - Friday, Nov 16, 2018
In desperation she wrote to me and regaled how she had to exit and terminate her previous stall at the social enterprise Jurong Hawker Centre some months ago. She could not continue the monthly loses due to the sad footfall and business. And her cost of operation was eating her revenue- the 20cents tray return saga alone (where tenants have to compensate customers for every tray they return), cost her around $700 a month. "We have customers who take two trays just for one order of our ban mian" and Ms Joy Yeo describes how they come back for more chilli sauce and chopsticks and use a second tray. But, she's moved on and is now negotiating the contract termination penalty with her previous landlord Koufu (technically, she has to pay up each month in rental of the remaining term of her contract).
She has now relocated to Sin Ming area and I checked out her ban mian. It is a deliciously colourful and happier story. For starters she said, " I am averaging double in revenue and the rents are about the same and minus the ridiculous extra rules and clauses" (her previous contract is a 51page document). This Hakka ban mian dish, has some twist and colourful turns in the hands of Joy, who is a Nonya gal. To keep her cost low, she gets some of her ingredients from Johor and one key edge, is the use of teepo (dried sole fish bones) in the broth. It adds a light Teochew touch (an open secret ingredient in their cuisine) to the pork bones, garlic, soy beans and ikan bilis she uses. But the main magic is the rainbow coloured ban mian noodles and no, it's not just for colouring. "I realise the purple blue pea flower or bunga telang version makes the dough a little softer and smoother.", she said and I noted it was indeed true. She makes her own hand torn ban mian noodles and it comes in 5 colours and indeed, different flavours. The blue pea flower version ($4.50), is as colourful as the fresh bloom she uses but it hardly lends any taste or aroma, just that softener effect. You can tell they are natural colours as it lightly tints the broth after a while.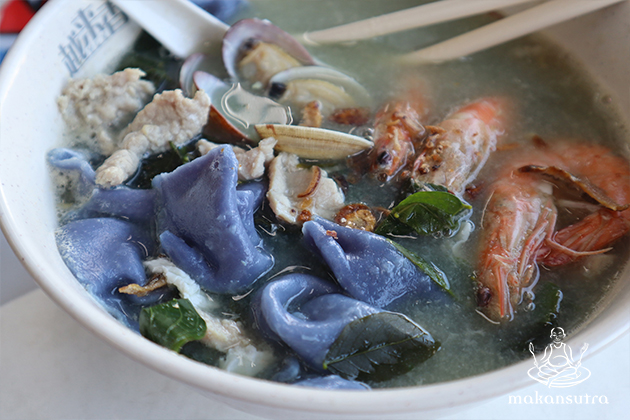 The blue pea flower helps soften the dough
The green spinach ban mian ($4.50), you will observe, has bits of blended spinach dotting the pasta and it lends a refreshingly light garden aroma to the bite. What I like is that each of the coloured ban mian lends their flavour to the broth.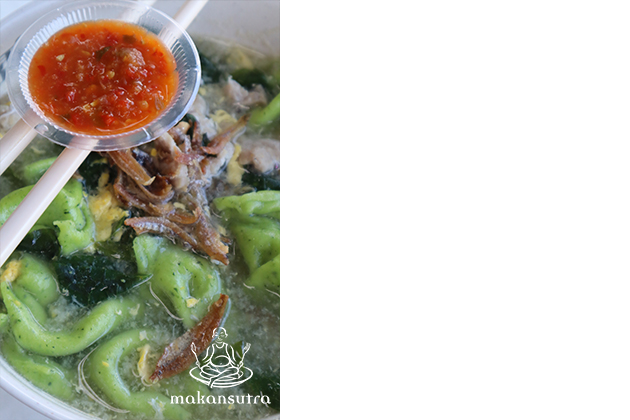 The bits of spinach is evident in this green version
For another instance, her beetroot rendition ($4.50) has just a delightful sourish hint infused to the umami in the broth. The toppings of crispy ikan bilis , pork, egg, daun mani greens or seafood versions with prawns, fish or clams, all add another dimension to the overall flavour.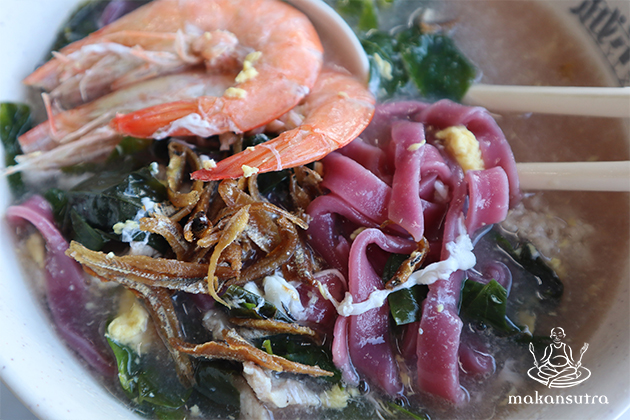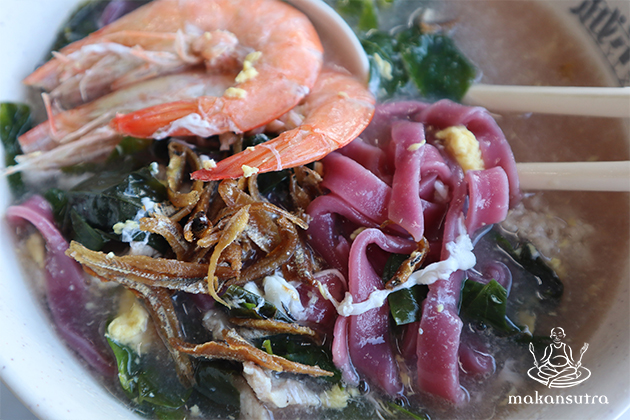 The beetroot ban main has a light tangy hint
The yellowish pumpkin ban mian ($4.450) introduces a softly sweet touch and she also offer the regular plain dough version.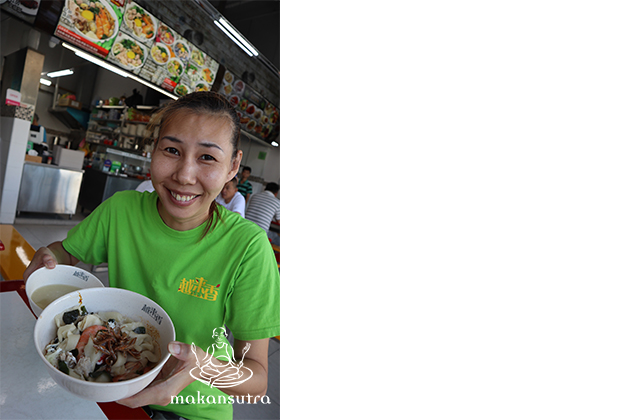 Joy Yeo with the yellow pumpkin version
There's even more good stuff- the side order of fried daun mani ($1.50 with any order of noodles) is rare and moreish, and she dusts it with fried shallots and hae bi. Her new dry chilli version ($5) uses a Nonya style sambal and it's rich and spicy with hae bi blended in. It is spicy, savoury and she makes her own sambal. I only suggest that she drops a 64 degree soft boiled egg over to enhance the sensation.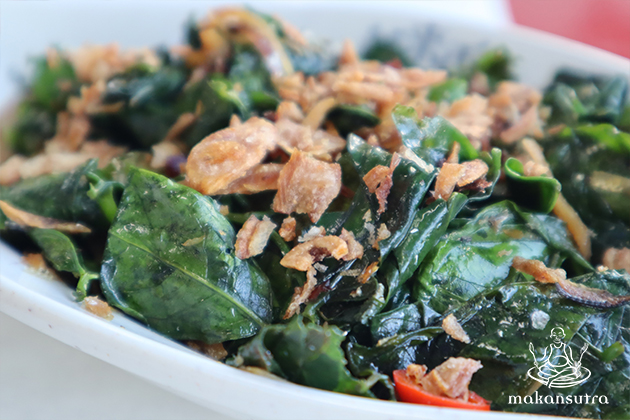 Fried daun mani vegetables is great value for money
Yue Lai Xiang
160, Sin Ming Drive, #01-20 (coffeeshop)
7.30am-5.30pm, close on Sunday and PH