Cooking with Chinese Herbs
By Catherine Ling - Tuesday, Jul 15, 2014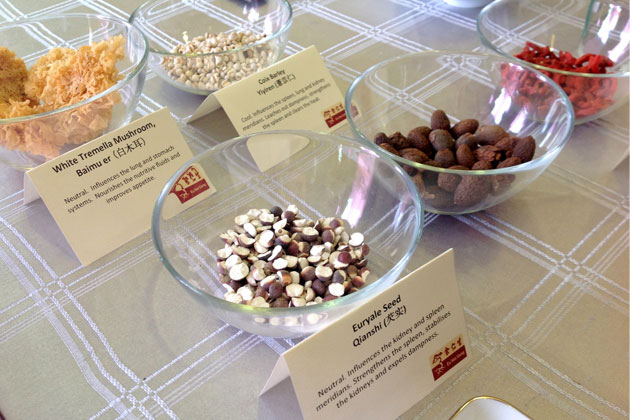 In Chinese culture, food is medicine. Adding the right herbs in the right combination can help remedy, nourish and fortify the constitution. But the mind-boggling variety of traditional Chinese herbs and their functions can be daunting. Chefs Arron Huang from Taiwan and Yong Bing Ngen of Majestic Restaurant put together three modern recipes using commonly available herbs from Eu Yan Sang. They gave a cooking demo at ToTT to show how simple and tasty cooking with Chinese herbs can be.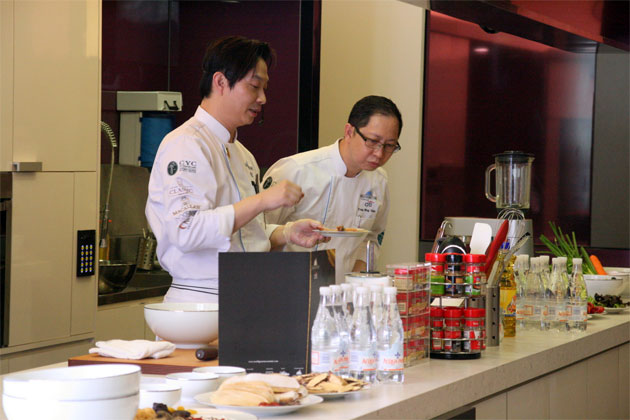 嫩煎鸭胸鲜虾佐当归甘草酱汁
Fried roast duck breast and shrimp with Chinese Angelica and Licorice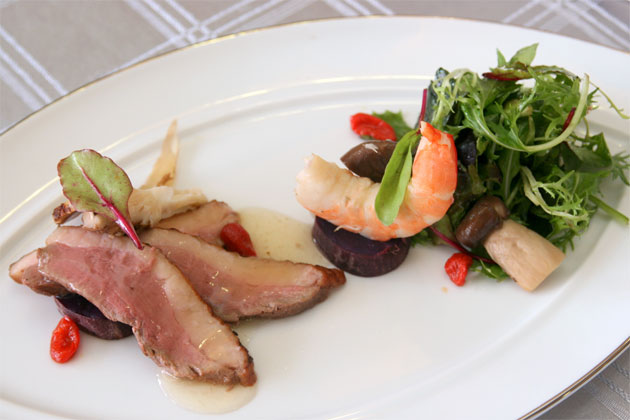 Pan-seared Ingredients:
250g French duck breast
1 fresh shrimp
20g king oyster mushroom
30g mixed vegetables
30g sweet potato
Herbs:
3g Chinese Angelica 當歸
6g Licorice 甘草
Seasoning:
200ml rice wine
1tsp salt
Cooking Method:
1. Pan sear the duck breast until surfaces are golden brown. Boil a pot of water and blanch the fresh shrimp and king oyster mushroom. Set aside.
2. Add herbs and water to the cooking oil from the pan-seared duck breast. Using low heat, boil the mixture for about three minutes before setting aside to cool. Lastly, set the mixture aside overnight for the herbs to fully release their extract.
3. Plate the mixed vegetables in the centre, and top that with two slices of duck breasts, shrimp, and king oyster mushroom. Finish by pouring the herb mixture over.
野生天麻川芎红枣焗鱼
Baked Fish with Wild Gastrodia, Cnidium and Red Dates
(For 4 Persons)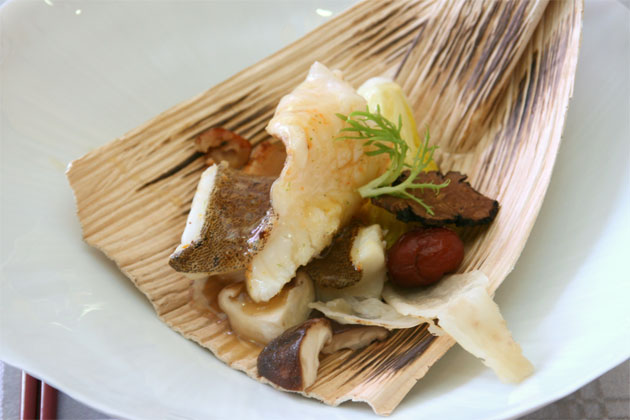 Ingredients:
Whole Garoupa 600g
Shiitake Mushroom 4 pieces
Baby Cabbage 2 whole stalks, cut into halves
Wild Gastrodia 4 slices
Cnidium 4 slices
Red Dates 8 pieces
Spring Onion 1 whole stalk
Ginger 2 slices
Water 150ml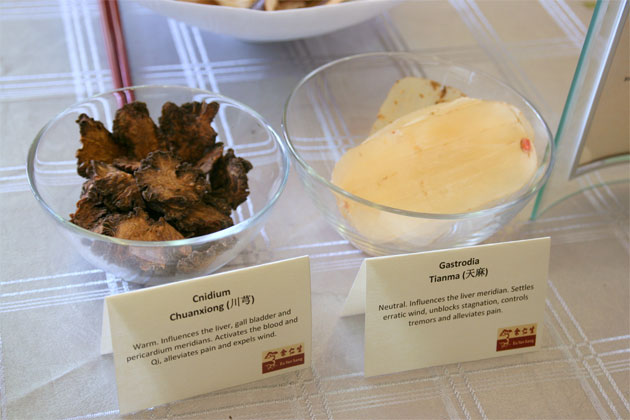 Marinade for Fish:
Shallot 2 whole
Corriander Root 2 stalks
Ginger 2 slices
Carrot 50g
Red Chilli 1 piece
Wild Gastrodia 2 slices
Cnidium 1 slice
Water 100ml
Salt 1⁄2 teaspoon
Sugar 1⁄2 teaspoon
Method of Cooking:
1. Fillet the garoupa into 4 pieces. Keep fish bones for use later.
2. Place all the ingredients for the marinade into blender until well mixed. Remove and marinate fish fillets overnight.
3. Place fish bones on a tray and bake in oven at 180 degrees C for 15 minutes. Place baked fish bones in a bowl with wild gastrodia, cnidium, red dates, spring onion, ginger and 150ml water and steam for 1 hour. Keep the fish stock and herbs.
4. Remove fish fillets from fridge 1 hour before cooking. Prepare pan with cooking oil and pan fry the fish fillets till golden brown.
5. Place the pan fried fish fillet on baking tray and bake at 180 degrees C for 6 minutes.
6. Prepare a pot of boiling water and blanch baby cabbage and shiitake mushrooms for 3 minutes. Remove and set aside.
7. Place one piece of the pan-fried fish fillet on plate and garnish with half baby cabbage, 1 piece shiitake mushroom, 1 slice of wild gastrodia, 1 slice of cnidium and 2 pieces of red dates. Do the same for the other 3 plates.
8. Place fish stock into a pot and heat using low fire. Add salt and sugar to taste. Lastly add potato flour to thicken stock.
9. Pour sauce over each plate and serve.
银耳炖八宝茶
[薏仁/ 芡实/ 圆肉/ 蜜枣/ 杞子/ 海榄/ 银杏/ 鲜百合]
White Tremella Mushroom Herbal Tea with Eight Treasures
[Coix Barley, Euryale Seed, Dried Longan Fruit, Honey Date, Chinese Wolfberry, Sea Olive, Gingko Biloba and Fresh Lily Bulb]
(For 10 Persons)
Ingredients:
50g Snow Fungus
20g Fresh Barley
20g Gordon Euryale Seed
50g Dried Longan
10 Honey Dates
30g Chinese Wolfberry
20g Sea Olive
100g Peeled Gingko Nuts
100g Fresh Lily Bulb
200g Rock Sugar
2 litre Water
Method of Cooking:
1. Soak snow fungus, barley, gordon euryale seed and sea olive in separate bowls with cold
water for 4 to 6 hours. Remove the snow fungus, rinse under running water and then cut into
small pieces.
2. Place 2 litres of water with rock sugar in a pot and bring to a boil. Add pre-soaked herbs with honey dates and gingko nuts and continue to boil over low fire for an hour. Reduce water to 1.5 litres and remove from fire. Taste syrup to ensure that the sweetness level is according to your preference.
3. Prepare 10 small soup bowls and distribute all herbs including dried longan, chinese wolfberries, fresh lily bulb, sea olive and syrup equally into each bowl.
4. Place soup bowls into steamer for 1 hour. Remove and serve.