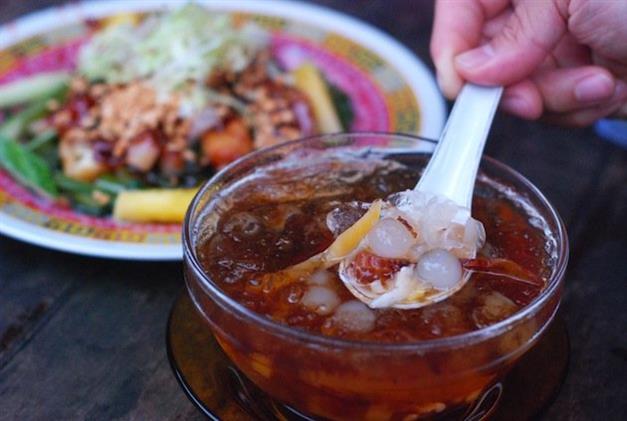 Cool Down with Cheng Tng
By Elaine Ng - Saturday, Mar 02, 2013
Most would agree that one of the most versatile local Asian desserts would be the cheng tng, a sweet soup that may be served either hot or cold. It comes light, hot or cold, has ingredients that are crunchy, nutty, soft tubers and even tangy sweet fresh and dried fruits. The syrup is often not cloying sweet and is easy to consume in our hot weather. Plus, it pairs well with many local dishes, including spicy items.
First brought to Singapore's shores by the Teochew immigrants, this nourishing South Chinese dessert has its roots in history as the "five flowers and fruits soup",- and dried longan-flavoured broth with gingko nuts, pearl barley, lotus root and lily root to combat long and humid summers in China. In the less trying autumn, dried persimmon and gordan euryale seed (qian shi) may be added in too. The pandan base broth was a local Singapore accent introduced to enhance the fragrance.
In the early days, these immigrant hawkers peddle the dish to coolies by the quayside as a refreshing treat for their backbreaking work in our ever-sunny weather. Later, as with our rojak culture, our creative ancestors added to the mix preferred ingredients of their own dialect like agar agar strips and sago balls too. Technically that are no hardcore rules to Cheng Tng today, just some basic guidelines , among which that it should be "cooling". There are many versions today.
Either way, it is perfect for Singapore's fickle and humid weather.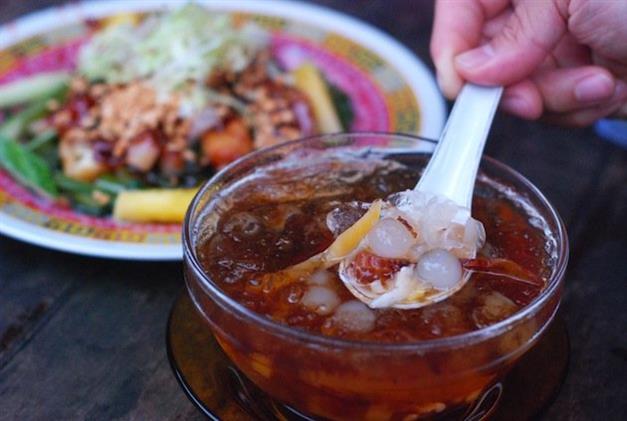 Ye Lai Xiang Hot & Cold Cheng Tng, Bedok Food Centre, 1 Bedok Rd, Stall 31, 12pm-9pm (Closed on Mon, Tue and PH)
One doesn't have to hear of this famous stall with over 70 years of history to know that the cheng tng here is outstanding — just the snaking queue sufficiently relates that. We went for the special $3 bowl that comes with gingko nuts and sweet potatoes on top of the usual $2 version. The light syrupy soup comes with thick cuts of wintermelon and mung bean added by the original Hokkien hawker Mdm Ye as well as agar agar, a Peranakan touch by her daughter-in-law. It was so good that it possessed us to order another bowl after the heaty cuttlefish kangkong from next door, another popular Ye Lai Xiang fare to try. The hot version tends to be sweeter than that with the crushed ice.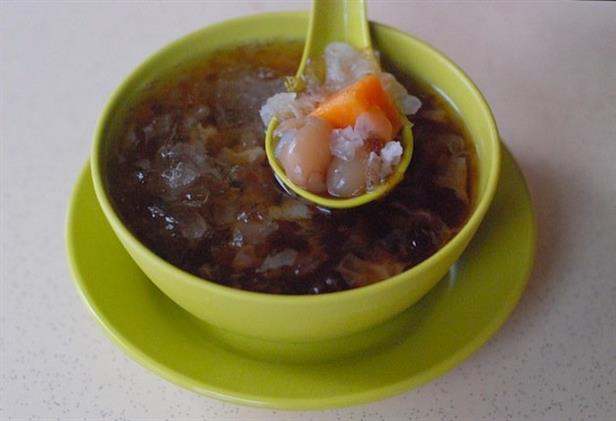 No Name Cheng Tng, Springleaf Eating House, Blk 69 Bedok South Ave 3, (Mon) 2pm-8.30pm, (Tue to Sun) 12pm-8.30pm
The owner may be lackadaisical about naming this makeshift-looking stall set in the middle of a kopitiam, but he is very clear and cogent about the ingredients of his cheng tng. All nine ingredients including thinly sliced dried persimmon and sugared wintermelon are proudly displayed in glass bottles at this nondescript stall. What we loved about No Name Cheng Tng was how they use the traditionally crushed ice pebbles instead of shaved ice used, which gave the dessert a satisfying crunch. We were also pleasantly surprised to find hand-processed gingko nuts too. At $1.50, this sweet soup sure tops our value-for money list. However, uncle sure could do away with shredding the white fungus that finely, we'd say!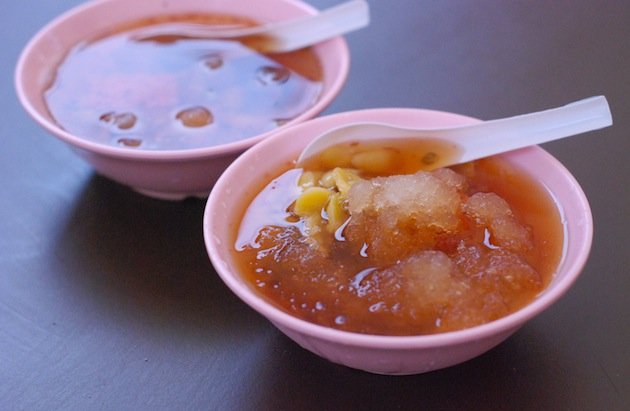 41 Hot & Cold Cheng Tng, East Coast Lagoon Food Village, 1220 East Coast Park Service road, Stall 41, 12pm-9pm (Closed on Tue)
Having consumed countless of the famous heaty foods like satay, satay beehoon and laksa at this beachside hawker centre many times before, we were surprised we didn't discover 41 Hot & Cold Cheng Tng sooner. For $2 a bowl, there's the usual pang dai hai, sweet potato cubes, dried persimmon, chunkily sliced wintermelon, dried longans, mung beans and even "bird's nest" jelly in replacement of the more common usual agar agar. Add 50 cents more and they will add more fresh gingko nuts if that is what floats your boat in cheng tng.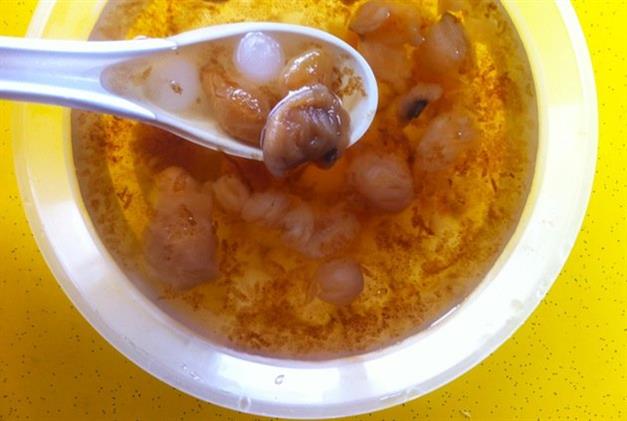 Mohammad Sultan Hot & Cold Cheng Ting , Zion Riverside Food Centre, 70 Zion Rd, Stall 32, 12pm-10pm (Closed on Mon, Wed, Fri and Sun)
For the wholesome warm cheng tng at Zion Riverside Food Centre, we'd brave this naggy and cranky uncle who opens his stall only three days a week and shutters down as he pleases. Foodies should take note that the cold version here is vastly different from the hot one. The former is a bastardised version of traditional cheng tng minus the nourishing dried longan broth, which is replaced by heaps of shaved ice with the sickeningly sweet canned longan and lychee syrup. We much preferred the wholesome warm version with generous servings of plumped longans, chewy gingko nuts, pang da hai and the fluffiest sago.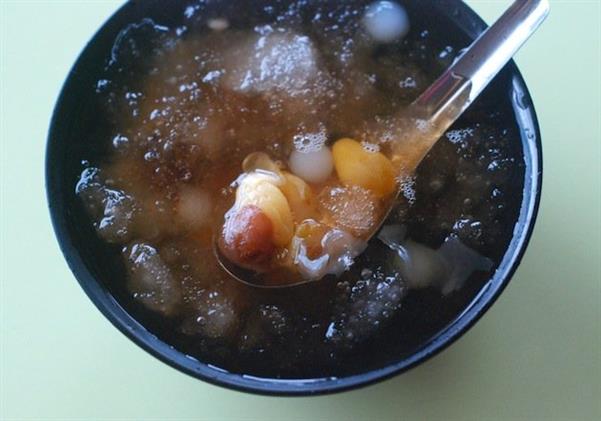 Kiang Kee Cold and Hot Dessert, Circuit Road Food Centre, Blk 79 Circuit Rd, Stall 38, 12pm-12am
The cheng tng at Kee Kiang boasts no frills like dried persimmons and sugared wintermelons as at the other popular stalls mentioned above. No wonder — for $1.30, it is the cheapest cheng tng on this list. Nonetheless, Kiang Kee's rendition proved refreshingly good. The white fungus has a crunchy bite and the longan retains a slight sweetness we enjoyed. For an additional 70 cents, you could opt for the generous serving of sweet potato or soft gingko nuts too.