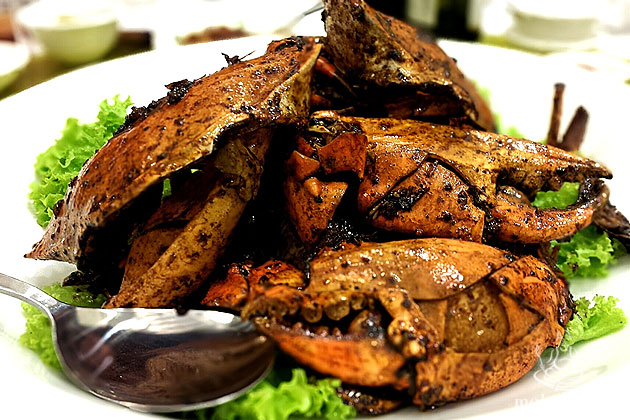 CLOSED- Cove 99: A notch above the ordinary
By TianTianChi - Tuesday, Jan 27, 2015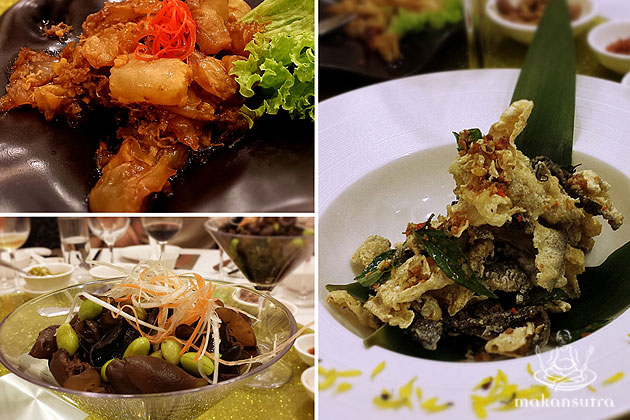 "Check out Cove 99!" The message came from a makan buddy who was on holiday and was following an online discussion we had about new finds. When Mrs. Florence Lim recommends a restaurant, we pay attention as she's well respected in our circles. Some calls were made and manager Serena suggested a menu and even offered to de-shell the chilli crab we ordered (so that we can enjoy our wines with cleaner fingers to handle the stem ware). It's these little things that speak volumes about the service philosophy there. We visited the restaurant subsequently and our high expectations were met. Of course, being nice, chatty customers help a lot.
Not many such restaurants pay much attention to their appetizers but I am glad they tried serving some unconventional dishes. I really like the XO sauce Jelly fish head. It is crunchier than the usual jelly fish appetizer and is generous with the moreish and not overly spicy XO sauce. The pickled wood ear fungus with edamame is appetizing and whets your appetite for what's to come.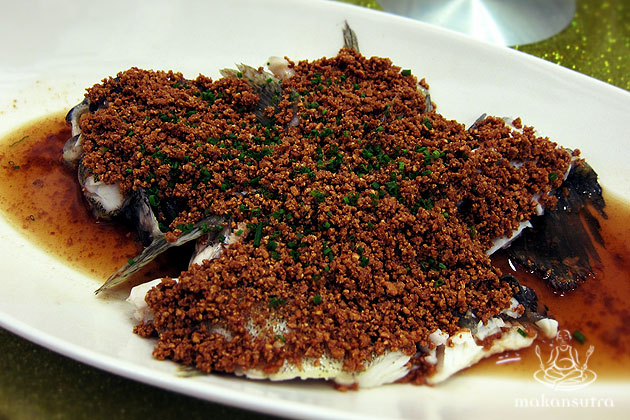 As a seafood restaurant, they are not short on live fish dishes but I don't usually judge a chef's skill with just plain old steamed fish. There are at least 8 styles of preparation here. Steamed fish with Soya Bean Crumbs used to be very popular in the 70s and 80s and I am glad they introduced this almost forgotten preparation. I was titillated by the gritty bits that went so well with the succulent steamed marble goby.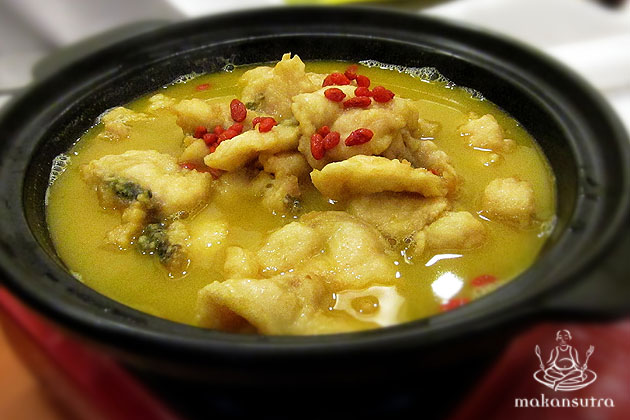 However, amongst the fish dishes, my favourite will have to be the Fish Slices in Superior Golden Sauce. The thick fish fillet is first blanched in oil before being stewed in a savory and concentrated pumpkin soup that reminded me somewhat of the ubiquitous superior stock that is used for sharksfin.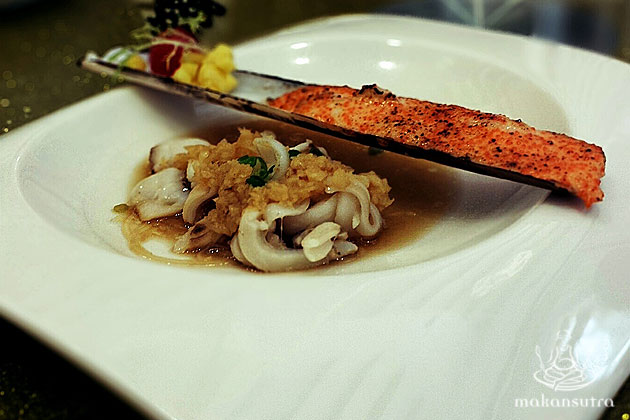 Speak to them about your favourite way of preparing shell fish and they will most likely oblige and may even surprise you with their own suggestions. They offered a baked version that felt fusion-like but pleased us nevertheless (we are not big fans of fancy meaningless fusion, you can tell).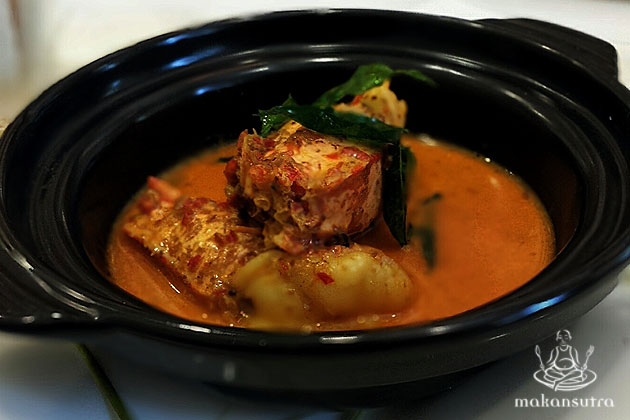 Local food fans will like their curry jumbo prawns. I didn't detect heavy curry powder overtones and the aroma of freshly blended herbs and spice was evident. The spiciness kicks in later and pleasingly so. The deep fried and steamed mantou(Chinese bun) fingers make dipping act much easier and less messy.
Peking duck is not something usually offered in a seafood restaurant. It was pretty decent Peking duck but nothing out of the ordinary. However, what they do with the left over wowed me. Instead of the ubiquitous shredded meat with noodles or diced and served with lettuce, they stir fried it with ginger and scallion. Even though the meat was double-cooked, it maintained juiciness, was tender and that wok hei treatment with browned ginger and scallions lent a wonderful smokiness to it.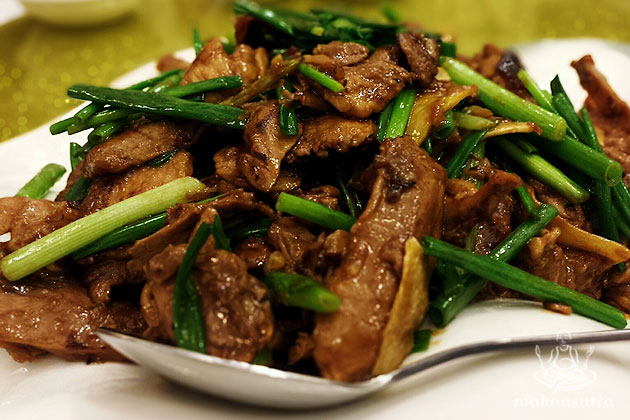 I wanted to reject the Teriyaki beef they suggested as it is always done too sweet elsewhere, but I was wrong here. The dried bonito flakes scattered over are not merely embellishments – they gavea delectable seafood flavor finish.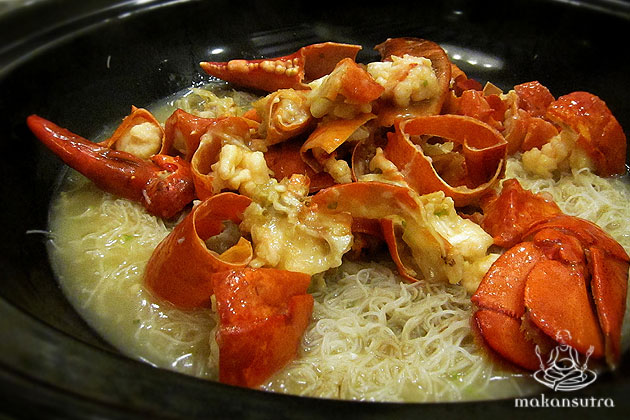 The restaurant was not short on staple suggestions, where they range from the more-luxurious- than-crab and intensely flavorful Braised Lobster Vermicelli to unique dishes such as the sensuous off-menu Fried rice with Black truffle and Baby abalone.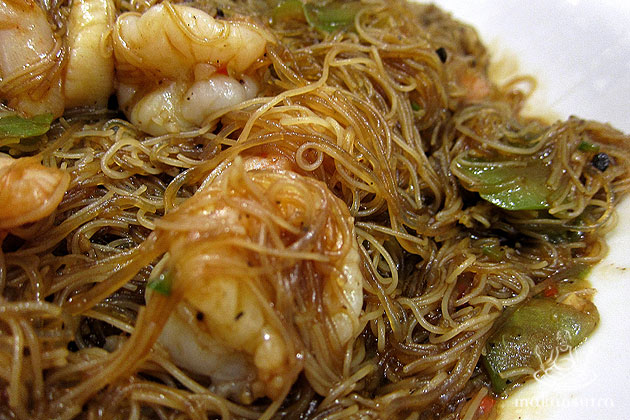 Stir fried Yuan Yang Noodle is very popular in Malaysia. While usually horfun (ribbon noodle) and beehoon (rice vermicelli) are used, the chef combined beehoon with tang hoon (cellophane noodle) instead. I would have expected a more resilient cellophane noodle such as those from Korea but it is the common type used here. The chef managed to maintain the chewiness ofbeehoonwiththe gelatinoustanghoon, contrasting the texture in the same dish. Served with a delectable bitter -gourd and seafood in black bean sauce, this simple dish blew me away.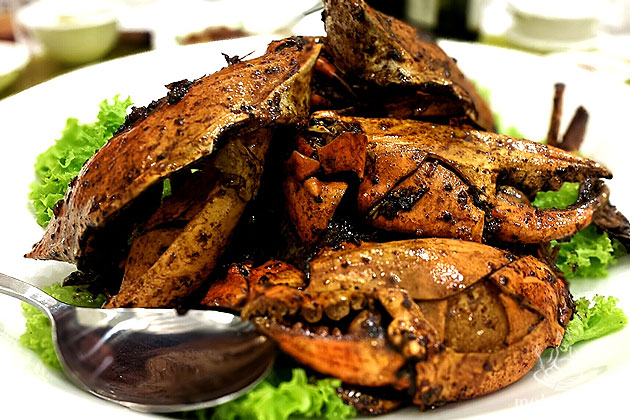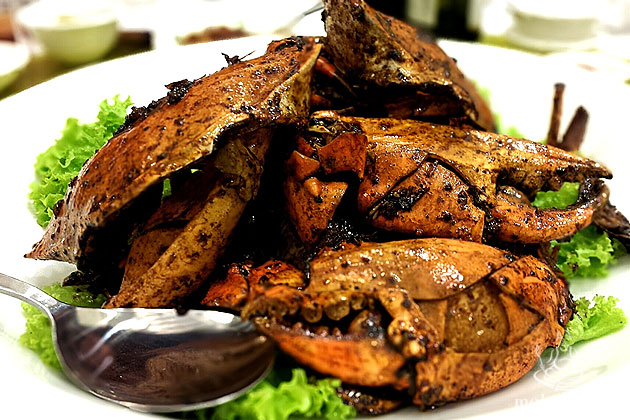 Back to the de-shelled chilli crab that was offered to us. This indeed saved us the hassle and averted the potential mess. I wouldn't complain of it robbing the experience of eating chilli crabs as this was a convenience. The gravy was delicious and had a good balance of sweetness, sourness, savoriness and spiciness but without the shell, the crab flavor diminishes somewhat. We tried other crab dishes over the next few dinners and none of them disappointed. Afterall Chef Pang Seng Hai was previously helming the kitchen of a very popular seafood restaurant famous also for crab dishes.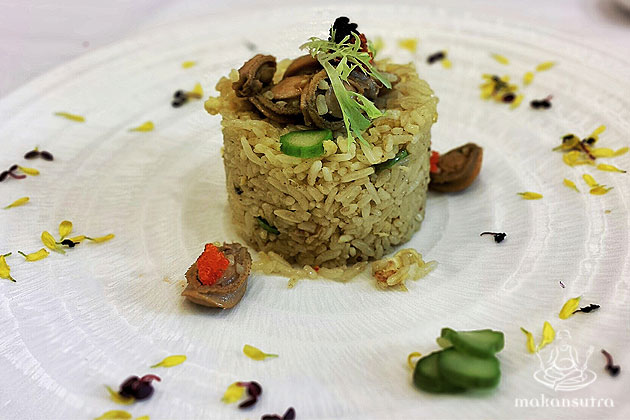 The menu of Cove99 is vast and customers might have a hard time deciding what to order. I suggest you give them a budget and let them help plan a menu that suits you (but be adventurous). They might even throw in some off-menu surprises. Pricing is reasonable especially for a restaurant in the CBD area. Service is attentive and friendly; I will certainly be back, again.
CLOSED-
Cove 99 Live Seafood Restaurant
72 Peck Seah Street
Tel: 6224 0991
11.30am-2.30pm, 5.30pm to 10.30pm daily
www.cove99.com
https://www.facebook.com/Cove99