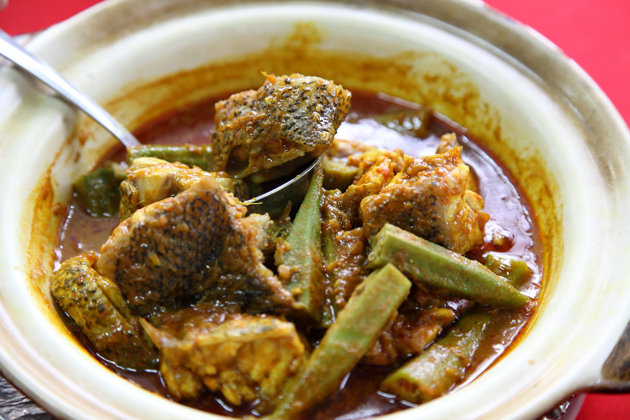 Crab Claypot Rice
By CK Lam - Monday, Aug 20, 2012
We could not resist the offer from our friends to track down the crab clay pot rice at Kedai Makanan Jia Hian. We travel over to the mainland to enjoy the simple pleasure of this fabulous rice dish.
Kedai Makanan Jia Hian is another neighbourhood cze char place. One can easily miss the restaurant which is located in a single storey corner house. Sitting capacity is limited to around 70 seats with a few large tables.
The signature dish is obviously the crab clay pot rice. We could see that most tables have at least a pot or two of this dish. Other popular dishes are the curry fish, roast duck and stew pig trotter.
You decide the number of crabs needed and of course, will be charged according to the market price. We ordered a pot that comes with roe crabs.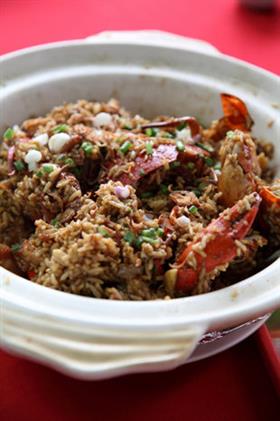 Crab Claypot Rice: Our orders did not take long to arrive though the place is crowded. The clay pot rice is the first to arrive on the table. The aroma of the crabs and baked rice wafted around the table when the lid is lifted off. The rice is nicely moist, hot and fluffy and with each mouthful filled with the sweetness of the crab. The crab roe is guiltily delicious especially when mix with the rice. Sadly the bottom of the pot did not have the aroma of the charred crispy burnt rice which was what would have make it nicer for us.
Roast Duck (Pei Pak Duck): We had half a portion of this duck dish. To our disappointment, the duck is not plump and the portion is very small. It is served with Chinese sweet barbeque sauce. The meat is a bit tough and dry and needs a hard thug to remove them from the bone.
Stew Pig Trotter: The stew trotter comes with the bones intact. The skin is glossy and the meat fell off the bone easily when we cut it. The taste of the dish reminds me of those imported tin cans stew pig trotter from China. The meat is soft with a good bite. The sauce is light and smooth, not too over powering with hints of Chinese herbs.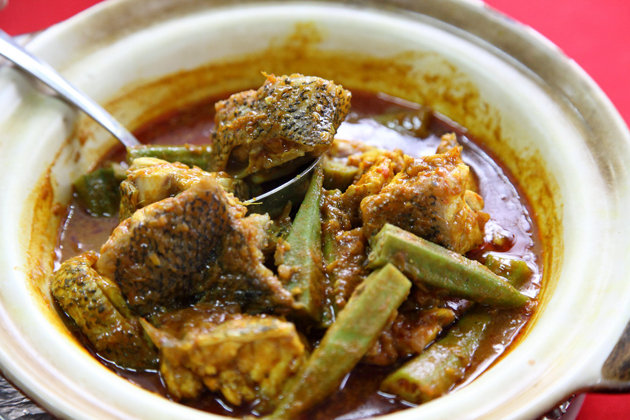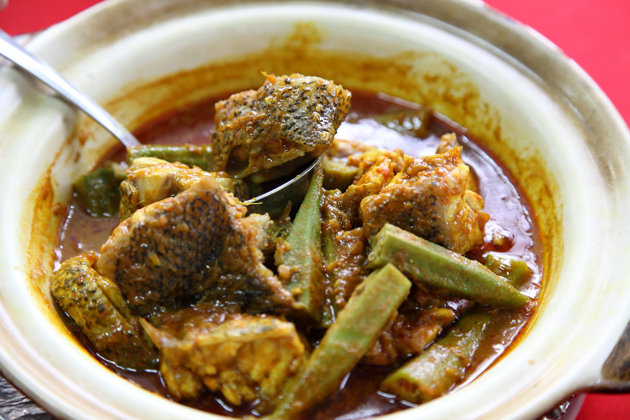 Claypot Curry Fish: This dish fails to meet our expectation as the fish is cooked with curry powder rather than freshly grounded curry spices. It lacked that lush aroma of fresh spices. but the ingredients are aplenty with fresh fish, lady fingers, onions and tomatoes.
Fried Sweet Potato Leaves with Chilli Sauce: The last dish is the sweet potato leaves fried with chilli and medium size prawns. It missed the mark as we would prefer if they prepared it with dried shrimps for a more pungent and robust taste.
Kedai Makanan Jia Hian
52 Lorong Merak 58 Taman Merak Jaya 14100 Simpang Ampat, Penang
Tel: 04 -5889023
Business Hour: 11am – 10pm (Monday Closed)