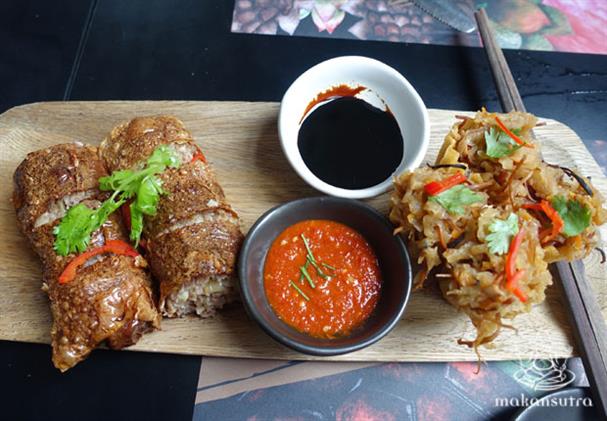 Creatures of Comfort Food
By KF Seetoh - Monday, Jul 18, 2016
This is the last place where you'll expect to find an eatery like this along the notoriously red Desker Road. But then again, the face and food culture of Singapore is evolving as I write. And this place, is logical, by that thinking. It's sort of like a bourdoir café and yet not quite (read: hipster chi-chi). The aroma of lemongrass perfumes the place when you step in- which is a reprieve the spicy pongs of this little India corner. It came into the scene about a year ago and I watched them morph, slowly and surely, taking into account views and feedback from customers online. It looks like a place that would offer something over waffles with truffles and a salted egg yolk rendition of something or other, but no, I think their menu makes sense- traditional in many ways yet with a breath of fresh air blown in while remaining within the confines of traditions.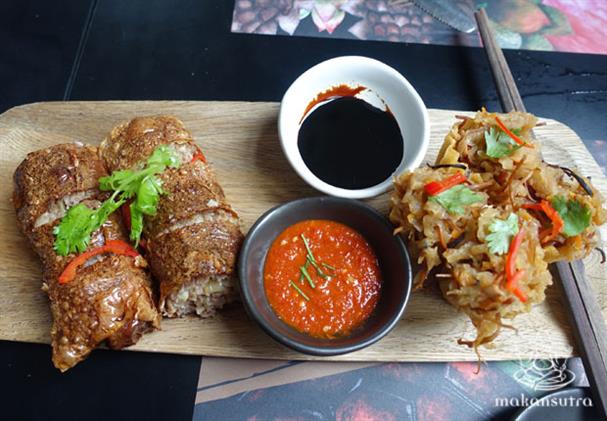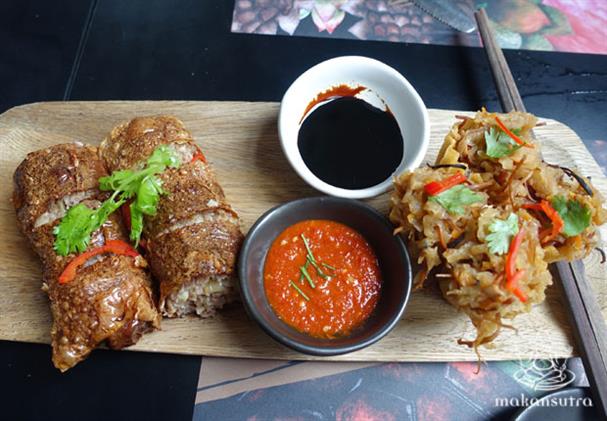 For starters, I shall skip mentioning more about the Pumpkin Soup with Yu Char Kway. But when that platter of Ngoh Hiang and Cuttlefish Kueh Pieti (or what the Penangites call Ju He Cha) at $24 came, I paused, firstly because it was served on a wooden platter and photogenic (which is important today in the era of Snapchat and Instagram) and then, I chomped it. It was dense, packed chockful with minced pork and prawns, yet has the freshly made feel to it (didn't feel like they sat in the freezer for days). The Kueh Pieti, came stacked with stewed turnip and greens and had umami laden strips of dried cuttlefish sitting inside. Dip them in the chilli and the sweet sauce, and it says "home" when you bite it. It was quickly followed by the Babi Pongteh on baguette toast ($22). This one makes sense- it does not have the sit down and eat over a bowl of rice feel yet won't make Nonyas frown upon it, I scooped up little fork-soft pieces of the bean paste induced pork pieces onto the crispy toast and I was a happy boy.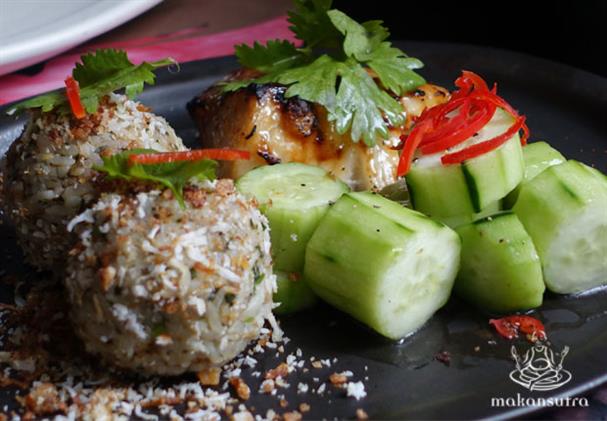 But the one I will back for again and not share the plate this time, is the Miso Cod and Ulam Onigiri ($32). It takes a lot of elbow grease to make this one- finely chopped the carefully selected herbs and greens like lemongrass, kaffir lime leaf, wild betel leaves and even laksa leaves or daun kesom etc.. and toss them into rice with shredded fish and stock. In this case they rolled the roasted herbed rice into a ball, coated it with serondeng (wok tossed dessicated coconut) and served it with the miso cod fish. You merely desecrate the layered slivers of the fish and mix it with the rice. The little chunks of Japanese cucumbers added was such a wicked twist to the texture.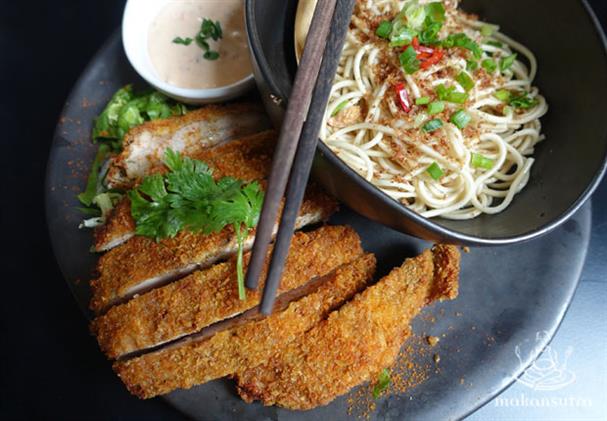 The Ah Kong Fried Chicken with Ah Ma Noodles, $23, was a hit and miss for me. It hit the right flavour notes, but I think the chef's Ah Kong must've like chicken with a harder batter. The shallot oil noodles was subtle and comforting and the chincalok mayo, did not do it for me. Lime sambal would be great for this.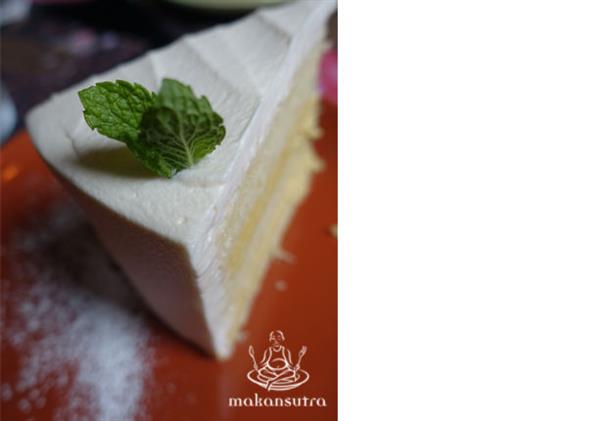 And that sweet finale of their classic durian, which I've had a few times before, was a little lost on me as the durian used was not as in-your-face as I remembered. They are at the mercy of the suppliers as far as this dish is concerned. And oh yes , think they have one of the prettiest wash rooms this part of town.
CreatureS
120, Desker Road
Opening Hours: 10:30am – 10:30pm (Mon, Wed, Thurs), 10:30am – 11:30pm (Fri), 9:30am – 11:30pm (Sat-Sun), Closed Tuesday
Tel: 6291 6996