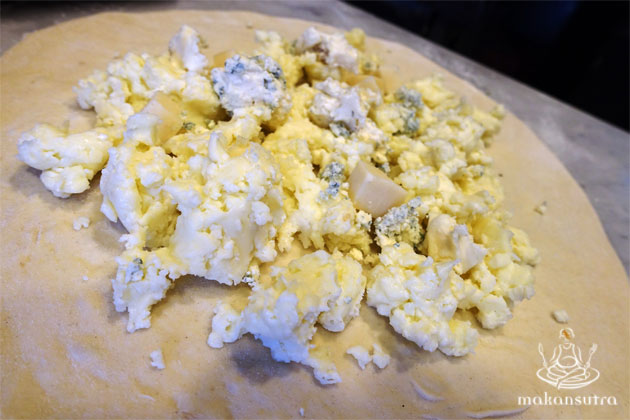 Crosta Pizza: All White Pizza and the Latina
By KF Seetoh - Monday, Sep 01, 2014
You can get a sense of just what kind of person he is when he answered "Dubai is nice, people very friendly, will eat your food without question, pay up and thank you" then, to further my query on where he likes to work most, he delivered a punchline "and that's the reason I don't like to work there."
He left his native Sri Lanka after obtaining his culinary diploma there and eventually worked got a gig in Dubai in 1996. "So easy to work there, no stress and things much slower compared to here" then Hiran Fernandez offered his real reason for relocating to Singapore in 2002, where he is now a Permanent Resident, "not challenging like in Singapore la, no one give feedback. Here, everyone likes to complain. It helps me improve and serve them better", he intoned with a local accent.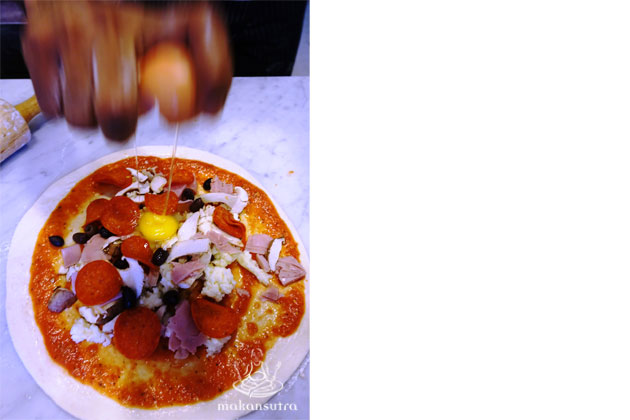 He paid dues slogging and learning at two Italian restaurants here and developed an appetite for Singaporeans and their food culture. Now at 42, he is very comfortable with the local makan psyche , "they like new things and will pay for good food,  but don't piss them off with bad food and service, they will tell the whole world." I had to smile at the comment in concurrence.
In March this year, he set up his little Crosta Pizza joint (take-out only) and "did what I wanted to creatively, and gives Singaporeans what they like- cheaper, good real deal pizzas". By real deal, he meant imported Napoli pizza flour (showed me the boxes) and good grade mozzarella and apple wood used in the oven (showed me the packs too). Cheaper meant $22 each (2 for 1) for takeaway orders and 3 for 2, (delivery service) till further notice. His nearly 2 dozen types of pizzas are all the same price. Most pizzas of this quality and size average above $25 each in town.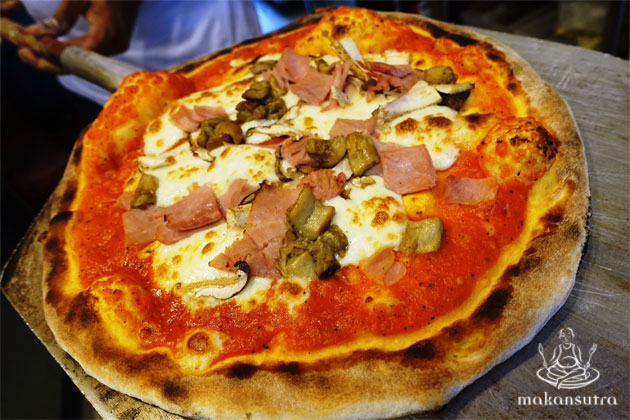 He makes every order upon request and Hiran says he rests his dough longer than most care to- six hours in room temperature and 24, in the fridge and he is not into pan pizzas and thin crispy crust because "not authentic at all". His comes roasty with edges of crispiness and yet bready and softly firm in the centres.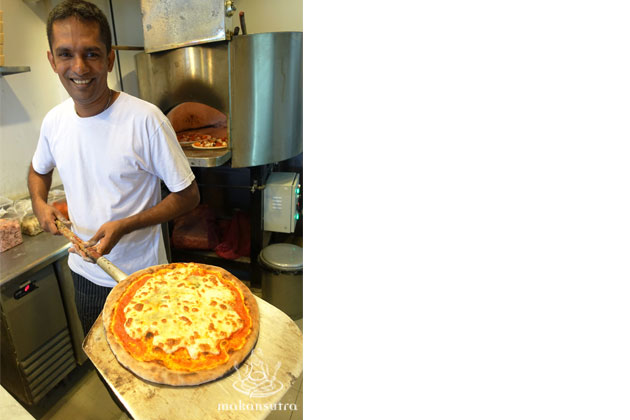 If cheese is your please, then you will love his Fano, (4 cheese "white" pizza with mozzarella, taleggio, gorgonzola and smoked scarmorza with tomatoes). You can't go back to baked cheese sandwich or rice anymore after this. I also adore his pizzas with a runny egg sitting in the middle, like his Asti (spicy pork and pepperoni sausages, red onions and bell peppers with tomatoes) and Bari (mozzarall, shitake, ham, artichokes and olives). He also has a very popular nearly all –white cheese version, the Latina (gorgonzola, mozzarella, bell peppers, ham, cherry tomatoes and rucola salad). This one floated my boat- I love the gentle garden bitterness of the fresh rucola over the whole show. There's also veggie versions like the Turin- done with shitakes, zucchinis, bell peppers, artichokes, baby spinach and olive oil. Quite a mouthful of textures and flavours.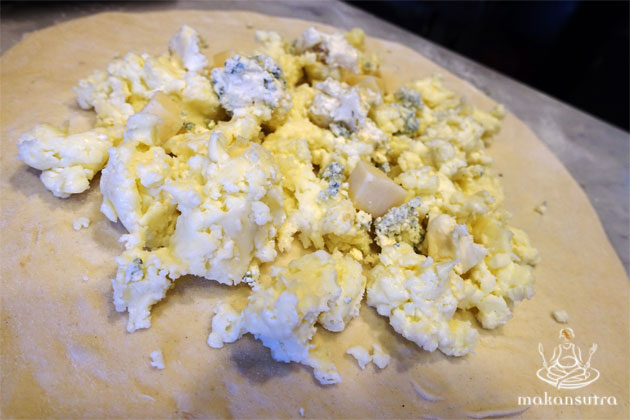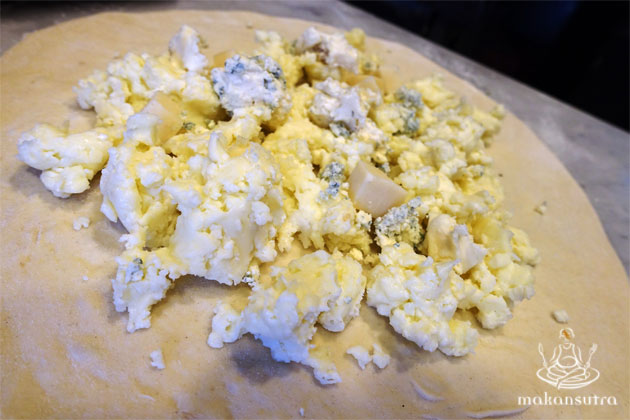 Here's one advise, eat it fresh. Buy them and tuck in at the little green spot across the road with coffee from the kopitiam. Bagging them, well, it's not quite how he designed his pizzas to please.
Crosta Pizza
Blk 463, #01-07, Crawford Lane
Tel: 6295 5505 /  www.crostapizza.sg
12pm-2.30pm/ 5.30pm-10pm (Mon-Thur)
12pm-10pm (Fri- Sun)