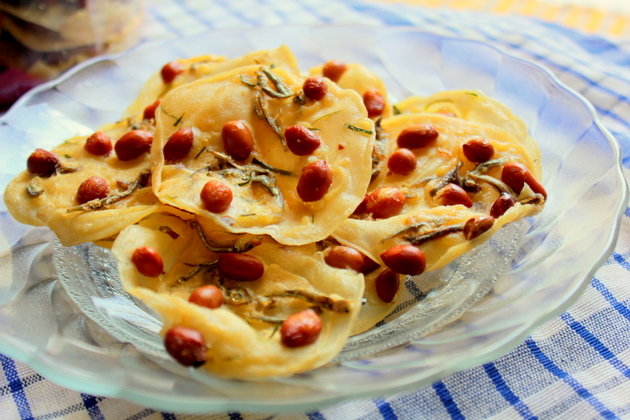 Crunchy Keropok, Kerupuk and Keripik
By Tris Marlis - Tuesday, Mar 05, 2013
US President Barack Obama, who grew up in Indonesia, made his return to the archipelago a few years ago and left with a deep impression, not for his political shimmying, but his love for Indonesian food. In a news report by the Huffington Post, an interviewee reacted: "He even mentioned 'emping' and 'krupuk'! Only native Indonesians know that!"

Indonesians love their kerupuk (known as keropok in Singapore), so when President Obama mentioned the name of those crunchy crackers, he became part of the community of hundreds of millions worldwide, with an affinity for these snacks.

Almost every Indonesian dish is served with a side of keropok or keripik (thinner and smaller in size) for a layer of crunch; it is as common as having cilantro as garnishing.

One of the most popular types is Emping, which is made of belinjo (padi oat). Belinjo is often incorporated in Indonesian cooking, from stewing it with coconut milk to frying it crisp. To make Emping, belinjo seeds are boiled, peeled and pressed into flat rounded shape, before frying.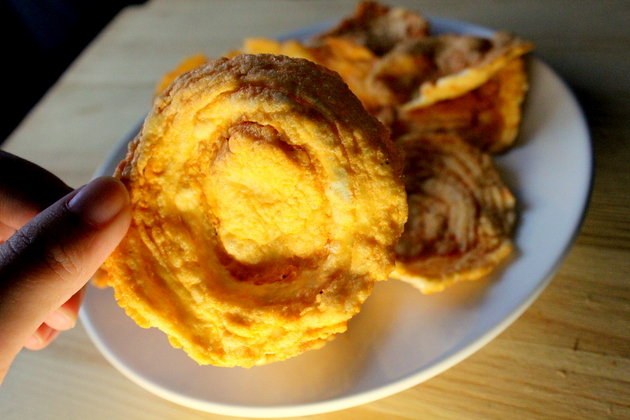 Emping taste slightly bitter, often seasoned with salt. The original and salty Emping go well with dishes that are sweet, such as mee rebus or Gado-gado (Indonesian salad with peanut sauce). The bitterness of Emping and the salty seasoning balance the sweetness of the sauce.

Fish cracker keropok has the most variety, fried or baked, spiral or flat, but the most unique isAmplang. It is a little ball shaped, bite-sized fish cracker that looks like fish ball, made with mackerel fish, tapioca flour, egg and a bit of spices. Amplang is hard and firm on the outside, but as you bite into the porous ball, the texture gets crunchy. It is originated from the Borneo Island, and is well-known from Sabah (Malaysia) to Kalimantan (Indonesia). Instead of your usual chewy and soft fish balls, try your noodle soup with Amplang instead.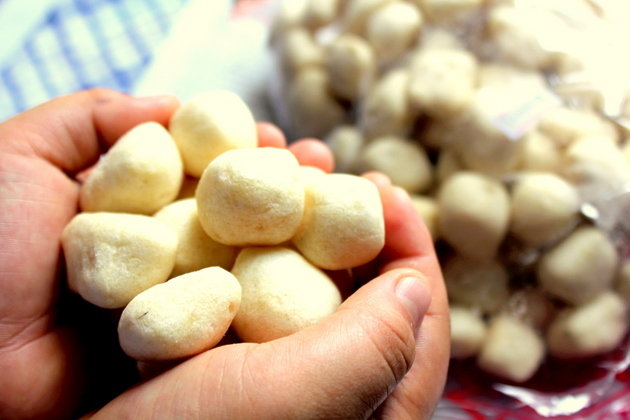 Another term, "keripik" refers to chips that are thinner and more delicate, like Keripik Singkong(cassava chips). Thinly sliced cassava is deep fried and seasoned with salt, chili or sugar and even cheese powder, for different flavours. The original spicy cassava chip is coated with Sambal Balado, a type of chilli paste from the Minangkabau of West Sumatra. The chili paste is sautéed with garlic, tomato, lemon and shallot to create a sticky paste that is savoury and tangy with a hint of sweetness. It is so rich on its own, we think it's best eaten alone, at most drowned with beers or kopi-o.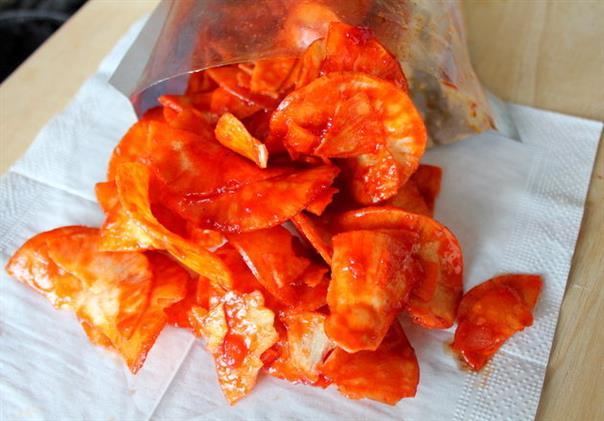 The Tempeh chips are simply deep-fried thin slices of Tempeh (fermented soya bean cakes), sometimes battered and fried like tempura. Soya products like Tempeh and tofu are known as a healthy source of protein and great alternatives to meat and dairy products that are higher in cholesterol. Tempeh has complex flavours – an earthy sweet taste that is nutty and almost mushroom like. Even after deep-frying, the Tempeh chips maintain the same earthy flavour.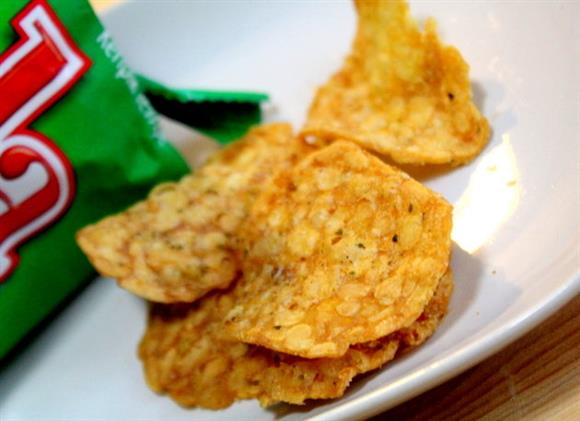 Lastly, Rempeyek is a savoury version of peanut brittle. The batter is made of rice flour and coconut milk. Spices and kaffir lime leaves are added to give this snack a fragrant aroma, and toppings like peanuts and dried anchovies for richer texture. Then, take the mixture, one spoonful at a time, and deep fry in a pool of hot oil until crispy and golden brown. This snack is very popular during Idul Fitri (an annual Muslim celebration). For Nasi Lemak, instead of your regular ikan bilis and peanut, try it with this snack instead.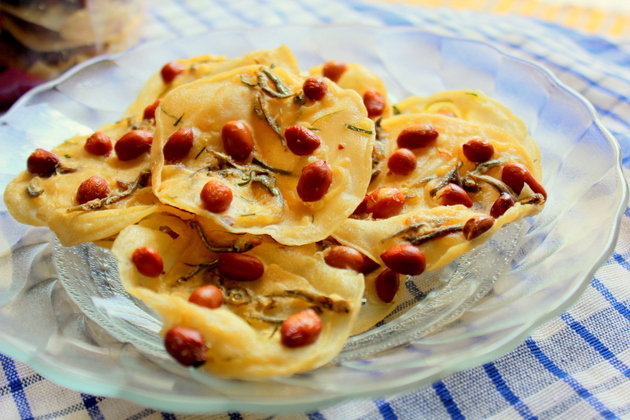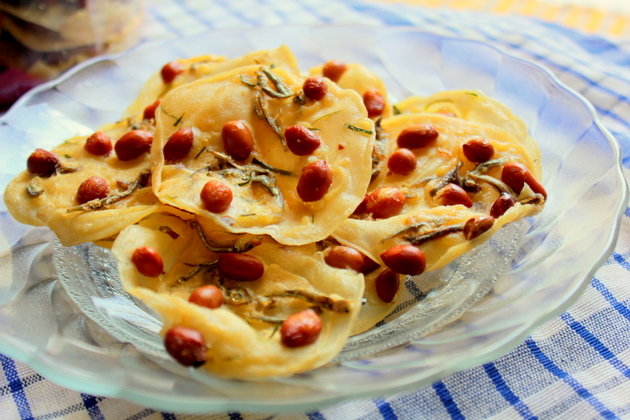 These Indonesian keropok can be found in shops at Geylang Serai Market, most of them are sold raw, so you will have to fry them yourself at home. If you are visiting Indonesia, perhaps Batam, these are sold on the roadside as well as supermarkets, such as the Hypermart at Mega Mall (right across ferry terminal). It is priced at about S$2 (Rp15,000) for a huge bag of munchy goodness. Stock up your keropok at home and keep crackling!