Da Chang Jin- A different kind of Fun
By KF Seetoh - Monday, Jun 02, 2014
He went from organising a table of fun events at food festivals to organising the evenness of the table top so the "fun" will come out perfect. Plus, the batter has to be right, the steamer table top need to be adjusted monthly or even weekly at times, the cotton cloth has to be rinsed every time for up to 30 times an hour… just so the chee cheong fun (steamed rice flour rolls) comes out right.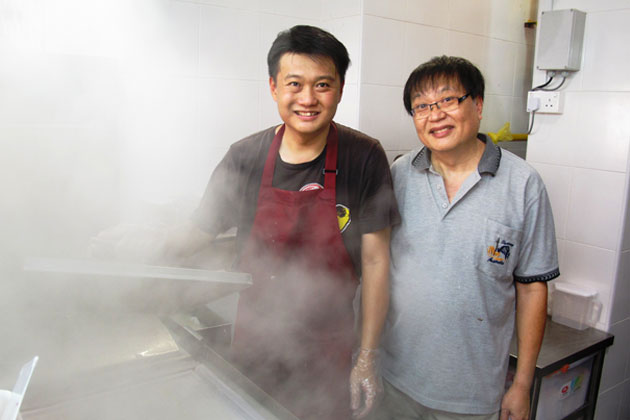 A youngish professional sweating away at a hawker stall will have many thinking "what's up with that" or worse "what's wrong with you" but Luke Lee, has an answer. " This is my father's retirement plans and project" said the 37 year old event organiser who had been organising the Singapore Food Festival with his company for a few years now. " He is old, and at 62, he feels this part of our food culture should not fade, so I am playing a big part of his plans." , Luke speaks of his father's aspiration. So, in between developing pop-up food cart concepts and tingkat meals on a boat rides down the Marina Bay, he roll rice rolls at this humble stall.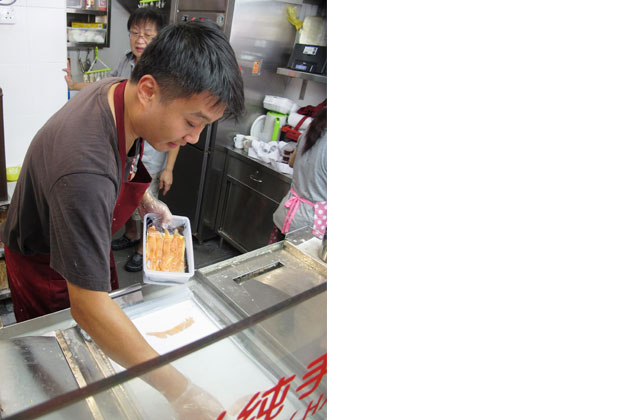 "The chee cheong fun is my father's recipe but I came up with some different fillings and some went well with the customers." , as he stands over two steamer trays that yields two portions every 45 seconds. Add preparation , peel, fill and roll time and finishing, that one portion can take up to three minutes each. But that work is more certain than organising events, where you know not what and where is up ahead. His father Mr Lee Li Yong would like him to take over this month old business and Luke is not quite resisting- he sees potentials beyond that 8×8 sqft hawker kitchen. That "6688" number hidden in the signboard is not fengshui, but really the dad and son partnership statement- it says "luke luke papa" in Chinese.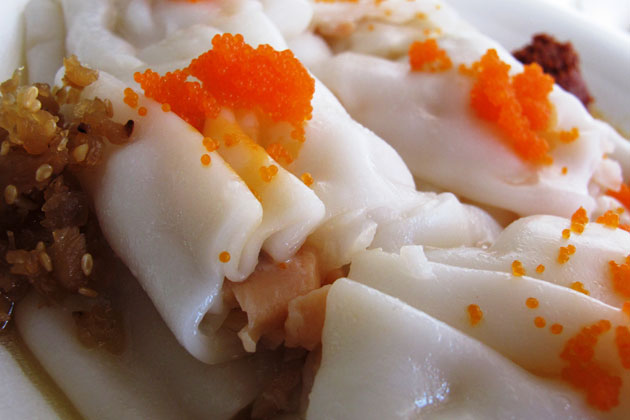 For starters, they offer up interesting and new fillings beyond the mundane, tried and tested prawns and char siew. One popular item is the salmon and tobiko (flying fish roe, used commonly in sushi bars) at $5.00. They are quite generous with the salmon slices (for a hawker stall) and the topping of tobiko lends a gentle oceanic saltiness to the equation. The sweet and savoury soy sauce and some chai po with sesame seeds completed the show plus the little dollop of sambal gave it a spicy and savoury moreish-ness. There was the mushroom version- done with the golden needle variety- the soft crunchy texture was nice, but flavour wise, it was too plain for me. I'll skip this the next time.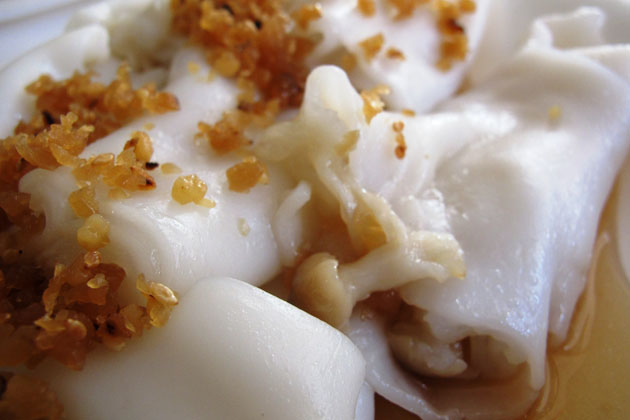 Of course you can stick to the good old tried and tested char siew ($3.50) and prawns ($4.00) version and it can please easily, especially when it's done on site fresh and under your nose. Their rolls uses a tad more rice flour, which gives it more body in the bite yet, has just enough starch to lend it some resilience and texture.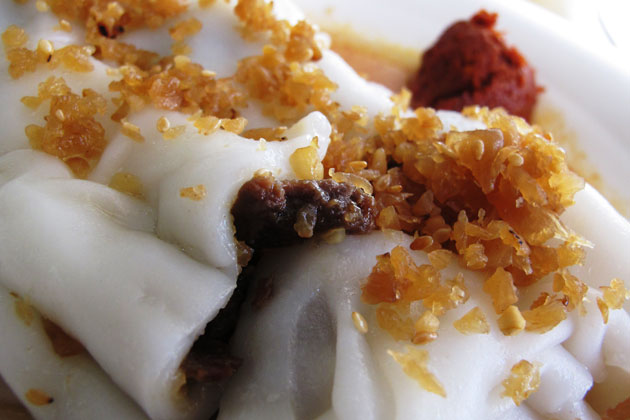 I saved the best for the last- their liver sausage chee cheong fun. "It just tastes so good, so I introduced it", says Luke. It is indeed strangely comforting paired with the chai po and their standard sweetish soy sauce base. If you love chinese liver sausage, you will know why I like this one.
Handmade Chee Cheong Fun (Da Chang Jin)
#02-33, Blk 44, Holland Drive Food Centre
7.30am-3pm daily