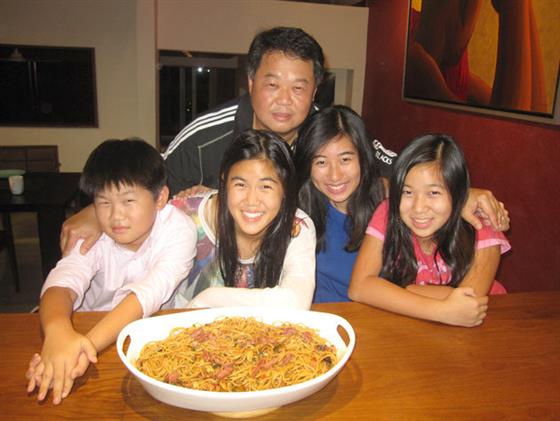 Daddy Cooks Best!
By Stefanie Chao - Thursday, Nov 01, 2012
It's age-old knowledge that there's nothing more comforting than a home-cooked meal, laced with copious quantities of a mother's love. But what if Mom was to throw in the apron and let Dad take over in the kitchen? Well the result is something that should not be anything short of spectacular, too, in most cases, like here.
Meet Andrew Ong, 48, partner at law firm Rajah & Tann, loving husband, doting father, and head chef at the Ong's family kiitchen, all rolled into one. A passionate home-chef who had this interest piqued when he was just a wee boy growing up in a Peranakan household full of stellar cooks, Andrew's childhood memories include the sights and sounds of belachan being sizzled and toasted over charcoal and rempah being lovingly pounded in the stone mortar. Andrew reminisces that "the waft of roasted belachan is the best sensory experience a man can have". When the pounded sambal was scraped out, my great grandmother would shout "Boy, come." (every small boy's name in a Peranakan household was "Boy" until you reached adulthood) and I would eat freshly cooked rice mixed in the remnants of the pounded sambal direct from the mortar. That still remains one of my favourite childhood memories to this day."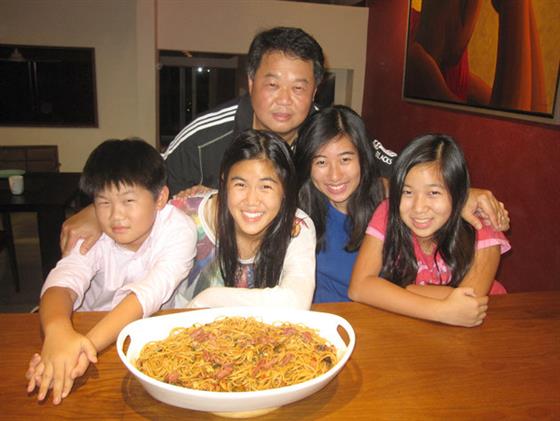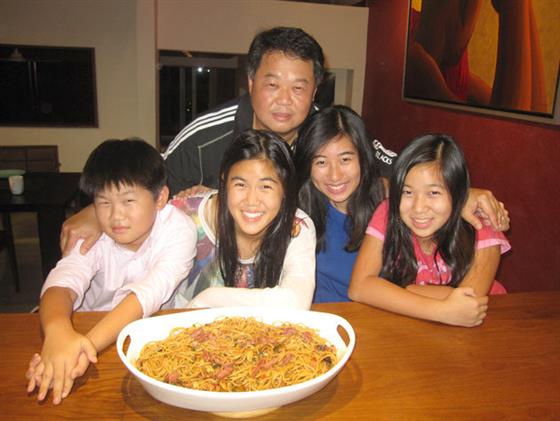 Andrew counts experimenting in the kitchen as one of the best ways to unwind and de-stress, and compares it to how an artist creates an art-piece because cooking "gets the creative juices flowing, and calls for deftness of hand and mobility of the mind." More importantly, he cooks to please his family, especially his four children Daryl, Sarah, Megan and Gavin. They are his biggest critics and nothing is better to him than their satisfied expressions whenever they tear into his dishes that was prepared from the warmth of his heart. Favourite requests in the kitchen include instant noodles and Andrew tries his best to make it as healthy as possible. He cooks mostly on weekends, so he boils a superior stock that has all sorts of yummy additions like meat bones, white radish, ginger, fish maw, dried scallops and mushrooms. He freezes the stock and stirs in some of the seasoning for that 'Maggi Mee-oomph', then cooks the noodles with fresh meat or seafood and plenty of vegetables, all topped off with an egg. Simple decadence!
Ever so the anak (descendent of) Nonya cook, Andrew has inherited plenty of the gung-ho spunk and insists: "Measurements are for wimps!" His cooking style is eclectic, spontaneous and over-the-top and we've had hands-on first hand experiences on this. Guests, including his family, will never know what to expect, and his success of a flamboyant interpretation of the humble kueh pie tee was voted one of his most special creations. Andrew made it an extravagant side-dish by stuffing it with a truffle oil egg mayo mixture; all made even more extravagant with diced pan-seared crayfish and wagyu beef. Unexpected successes like this comes from Andrew's method of 'agaration' (agak-agak or by-heart and soul principle in measurements), and it means that he could prepare the same dish several times over yet his family would be enjoying different interpretations of it, depending on his mood for the day!
Andrew loves cooking all sorts of pasta dishes which has become his kids' comfort food. They all love chilli and Andrew discovered one day that the addition of cream to a pasta dish will temper the heat of spicy chillies. To up the ante, Andrew played around with the additions of truffle oil and foie gras, thus the crème de la resistance became: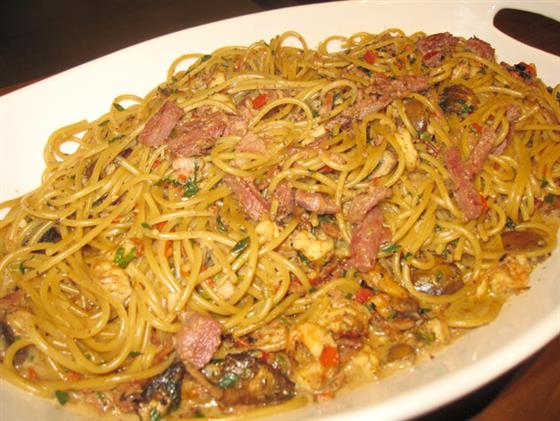 FOIE GRAS CHILLI CREAM PASTA WITH FRESH HERBS, PORTOBELLO, PRAWN AND BACON WITH TRUFFLE OIL:
1. Cook 500g of spaghetti in boiling, lightly salted water, till it is 75% done, with the centre of a pasta strand still opaque. Drain and toss with some olive oil, set aside.
2. In a big heavy based pan, heat up one tbsp olive oil and 3 tbsp butter, pan fry 3 to 4 slices of Foie Gras seasoned with black pepper and sea salt.
3. Fry until the Foie Gras has disintegrated and all of its fat is rendered, and remove the remnants of the now crisped up foie gras to top the pasta with.
4. Add 5 more tbsp olive oil to same pan and fry 300g diced back-bacon till golden, then push it to the side of the pan. Add 3 tbsp more olive oil and sauté 5 tbsp of coarsely chopped garlic and 4 big chillies, minced and de-seeded, for a few minutes.
5. Add 10 medium-sized shelled prawns cut into chunks, stir well over high heat until the prawn is cooked and combine with the bacon.
6. To this, add about 4 diced portobello mushrooms, stir it in for a few seconds and immediately add the spaghetti into the pan. With quick hands, season with pepper and salt and stir in a generous amount of freshly cut Italian parsley and thyme. Pour 500ml of chicken stock over the pasta. With a wooden spatula and large tongs, quickly toss the spaghetti well, keeping the pan on high heat. Add more chicken stock if you need, to braise the pasta to al dente consistency.
7. Finally, add 350ml cream and toss well. By now, your 75% cooked spaghetti should be al dente, check that the seasoning is right and transfer immediately to a pasta dish.
8. To serve, trickle in 4 tbsp of truffle oil and give it a slight toss to coat evenly.s Garnish with more chopped parsley and scatter the crisp foie gras bits atop.