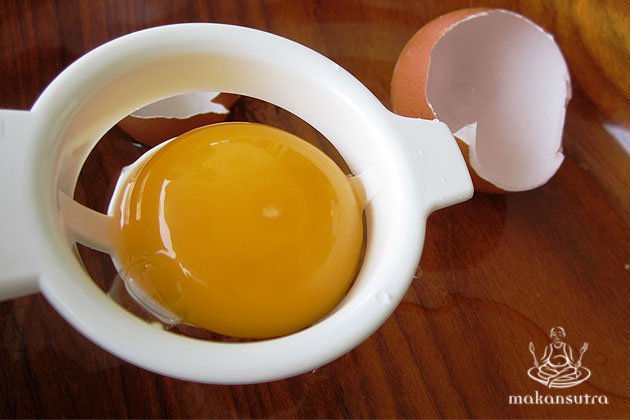 Daiso & Japan Home Kitchen Department: Are those tools even helpful?
By Thammika Songkaeo - Wednesday, Nov 19, 2014
At $2 (or slightly more) for every item you see in the entire shop, including some really useful stuff, it is hard to write off a little shopping spree at Daiso and Japan Home. The concept is brilliant: they leave you nothing to the imagination when it comes to price comparisons, allowing you more actual shopping time. We zoom in on the kitchen department, where they offer you things you never thought someone would make, like a finger protector for vegetable cutting. Are they all useful? Which are gimmicky and which are real effort-saving steals? We assess some items.
Multi-use scissor with a built-in gingko nut crusher:
It has been some time since we bought any gingko nuts to crush. Luckily, this pair of scissors also comes with a bottle opener, and that's proven more useful.  Note to readers: don't buy a gingko nut crusher if you don't regularly crush gingko nuts.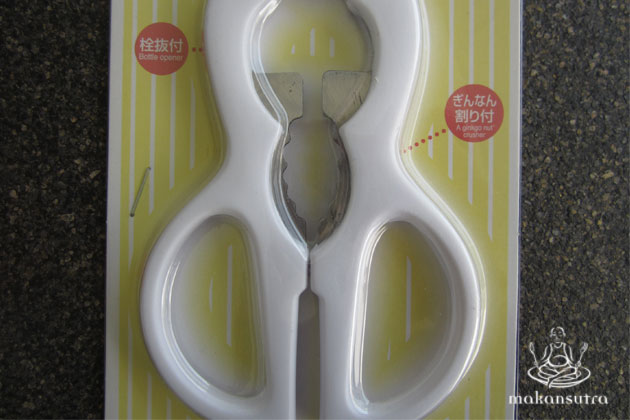 Egg-shaped refrigerator deodorizer:
The deodorizing eggs have stayed in the fridge for a few days now, but we're not noticing any changes… The regular baking soda box in the fridge can do a better job.
Side-Peeler:
A peeler especially for the sides… did we even need that in the first place? What we learned was it wasn't any easier to peel sideways that it is top to bottom. It might have made a difference if you're a Peeler Ph.D., but if you're just a person peeling your apples, you can use your regular peeling knife to peel the sides too.
Scum-Absorbent Sheet:
This one was maybe the most disappointing. It is designed to absorb the scum that gathers in a hot pot of oil. Once we put the sheet on to collect the scum, the sheet just shriveled because of the heat! We were even so scared that it would melt into our food inside the pot. Just collect the scum with a ladle sieve you already have at home instead of buying this.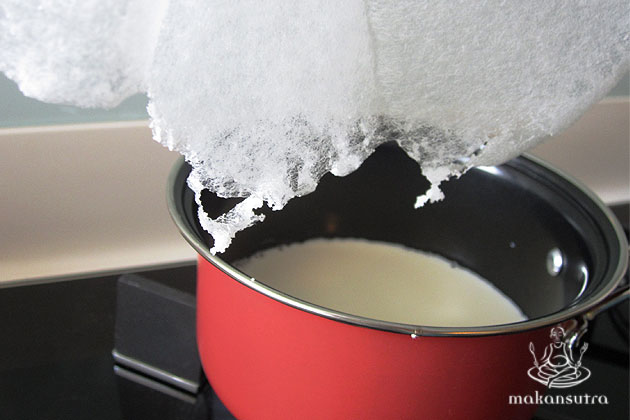 Egg Separator:
This one works and could actually be worth it, especially if you're looking for measuring spoons when separating, since they comes with it. The size of the separator was just right, and the yolk could settle on the spoon nicely and be separated from the whites. It's faster and easier than the other methods that we've seen.
All in all: evaluate carefully when buying Daiso and Japan items. Not only do some items not work, they'll also just clutter your kitchen if you have other tools that could function in their place (like a regular peeler). The gadgets are fun to look at, and maybe we should just keep things at that: let the multitude of scissors and nut-crushers sit brightly in the stores.  But, if you're in a mood to be inspired and to try out different things, we won't stop you. Daiso and Japan Home are good stores to head to for things gimmicky and fun. There are many branches, so check out their locations on their websites! Here are just a few central location examples: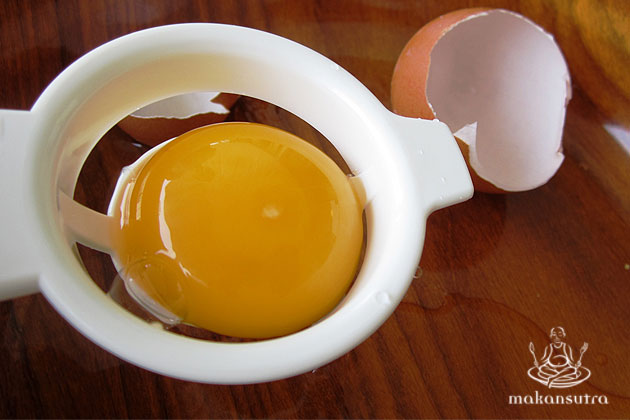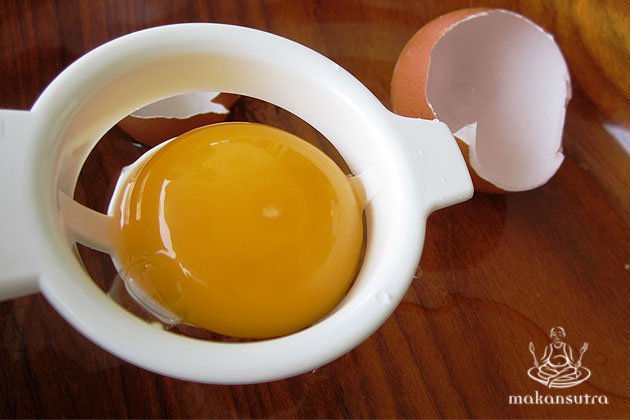 Daiso: Plaza Singapura, ION Orchard, and Chinatown Point
Japan Home: Changi Point, Tanjong Pagar MRT, People's Park Centre